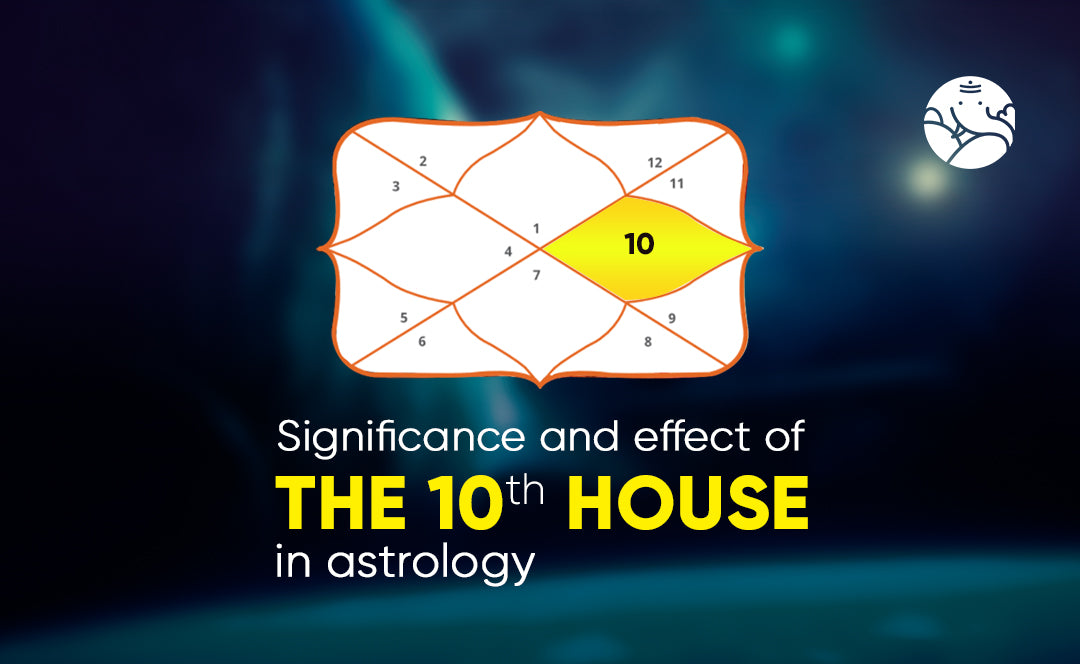 Significance and Effect of the 10th House in Astrology
Vedic Astrology is righteously grounded on the 12 parts which are called houses. These houses are made to cultivate implications from the spaces for astrology predictions which can source enhancement in conditions of human life.
Significance of the Tenth House in Kundli Predictions
The Tenth house as per Kundli predictions represents our earnings and the mode of earnings. The Tenth house impacts our job and the level where have reached, or will reach in the future. The Tenth House also gives a push to our dreams and wishes to reach the sky. As per Vedic Astrology, this is called Karmasthana.
Effect of the Tenth House in Kundli Predictions
Sun in the Tenth House
When Sun is in the Tenth House, it's a very good sign for your professional prospects. You tend to spend some quality time with your family, share your professional experiences and improve closeness within the family. You can be good leaders or managers.
Moon in the Tenth House
Moon in the Tenth house makes you famous, and honorable in terms of social status. You will get satisfactory professional opportunities, which can help you achieve your aim. An adverse effect of the moon can lead to failure in professional space.
Jupiter in the Tenth House
Jupiter in the Tenth house grants you intelligence and makes you wise. It also inculcates a sense of generosity and kindness in your heart. This state elevates you to a very high official position. Your ability to override the challenging situations in life gets stronger.
Venus in the Tenth House
The presence of Venus in the Tenth house will grant you a respectful and honorable position in society. You will always get the spotlight. You will be a point of attraction to all around you. You love meeting new people and are excellent at making all arrangements for any program.
Mars in the Tenth House
Mars is in the Tenth house grants your efficiency and a positive attitude towards life. This will be for both – your personal life and your professional life. Your efforts will be recognized and you will receive acknowledgment and praise. This can be very helpful for your career growth.
Mercury in the Tenth House
With Mercury in the Tenth house, skills of expressing become efficient. Your financial progress attains stability. Your talent in writing and publications can get a boost. On the adverse side, you may have a bad habit of incurring unnecessary expenses, which should be avoided.
Saturn in the Tenth House
Saturn in the tenth house, as a planet, brings forward immense opportunities for your career. This position can attract a lot of challenges, which are tough to handle. Hence they can lead to anxiousness and downheartedness. This can even distract from your actual goals in life, which you were running for.
Rahu in the Tenth House
Rahu's presence in the Tenth house inspires you to take unlawful paths to earn fortunes. It may even lead you to be distant from your own house. It is greed that makes you run for earnings in the wrong ways. We have to take charge of the time and control this.
Ketu in the Tenth House
The presence of Ketu in the Tenth house can bring disturbances and unhappiness to your house. It can also impact your health in a bad way. It can spoil the environment of the whole house and bring negativity.
Conclusion
In Astrology Predictions, we can help you interpret the meaning and importance of the existence of each planet in the houses. Every condition has a unique influence on your life, and understanding these, will definitely help you deal with your life in a better way.
Related Blog: