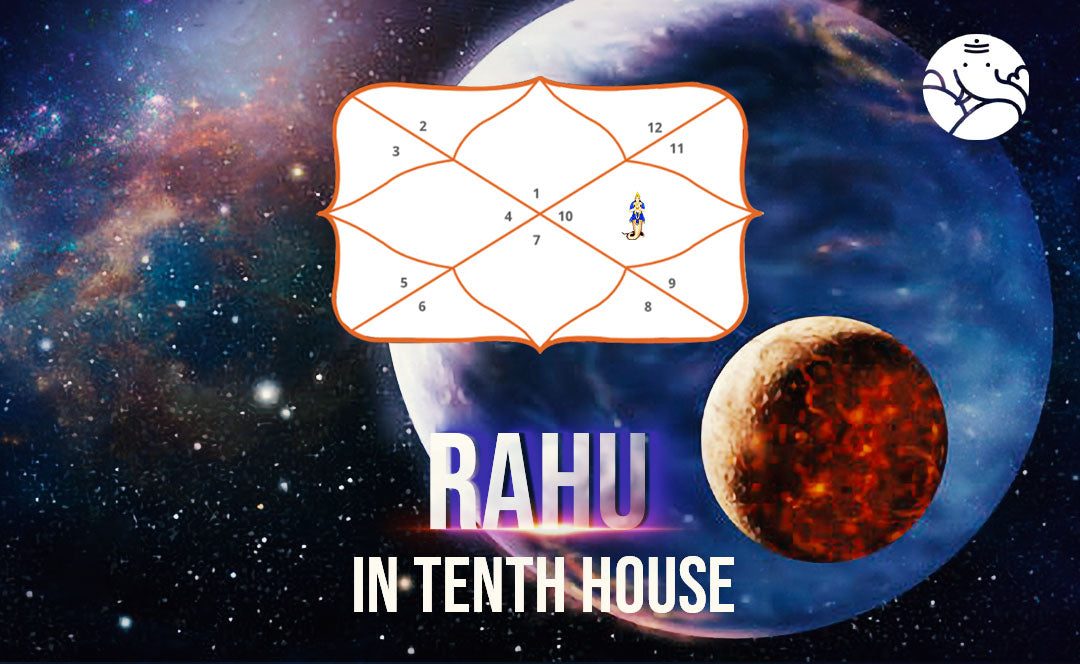 Rahu In The 10th House Navamsa Chart - Marriage, Love, Appearance & Career
You will have excellent skills in communication and expertise in handling all kinds of financial and management roles. In the 10th House of Rahu, the native becomes very successful in media and press and acquires a strong position in politics. The native will have a very aggressive and rude personality. The person under the influence of Rahu has an awesome ability to hypnotize people by manipulating them with the charm and using them in their favor. This type of person has unparalleled convincing power and can make anyone do anything to fulfill their needs. 
Rahu in the 10th House Love as per Vedic Astrology 
Love marriage specialist predicts that the Native will be very flirtatious in nature and will have many love relations with the opposite gender. None of his affairs will Proceed further to marriage after enjoying the initial romantic phase of the relationship. If the native chooses to marry their lover they will become very happy and satisfied in their married life. After sharing intimacy in love affairs native easily loses interest in their partner. Due to the presence of Rahu in this house, the native never become satisfied and successful in his love affairs and he stays unsatisfied mentally most of the time. 
Rahu in the 10th House Marriage as per Vedic Astrology 
Marriage prediction reveals that the native will experience both positive and negative results in their conjugal life. They will share both the moments of joy and arguments in their marriage life. There's a chance of second marriage for the native. The presence of Rahu in the 10th house might lead to the separation of the native from a spouse. Such kind of person gets becomes associated with various partners before and after their marriage life. Since the native is a very fickle-minded person who cannot stick to a single partner for a very long time and maintain commitment. 
Rahu in the 10th House Career as per Vedic Astrology 
Career Report Predicts the native will flourish if they choose the profession as a politician, NGO or social worker, or public servant corporate sector. The native will be very famous and become wealthy if he tries his luck in the creative industry and tries his luck as an actor, singer, producer, film director, anchor, or musician. The native will gain a lot of success if he works in the animation and VFX industry. The native having Rahu in the 10th house will be a very famous sportsperson. The native will become very wealthy and rich after 42 years of age. The native will experience a roller coaster ride in his career where he will face success and failures throughout his life. 
Rahu in the 10th House Personality as per Vedic Astrology 
Personalized prediction says when Rahu's position is in the 10th house, the native will be having carefree attitude who is very much confident and bold and will lead an independent lifestyle. The native will be very much egoistic and self-centered in nature and don't care much about others. The native will be having an addiction to drinking and smoking and might take drugs in some cases. Such kind of people loves leading an indisciplined unhealthy lifestyle where they don't want to follow any ethics or moral values. 
Positive Impact of Rahu in the 10th House
The native's strong drive for success helps them overcome the obstruction in their path and help them become successful in their field. The native will get various awards and honors in his career in a very short time. The native will be a very respectable person and people will shower them with love and affection. The native will be very lucky for their father. After attaining 48 years they will reach a significant position in their career. 
Negative Impact of Rahu in the 10th House 
Rahu's harmful presence would make the native suffer from various obstacles In the life which night affect their finances and profession and might result in face loss. The native will be surrounded by various bad influences around them. This might result in deteriorating the health condition of the native and his mother. The native might suffer from eye problems due to the position of the moon. 
Conclusion
Astrology Phone Consultation is always there to resolve confusion and queries related to Rahu's position in your horoscope and will offer you solutions to lead a joyous and fulfilling life. Try to cover your head with a scarf while going outside in the sun which will protect you from the negative effects of Rahu. Wearing dark-colored caps on your head is recommended. Try to serve the less fortunate people and feed them.
Related Blog: