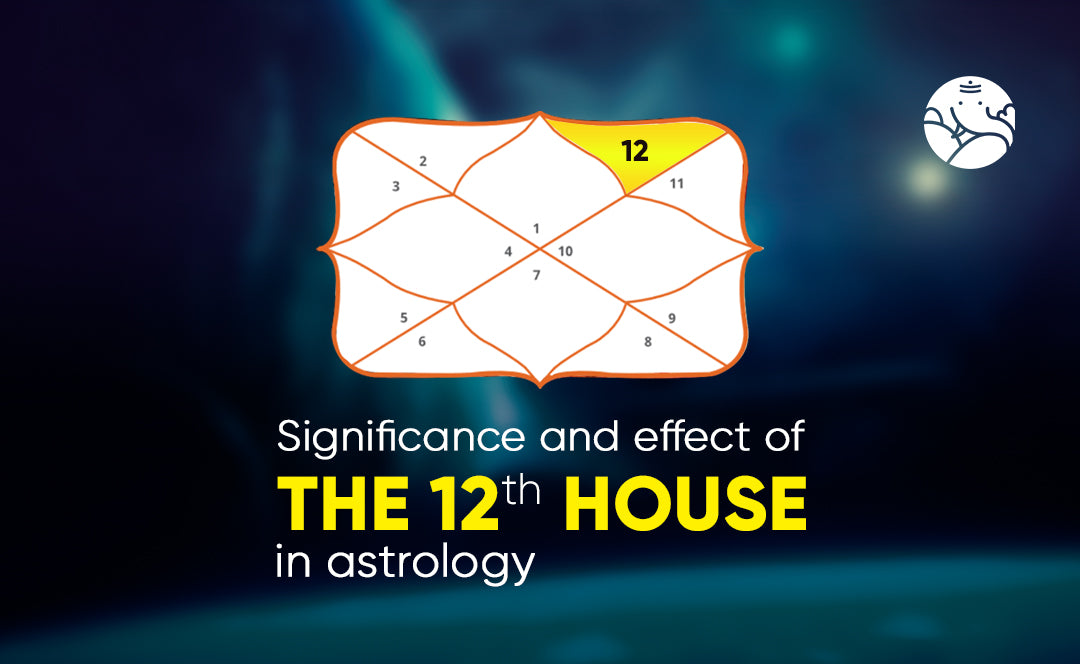 Significance and Effect of the 12th House in Astrology
In Vedic Astrology, as the first house represents birth or initiation of the life cycle, the twelfth house is about the completion. It speaks about detachment from worldly attachments.
Significance of the Twelfth House in Kundli Predictions
The Twelfth house as per Kundli's predictions is about people who have taken a spiritual path. This house also impacts divine places of worship and centers of meditation.  It also has a negative face giving influences to unspiritual and illegal activities.  As per Vedic Astrology, this is called Vyaya Bhava.
Effect of the Twelfth House in Kundli Predictions
Sun in the Twelfth House
When Sun is in the Twelfth House, it gives us the power to fight challenges and issues in life and will help us with success in this fight. We may be attracted to supernatural activities. We tend to become highly intuitive.
Moon in the Twelfth House
Moon in the Twelfth house makes us socially active in helping the oppressed people. Being helpful to others becomes our comfort therapy. Fantasies keep us alive. We tend to be deeply emotional, but having a close-knit family is a challenge for us.
Jupiter in the Twelfth House
Jupiter in the Twelfth house provides optimism and positivity. We tend to get attracted to supernatural aspects of life. Jupiter consistently helps us deal with the challenges of life and to overcome them. It imbibes generosity and compassion within us.
Venus in the Twelfth House
The presence of Venus in the Twelfth house gives us a window to the secrets of this world and a sense to us to find them. This makes our life a bit secretive and with a pinch of mystery. We are sensitive enough to empathize with the problems and needs of others and do our best to support the needy ones. It also depicts our vulnerability to sensual desires. We become eternal daydreamers.
Mars in the Twelfth House
Mars, in the Twelfth house, results in a sequence of unfortunate events in life. These unfortunate events can include monetary losses. These challenges can be the outcome of our being over-emotional. This position has a negative impact on our power and valor. We need to keep high willpower and work on our own emotional development. Meditation and self-introspection can be helpful.
Mercury in the Twelfth House
With Mercury in the Twelfth house, we get a better vision and perspective of life. We are inclined towards supernatural, spiritual, and religious aspects. We get curious to know the deep-rooted reasons and origins of things. Mystery turns us on. This position may have a negative impact leading to a lack of communication and problems pertaining to them.
Saturn in the Twelfth House
Saturn in the twelfth house, as a planet, impacts our life making us isolated and aloof in our personal, social, and professional worlds. Our minds will be inclined towards philosophy. Our pleasure of digging out mysterious secrets will get fulfilled. It removes the insecurities and pessimism from our lives.
Rahu in the Twelfth House
Rahu's in the Twelfth house makes us addicted to liquor and weeds. This position throws a negative impact on our lives. We tend to waste our money on non-useful and unproductive things. Our fantasies often mislead us. We have a colorful imagination, full of passion. Meditating helps us is climbing the ladder of self-realization.  We are travel buffs.
Ketu in the Twelfth House
The presence of Ketu in the Twelfth house brings the highest level of spirituality to our lives. We will walk on a journey with spiritual and enlightening experiences. This will eventually help us to achieve our goals. We like being alone and aloof and find it difficult to mix with people around us. This position gifts us a life with victory, but the negative impact of it can drain us monetarily due to health problems.
Conclusion
The twelfth house represents the completion of the life cycle and therefore its impacts are usually spiritual, philosophical, and aligned to seclusion. If you want to know more about the significance of these houses in your life as per Astrology predictions, please get in touch with us.
Related Blog: