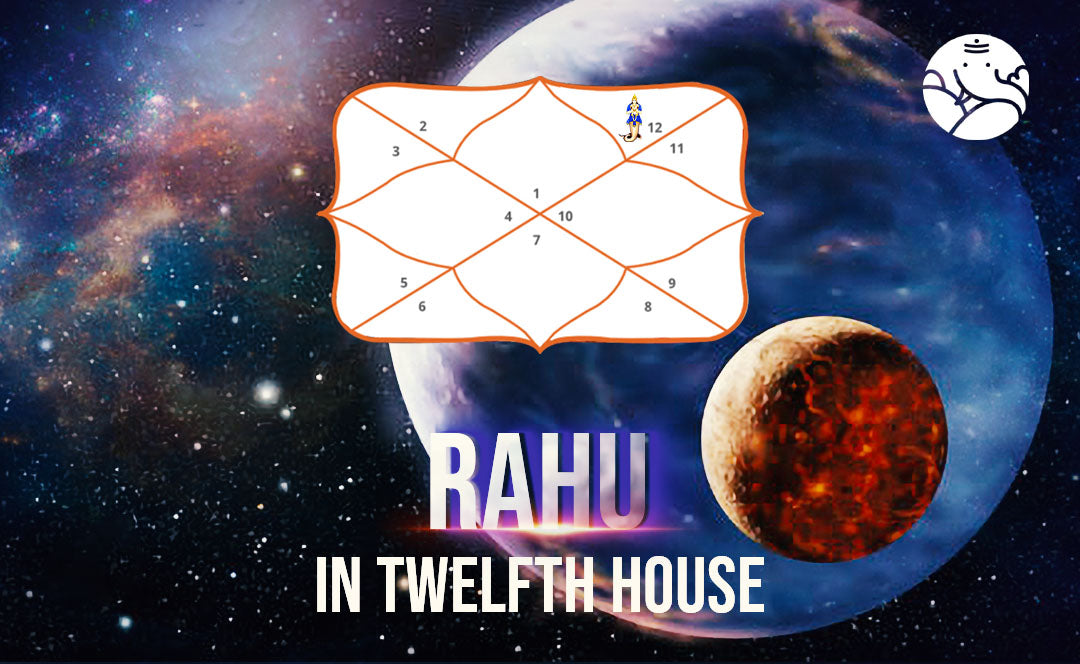 Rahu In The 12th House Navamsa Chart - Marriage, Love, Appearance & Career
The native might be wealthy and economically prosperous and will be very successful in life. They are blessed in gaining intelligence, diplomacy, and tactfulness with excellent skills of communication. From a very young age, the native earns income from various sources. They mostly have imaginative minds, brave in nature, curious to learn many new things, and are highly energetic. In their teenage years, they are mature enough and they will not have strong foresight.
Rahu in the 12th House Love as per Vedic Astrology
Love marriage specialists predict that Native's love affairs might be successful where he will live happily with their love of life. They will enjoy all the time spent with their love interest. They will cross paths with their soul mate at a very young age. Gender of the opposite sex will be drawn by their beauty and charisma, but they might experience cheating in a relationship. They might be involved in multiple relationships at a time. They are not much serious while staying in a committed relationship, though they adore their lover. The native might lose their lover at a very young age with whom they used to share a pure bond of love. They don't take love affairs seriously and play with people's feelings by breaking their lover's heart.
Rahu in the 12th House Marriage as per Vedic Astrology

Marriage prediction says they will share a good married life with their spouse. There might be a lack of understanding with your partner and you will not be supported by your spouse. There's also a chance of cheating in your marriage life due to which you might get separated from your partner. You will experience a roller coaster ride in your marriage life which is full of joys and sorrow. Peace will be affected in your marriage life due to ego clashes with your partner. Luck will stay by your side and you might lead a stable life. 
Rahu in the 12th House Career as per Vedic Astrology 
Career Report says natives will be highly ambitious in professional life. Work would be first priority in their life and they won't let anything get in between their work-life whether it is a love affair or family. You will flourish in your career if you choose your profession as an actor, police servant, model, tour guide, businessman, sales personnel, or government servant. The native will be in a very respectable position in his workplace. The native will derive pleasure in traveling and his work will mostly revolve around travel. They are passionate about food and love exploring a variety of food, which may lead them to start a career in the food industry where their career would flourish.
Rahu in the 12th House Personality as per Vedic Astrology 
Personalized prediction reveals that they are popular in social circles. They are mostly jealous and anxious kinds of people who are not positive about others' good deeds or accomplishments. The presence of Rahu in this house makes a person self-centered and selfish and they don't care much about others' emotions and feelings. The native will be anxious at times due to their family problems, financial condition, and their career.
Positive Impact of Rahu in the 12th House

They will start saving a good amount of money after crossing 40 when they will live life seriously. They will earn a good income in their 30s but will become rich after they cross the age of 43. They will get the chance to make their dream to visit a foreign country true. They will become very successful if they get employed in the sectors like food, textiles, or any other multinational company.
Negative Impact of Rahu in the 12th House 
Position in the 12th house of Rahu is not considered a good sign. The native will find it very hard to save money in their adolescence, because of leading indiscipline and a high-class lifestyle that they cannot afford. They will waste their money on various unhealthy habits like drinking, and smoking. There's a chance of engaging in an extramarital love affair after marriage might destroy married life. They will face problems in their heart. They will also face digestive problems which will lead to intestinal operations.
Conclusion
Astrology Phone Consultation is always there for you to show you the right path for resolving the problems you are facing in your daily life in your family, career, and finances. Eating your meals in the kitchen by sitting on the floor will help in cooling down the negative impacts of Rahu in your life. Clean your house regularly and keep it dust-free, especially on the roof. This will make the positive energy flow in your home.
Related Blog: