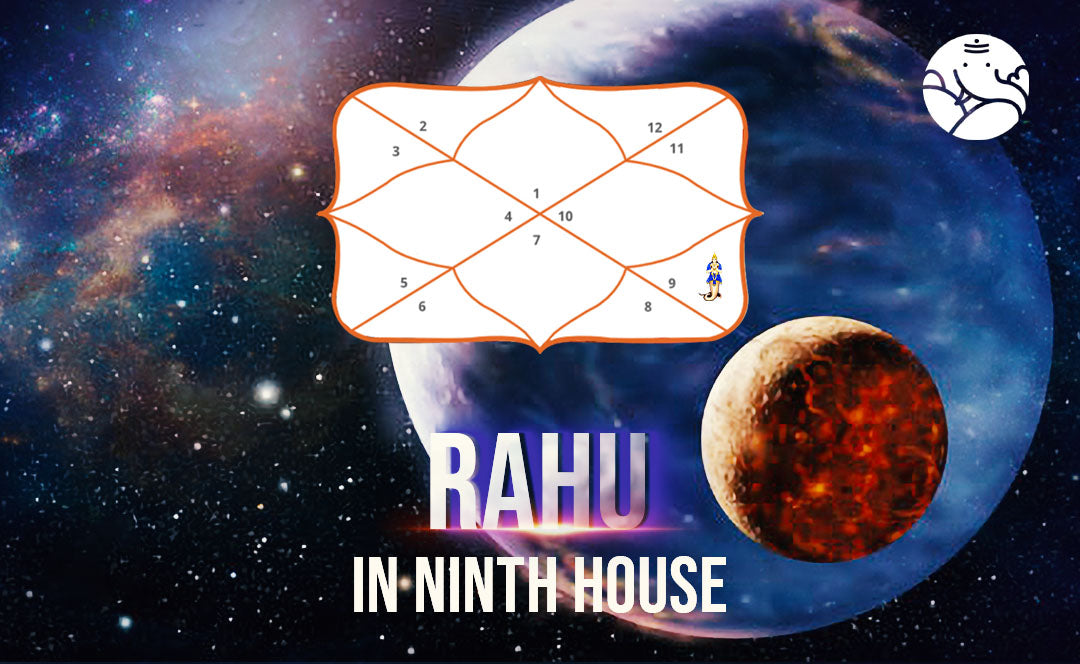 Rahu In The 9th House Navamsa Chart - Marriage, Love, Appearance & Career
When a person is having Rahu in his 9th house, he will lead a very comfortable and happy lifestyle after crossing 42 years. He faces a lot of struggles and challenges in his entire life. A person becomes very famous if he works in the creative fields as an actor, comedian, singer, film director, dancer, or stage performer. In everyday life, natives have to face a lot of ups and downs in their luck due to the 9th house position of Rahu. Sometimes, luck will stay by your side, and sometimes you need to work very hard to complete even the simplest task.
Rahu in the 9th House Love as per Vedic Astrology 
Love Marriage Specialist Says Rahu's presence in this house will make a person experience failure in love relations till they meet their soul mate. They will go through a lot of breakups in relationships. In Rahu's presence, he will have multiple relationships with the opposite gender from diversified Religious and cultural backgrounds. Most of his love affairs are not successful due to infidelity and having different moral values or lacking understanding for one another in a relationship.
Rahu in the 9th House Marriage as per Vedic Astrology 
Marriage prediction says the native's partner will fulfill all the expectations from conjugal life. Sometimes, disturbances are there in his married life.  He will be blessed with a very loyal and supporting partner who becomes the reason behind living a successful and happy life. After marriage, the native will become very fortunate, but involvement in any extra-marital affair will deeply affect his peace of mind and financial status. The native might get separated from his spouse temporarily due to his own fault. The overall native will lead happy married life with a spouse having children and sharing a deep bond of love with their partner.
Rahu in the 9th House Career as per Vedic Astrology 
Career Report predicts when a native will reach his middle years, he will be in a very respectable position in his career with a lot of popularity. The native will become very successful if he chooses the profession of a writer or professor. People who are having Rahu in this house are inclined towards professions in dancing, film directing, acting, working in the animation industry, TV anchors, and choreographers. A person who's having Rahu in the 9th house becomes very successful by acquiring a powerful position in politics. If Rahu is in the 9th house, the person acquires a lot of fame and success in the world of media, consultancy, corporate field ad agency, and business. The knowledge of such a person is brilliance in multimedia and is having the probability of being a very renowned fortune predictor.
Rahu in the 9th House Personality as per Vedic Astrology 
Personalized prediction says he will be a very creative person under the influence of Rahu. They have a very rich taste in clothing with good fashion sense and love wearing designer and stylish garments. They mostly belong to a very affluent background having a good collection of jewelry. Otherwise, the person is having a very positive approach toward life and always stays in a cheerful mood.
Positive Impact of Rahu in the 9th House 
The position of Rahu in this house will make a person very rich and wealthy. Materialistic wealth increases in Rahu's house which are called Laxmi Sthan. Since the native loves the money he will always work hard for acquiring materialistic wealth.
Negative Impact of Rahu in the 9th House 
The native communicates in a very rude and harsh way. Native becomes inclined in living an unhealthy lifestyle and practice many immoral habits. He doesn't have faith in God and disrespects God. The position of Rahu in the 9th house affects the native's father's health and makes him suffer from ailments that are incurable.
Conclusion
A person having Rahu in the 9th house is a very knowledgeable person. He would face problems with his father due to differences in opinion. They will have various issues with their children while handling them with love and care. An astrology phone consultation will resolve all your family matters in a quick and efficient way so that you can lead a peaceful and happy family life.
Related Blog: