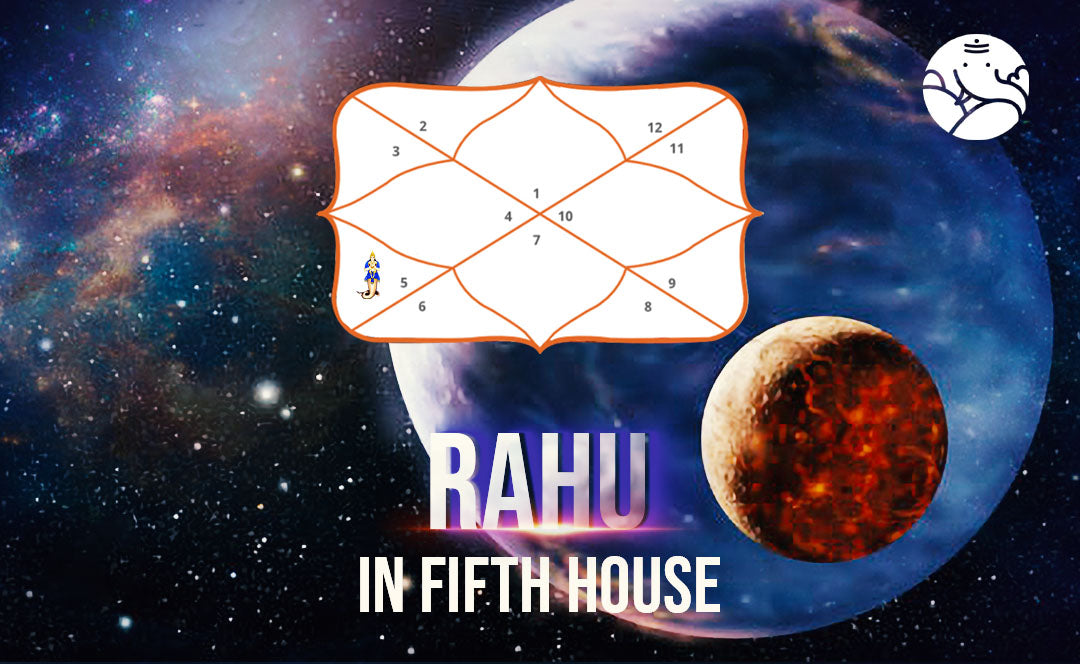 Rahu In The 5th House Navamsa Chart - Marriage, Love, Appearance & Career
Rahu is the planet that leads you into the future by releasing you from the rotting present through a succession of tumultuous occurrences. The meanings of the 5th house are about kids, learning, innovation, entertainment, scripting and directing, rituals, games, prediction, old wisdom, and marriage are all represented by the fifth house. This house is about our capacity to correctly or incorrectly assess others, as well as our capacity to oversee, control, or govern people.
Rahu in the 5th House Love as per Vedic Astrology
Love marriage specialist astrologer suggests that you will be dissatisfied with your own relationship choices in the initial phase of life. Your affection, enthusiasm, and enjoyment are represented by the fifth house. When it comes to finding the proper soulmate, you will make snap decisions and make blunders initially if Rahu is in the fifth house. It also suggests that there is a chance that you may become involved in unlawful relationships, forcing you to transgress all customary limits.
Rahu in the 5th House Marriage as per Vedic Astrology
Marriage Predictions says that if Rahu is in the 5th house, In terms of marital life, passionate romances, wellness, connections, and childbirth, Rahu in the 5th House in both men's and women's horoscopes is typically not regarded as positive. The majority of people favor love marriage over arranged marriage. Your marital life will be fascinating and remarkable if Rahu is in the fifth house. In your life, marriage would be like an enhancer once you cross the initial phase of your life.
Rahu in the 5th House Career as per Vedic Astrology
Career Report of Rahu in the fifth house indicates a profession filled with lighting and commotion. As a result, there is a possibility that people may pursue a profession in performing, music, or creating. it might provide some difficulties in terms of applying the intellect and reasoning procedure correctly. Here, the individual seeks social exposure and recognition. Rahu will propel you to new altitudes, make you renowned, and provide you with several material blessings.
Rahu in the 5th House Personality as per Vedic Astrology
Personalized predictions suggest that the fifth house is ruled by Rahu will disrupt limits and boundaries relating to faith in the 9th house, and then Rahu will create upsides and downsides in your earnings in the 11th house, which is the earnings house. Personalized predictions signify that Rahu in the fifth house renders your possessive, dissatisfied, and perplexed. Persistent or unexpected emotional fluctuations will happen if your feelings are disturbed and unbalanced. They are good visionaries and observers of people, and if given the opportunity, they may uncover new concepts and build something spectacular.
Positive Impact of Rahu in the 5th House 
There are certain positive impacts of Rahu in the fifth house.  If you have been training tirelessly for several decades, you will get renown. In a distant nation, your children will have good possibilities for careers. Additionally, you will be drawn to Dharma Hindu philosophy, elevating your quest for knowledge. Rahu is a distant component, and your talents are housed here, therefore this indicates a significant fascination with international commodities, which might be tied to training or commerce.
Negative Impact of Rahu in the 5th House 
As a negative impact of Rahu, something will obscure your thinking, cause you to become self-absorbed, and increase your anxiety levels significantly. The outcomes will range from stress to despair. The terrible thing is that your hidden intentions are sometimes revealed as well. If illicit acts were a part of your life, you will have to suffer a hefty price and endure defamation throughout this travel. Rahu in the fifth house also raises concerns about kids. It will cause you to be more concerned than normal. Then your health may worsen, and a prognosis may be difficult to get.


Conclusion


Rahu in the 5th Home will undoubtedly release a burst of vitality in the house of knowledge, understanding, and previous life's moral virtues. If Rahu spends a year in the fifth house in your horoscope, then you may take an astrology phone consultation to avoid the negative effects of the presence of Rahu in the 5th house.
Related Blog: