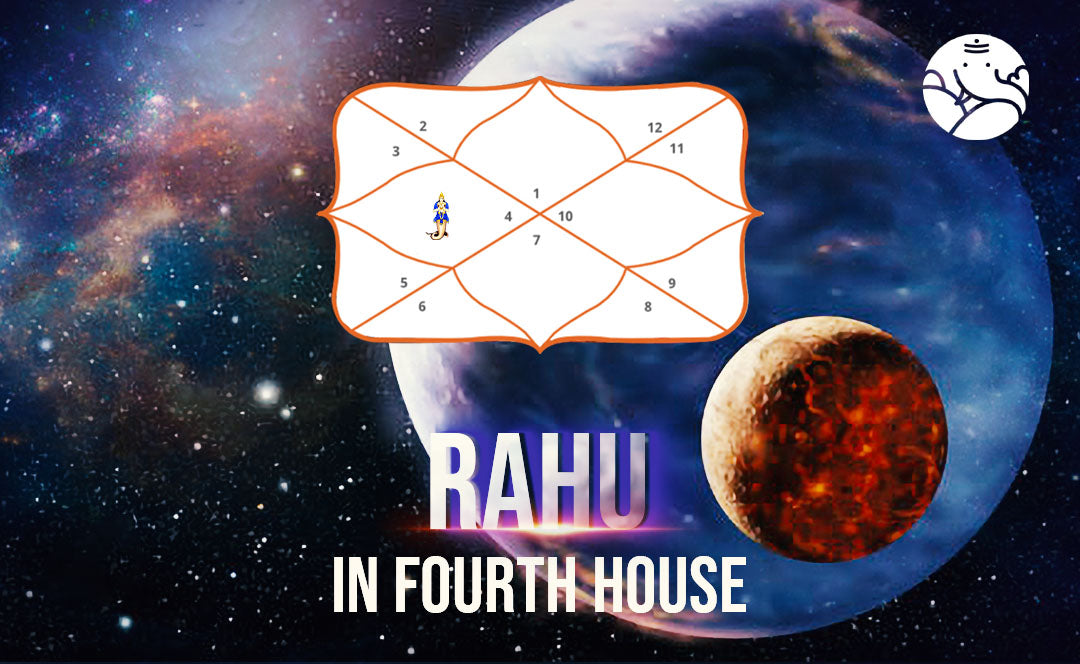 Rahu In The 4th House Navamsa Chart - Marriage, Love, Appearance & Career
The 4th house is the lunar element. The moon and Rahu are like lifelong foes. This house, according to astrological importance, is associated with a person's inner tranquility. As previously said, Rahu in the fourth house has both positive and negative aspects. When Rahu is in a favorable position, the inhabitants are very bright, wealthy, and enjoy spending money on a luxury. Folks will become prosperous and wealthy while the Moon is glorified. On the other hand, when Rahu and Moon are both in vulnerable positions, the natives are more likely to face financial difficulties.
Rahu in the 4th House Love as per Vedic Astrology
Love Marriage specialist suggests that, as far as Love is concerned, Rahu in the 4th house will make a person attractive to the opposite gender. Love for such individuals will begin with friendship. Initially, their love affairs will be just casual and nothing sort of serious but eventually, they will get into a real relationship and might think of getting married. Love Marriage specialist predicts that, before finding the right soulmate, People with Rahu in their 4th house will have multiple relationships. 
Rahu in the 4th House Marriage as per Vedic Astrology
Marriage Predictions for people having their Rahu in the fourth house will find it difficult to maintain peace and tranquility in the marriage initially. Such individuals will get a spouse who is demanding in terms of love and affection. There will be an imbalance in their work life and personal life which will create issues. Hence, people having Rahu in their fourth house will have to put extra effort into their marital life. Rahu's position in the 4th house also affects the chances of getting the children for the individuals as per the marriage predictions.
Rahu in the 4th House Career as per Vedic Astrology
As per the Career Report of the people with Rahu in their fourth house, in principle, Rahu in the fourth house will push you into entrepreneurship. If the chart has other pairings that indicate the 4th house of profession, the native can do commercial activities or work with foreign businesses. Careers in teaching, hospitality, international enterprises, and property investment agencies are all possibilities. Rahu's participation will manifest itself in the form of documentation falsification, deception, unlawful actions, or finances.
Rahu in the 4th House Personality as per Vedic Astrology
Personalized predictions say that people with Rahu in their fourth house are eager and competitive. They don't mind battling with others in order to ascend the way to the top. In the actual world, they are able to win. They are generous and like maintaining a respectable social standing. They believe in giving back to the community and frequently attend charity events and make charitable contributions. They want social attention and gratitude in exchange. Personalized predictions also suggest that when Rahu interacts with lofty ideals, the individual will want to remain distant, seek better understanding, and concentrate in order to achieve bliss. Your actions indicate an aspect of illusory assurance and personality. Because you have an impetuous nature, you will unwittingly make errors in order to get satisfaction.
Positive Impact of Rahu in the 4th House
Rahu's position in the fourth house has a significant influence on the locals' monetary circumstances and deepens their bond with their wife and mother. Rahu also brings authority, prominence, and renown. When Rahu's position in the horoscope is favorable, the inhabitants may see rapid increases in money, influence, and commerce. It also gives knowledge and insight. The locals' mother plays a key part in unpicking their lives and restoring professional and emotional stability.
Negative Impact of Rahu in the 4th House
It makes people arrogant, and they have an extreme desire to achieve a high social position using illegal methods. To others, natives lose socioemotional understanding. As time passes, they grow more restless, jealous, and reduce their right to appropriately appraise situations. Rahu in the 4th house causes large losses in trade and big peaks and troughs in the native's chosen vocation. Furthermore, they will lose your ability to properly assess individuals.


Conclusion 


When Rahu spends a year in your 4th house, it activates that house, which could lead to unexpected outcomes. Rahu in the fourth house might land you into issues if certain personalized remedies are not carried out and hence, you can take an astrology phone consultation. As Rahu can cause Vaastu Dosha, you must necessarily choose astrological consultation and follow personalized remedies to remove the ill effect of Rahu's placement in the fourth house.

Related Blog: