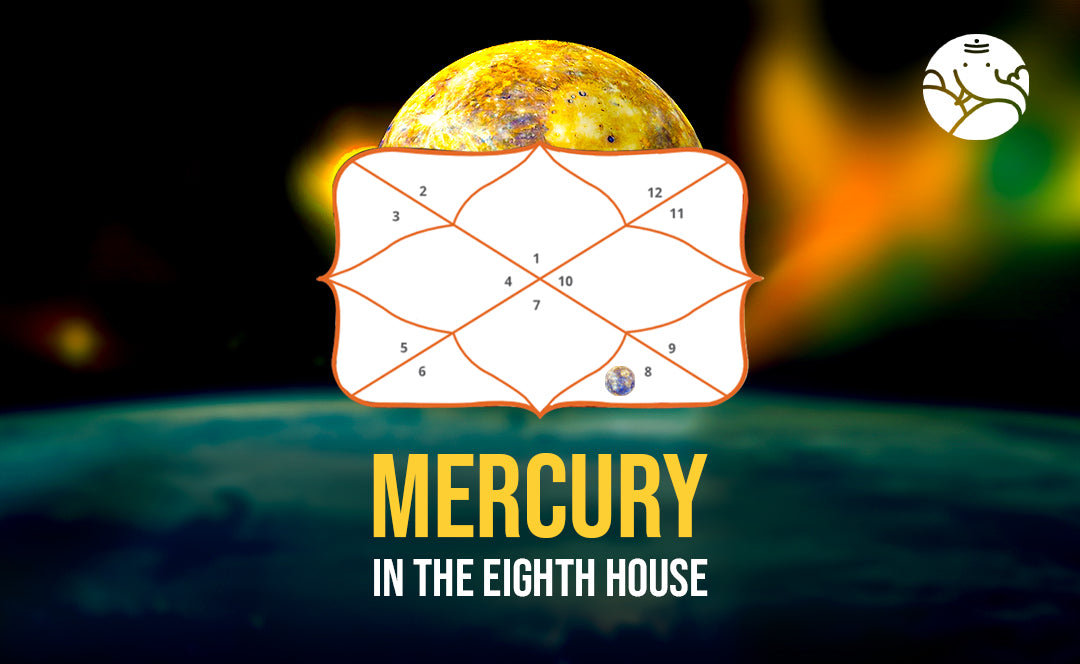 Mercury In the 8th House Navamsa Chart - Marriage, Love, Appearance & Career
Mercury mainly is related to death, hurdles in life, monetary condition of a spouse's health and well-being. Mercury gives different results for different persons due to the difference in their placement in a person's house. The natives will face obstacles in their career paths and academics for many years in their adolescence. They will be able to save a high amount of liquid wealth in their life. They might work as a director and camerapeople in the film industry. They might also become a very good dialogue writer or scriptwriter by utilizing their excellent writing skills in writing scripts and dialogue for movies.
Mercury in the 8th House Love as per Vedic Astrology
Love Problem Solution Astrology predicts that they will have a very exciting and romantic love life with their partners from a very early age. You will enjoy your adolescence age by engaging in various relationships and deriving physical and mental pleasures from them. They have to experience heartbreaks and cheating early in their life due to their innocent nature but they will find their soul mate in their late 20s with whom they might get married. Your lover will be accepted by your family and you will do social marriage with them. Your income will rise after getting married and you will become more fortunate with the support of your lady luck.
Mercury in the 8th House Marriage as per Vedic Astrology
The marriage horoscope by date of birth predicts that the spouse will have a very enigmatic personality with good looks and a charming personality. They can easily attract attention and love from the opposite sex. Your spouse will be very much attached to you mentally and physically and will depend on you more spending their moments of joy and sorrow with you. Though you will face a lot of misunderstandings and trust issues with your spouse your rock-solid bonding will make your relationship unbreakable. Your children might face some health problems due to the malefic effects of mercury in your house. You will not be much compatible physically with your partner and will not be satisfied in deriving physical pleasures from each other.
Mercury in the 8th House Career as per Vedic Astrology
Career prediction says their carrier is likely to flourish in the subjects like metaphysics, yoga, meditation, and occult science. They will make their career very successful by practicing as an astrologer having strong 6th sense and psychic powers. They will also make a good career as a psychologist and will be satisfied in their job by working in the railways or Air Force under the government sector. They will also gain profit by doing business with jewelry and hardware devices. They might travel to far-off places from their homeland for their career. Their career will also greatly flourish as a writer, where their writing skills will greatly be utilized.
Mercury in the 8th House Personality as per Vedic Astrology
Personalized prediction says the natives are having a very high intellect with a sharp memory and excellent communication skills. They are very wise in their nature and have a sharp memory. Natives may travel to foreign countries for earning a high amount of income in their business or profession. They will also gain name and fame as an athletic or sports person for a short temporary period of time. They are very curious in nature about other person's lifestyles. They are very interested in investigating everything and always try to find the hidden truth and mysteries by utilizing their excellent analytical skills.
Positive Impact of Mercury in the 8th House
Their investigative mind will make them successful in careers such as in medicines, finances, and others that require logical analytical skills. They have excellent communication skills with good leadership qualities that make others good listeners when they speak about something. They can build very good strategies and executive their plans and everything with a calm and cool mind and determination. The spouse will be very active in the household matters and will take good care of your children and be a responsible member of the family. Your spouse will be very virtuous nature and will always support you and cooperate with you in all the matters in your life. Bliss and harmony will prevail in your conjugal life.
Negative Impact of Mercury in the 8th House
Under the transitory effect of Mercury, the subjects related to paranormal activities should be stopped. Their inclination towards occult science and supernatural powers will not give them a positive direction in life. They might get themselves involved in writing projects related to the cemetery, and criminal investigations. They are most likely to die due to their respiratory organ failure or while traveling to far-off places. They would gain a lot of contracts and make monetary gains or losses. They are very much suspicious in nature and many people will be curious to meet this kind of person. They are mostly incomprehensible from the surface level and they cannot be predicted very easily.
Conclusion
Astrology consultation will provide all kinds of guidance and support related to your marriage life, career, and love life to lead a healthy and happy life. Our expert astrologers are always looking forward to helping you and supporting you in overcoming the difficulties in your life and removing the negative effects of mercury's 8th house. Their analytical and reasoning ability will help them crack many cases And their investigative mind will unravel very many truths of life. They should maintain peace and harmony with their friends and relatives because they are the people who will stay by their side through their thick and thin.