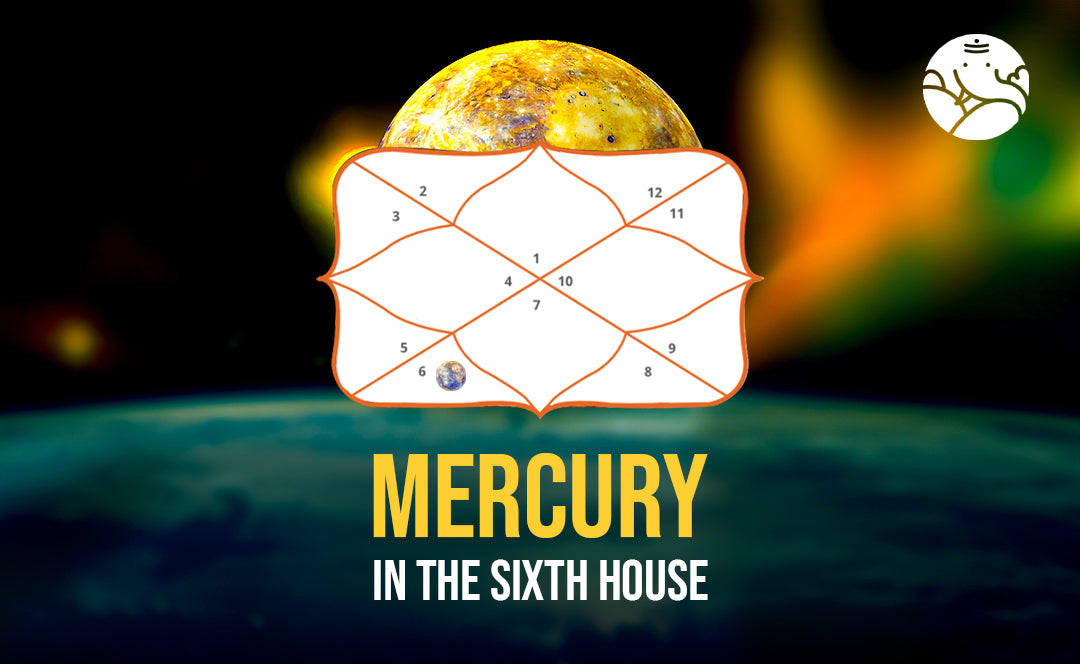 Mercury In the 6th House Navamsa Chart - Marriage, Love, Appearance & Career
Mercury is the nearest planet to the sun and will take away all of your struggles and hardships very easily. The natives are highly intelligent, empathetic, and very smart to handle all the challenges in life. They are having a great personality for which they are in a very respectable position in society. The natives also suffer from various diseases due to the 6th house position of mercury. It also makes the person weak physically and affects their health adversely. They will face success and failure all throughout their life. Their life will be full of ups and downs which will give them mixed results in all the aspects of life.
Mercury in the 6th House Love as per Vedic Astrology
Love Problem Solution Astrology speaks that natives' love life will be full of joys and excitement where they will indulge in various physical relations with their romantic partner. Due to their flirtatious nature, they will be in a relationship with multiple partners and will not stay loyal to anyone. This flirty nature will ruin their beautiful relationship with their lover. They will have many casual relationships before marriage and might get involved in a few serious love relations.
Mercury in the 6th House Marriage as per Vedic Astrology
The marriage horoscope by date of birth says the natives will lead a very peaceful and happy conjugal life with their spouse filled with laughter, happiness, and intimacy. You will share a very loving bond with your spouse which will build a deep connection in your marriage life. Due to the six-house position of Mercury, you will find it a little difficult to find harmony due to debt and financial issues. You might get married to a partner of your choice after sharing a long-term relationship with them. You will be flirtatious in nature and would get associated with many love affairs before getting married. You might get involved in a secret affair even after your marriage or while staying in a committed relationship. Due to a lack of stability in your relationship, you will have to deal with many heartbreaks and dejection.
Mercury in the 6th House Career as per Vedic Astrolog
Career prediction Speaks that you will become successful in your career after overcoming various hurdles in your path. Since you are attracted to technology and you will love to spend more time with gadgets for improving your professional front. But Engaging your mind in negative thinking will block your success and stop you from reaching great heights in your career. You will achieve great success in your career after realizing your strengths and weaknesses and the ways of overcoming the obstacles in your path. Your career will greatly flourish in the IT sector or are taking up digital marketing as a career option. You'll also gain name and fame in the music industry as a composer or a dancer.
Mercury in the 6th House Personality as per Vedic Astrology
Personalized prediction says the natives are very intelligent and wise in nature and are very smart in dealing with all their matters. They are having a very strong personality which inspires many to be like them. At the same time, they are also very lazy person who loves to lead a comfortable lifestyle. Many times, they hurt their elders and siblings by using rude words while speaking with them. Mercury's strong influence might resist you from engaging in such behavior. You would have to deal with a lot of responsibilities in your family and work life. You are someone who always likes to lift up everyone from their miserable life and offer your helping hand. Everyone adores you and appreciates you for all your positive qualities of yours.
Positive Impact of Mercury in the 6th House
They will become very wealthy due to their nature of saving money and not having the habit of spending money on unnecessary items. They will earn a huge amount of money from their profession and will be very smart in saving and making a huge bank balance in their retirement time. They will be loved and appreciated by all their friends, relatives, and family members for their caring and loving nature towards everyone. They will build their own house and property and lead a very comfortable lifestyle after crossing their middle age.
Negative Impact of Mercury in the 6th House
This position will of mercury not give you peace of mind and you might lose your temper very easily. You will engage yourselves in arguments and quarrels when your ego is hurt or having a clash of opinions with anyone. This house is mainly related to debts. You will have to deal with illegal matters related to your money debt. This position of Mercury will not contribute much to the growth of your career. Improve your intellect and memory which will take you a long way in your professional life.
Conclusion
Astrology consultation is always ready to provide all kinds of assistance related to your love life, career, and marriage life. Your life will be full of ups and downs. Failure and success are both parts of the same coin. You will not have a satisfactory relationship with your spouse after marriage but you will be blessed in your career with this position of mercury. Improving your interpersonal skills will give you many career opportunities. You should also try to control your anger and frustration because of your impatient nature which affects your relationships with friends, relatives, and colleagues. This negative trait of yours will not take you far in your career. You can always converse with our expert astrologers to extract the positive effects of mercury and apply it to improving the quality of your life by eliminating the mollifying effects.
Related Blog: