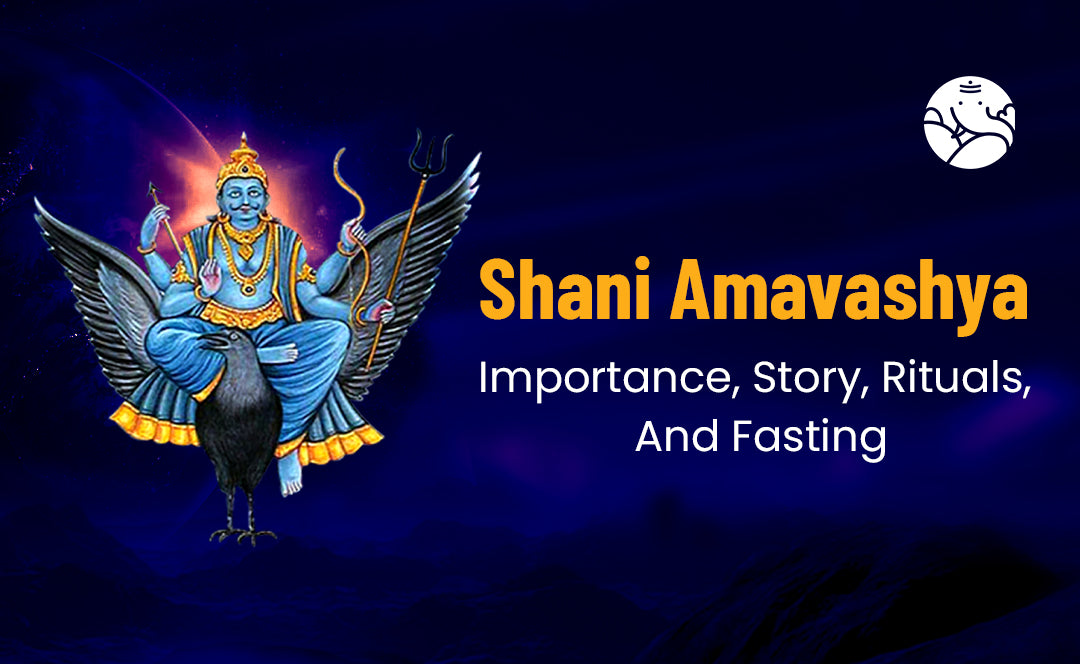 Shani Amavasya Importance, Story, Rituals, And Fasting
When Amavasya Tithi falls on a Saturday, it is known as Shanichari Amavasya. The new moon day of Magh month falls on a Saturday. That's why it will be called Shani Amavasya. When Amavasya Tithi falls on a Saturday, it is called Shani Amavasya, which has a lot of importance from a religious point of view. It is said that worshiping Shani Dev on the day of Shani Amavasya is very fruitful. This reduces the adverse effect of Shani Dev. Worshiping Shani Dev on the day of Shani Amavasya in Dhaiyya and Sadhesati gives benefits. Also, reciting the story of Shani Amavasya on this day also gives auspicious benefits. Please tell us that the new moon of Magh month is also known as Mauni Amavasya. Know the mythological fasting story of this Amavasya in Hindi here.
Shani Amavasya Tithi
Amavasya tithi in March, 2025 - Mar 28, 7:55 pm - Mar 29, 4:27 pm
Amavasya tithi in August, 2025 - Aug 22, 11:56 am - Aug 23, 11:36 am
Significance of Shani Amavasya
According to 'Shani Amavasya' astrology, Shani gives his auspicious results to the person during Sadesati and Dhaiyya. 'Shani Amavasya' is considered very important. By pleasing Lord Shani on this day, people can protect themselves from the anger of Shani. According to Puranas, it is very easy to please Lord Shani on the day of Shani Amavasya. On the day of Shani Amavasya, Shani Dosha can be pacified very easily. On this day, reciting 'Shani Stotra' written by Maharaj Dashrath, and donating any object of Shani like- black sesame, iron item, black gram, blanket, or blue flower, keeps Shani safe from troubles throughout the year. Those who are going on a journey on this day and are short of time can recite 'शनि नवाक्षरी मंत्र' or 'कोणस्थ: पिंगलो बभ्रु: कृष्ण रौद्रांतको यम' in the journey. सौरिः शनैश्चरो मंडः पिप्पलादेन संस्तुत।। If you try to chant the mantra, then you get the full grace of Shani Dev.
Shani Amavasya Story
Surya Dev had two wives, Samjna and Chhaya. Samjna was the daughter of Lord Vishwakarma. When Sangya was married to Suryadev, she could not bear the glory of the Sun. Distressed by this, one day Goddess Sangya created her counterpart Chhaya and asked him to stay at her place. Chhaya started living as the wife of Surya Dev. On the other hand, Sangya herself started roaming on the earth in the form of a horse.
One day when Surya Dev came to Chhaya with the desire to have a child, seeing his brilliance, Chhaya's complexion turned black and she became pregnant. Lord Shani Dev was born as the son of Chhaya. The day Shani Dev was born was Saturday and Amavasya Tithi. That's why Shani Amavasya is considered to have special importance from a religious point of view.
Surya Dev got angry seeing Shani Dev because Shani Dev's color was dark. Surya Dev told Sangya that this cannot be my son. After this, Surya Dev also came to know the difference that his wife Sangya has been living in shadow for a long time. As soon as Surya Dev came to know this truth, his anger increased even more. He left Chhaya and Shani Dev and went in search of his first wife Sangya.
When Shani Dev grew up, he vowed to make himself more influential and powerful than Surya Dev and started doing penance for Lord Shiva. Shivji was pleased with the penance of Shani Dev and gave him the post of judge and magistrate on the planets. Shivji also gave a boon that O Shani, you will have a special place and respect among the nine planets. No one in all three worlds will be saved by your justice. You will judge by looking at the deeds of all living beings.
Shani Amavasya Worship Method
On the day of 'Shani Amavasya', Shani Dev should be appealed to and seen by bathing in the water of the holy river or in the river. Offer blue colored flowers, Bilva leaves of Bilva tree, and Akshat to Shani Dev. To please Lord Shani Dev Shani Mantra should be chanted Om Shan Shanaishcharaya Namah or Om Pran Prim Praun Shan Shanaishcharaya Namah. On this day, mustard oil, urad dal, black sesame, Kulthi (Chane ki daal), jaggery, Shani Yantra, and all the worship material related to Shani should be offered to Shani Dev and Shani Dev should be anointed with oil. 'Shani Chalisa', 'Hanuman Chalisa', or 'Bajrang Baan' must be recited on the day of Shani Amavasya. Those whose horoscope or zodiac sign is affected by Shani Sade Sati and Dhaiya should duly worship Shani Dev on the day of Shani Amavasya.
Conclusion
All wishes are fulfilled by worshiping Shani Dev, the son of Lord Surya Dev on the day of Shani Amavasya. 'Shani Amavasya' is to be celebrated on the same Saturday of the month when Amavasya falls. It is also known as 'Pitrkaryeshu Amavasya' and 'Shanischari Amavasya'. 'Shani Amavasya' is a rare day and an important time to get rid of many Saturn-related obstacles including 'Kalsarp Yog', 'Dhaiyya', and 'Sadhesati'. A lot of importance of 'Shani Amavasya' has been told in mythological religious texts and Hindu beliefs. On this day, fasting, fasting, doing charity, etc. get great virtue.
Amavasya is dearer to Shani Dev. In order to become eligible for his grace, 'Shanishchari Amavasya' should be duly worshiped by everyone. According to 'Bhavishya Purana', Shanishchari Amavasya is dearer to Shani Dev. On the day of 'Shanishchari Amavasya', the Shradh of ancestors must be performed. People who are suffering from Pitridosh in their Kundli or who are suffering from Pitridosh should do special deeds like donations etc. on this day by talking to astrologers through an online astrological consultation. Even if there is no wrath of the ancestors, the Shradh performed on this day gives success to man in every field in the coming times, because by the grace of Lord Shani, the salvation of the ancestors is easily achieved.