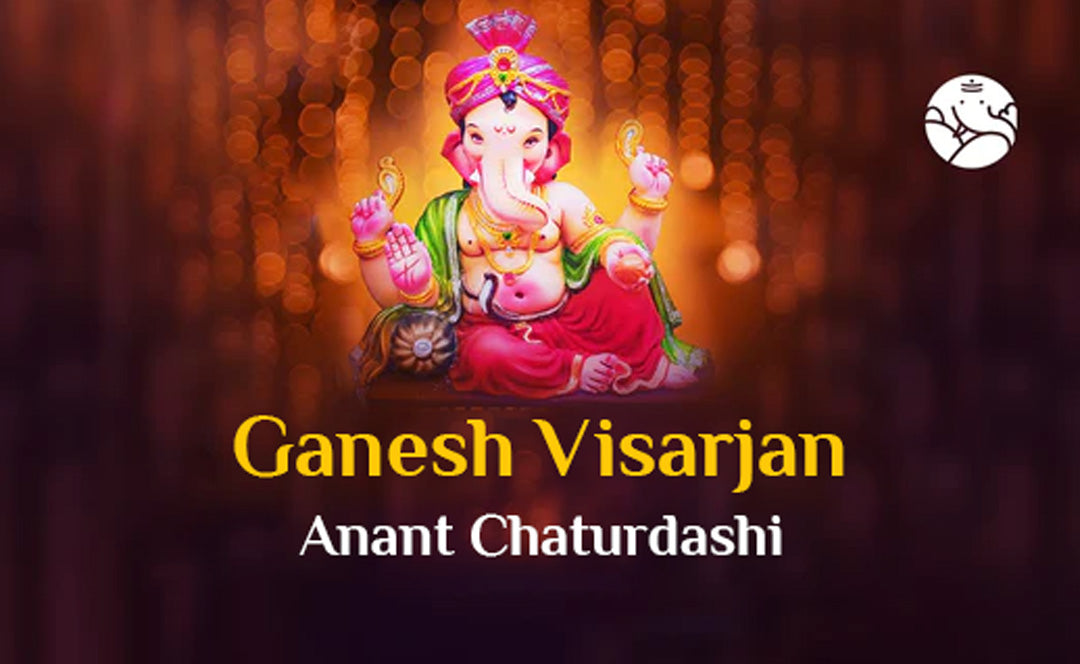 Ganesh Visarjan - Anant Chaturdashi
Anant Chaturdashi Tithi is considered to be the most important for Ganesh Visarjan. Lord Vishnu is worshiped in his eternal form on the day of Chaturdashi Tithi which makes Chaturthi Tithi even more important. On this day, the devotees of Lord Vishnu keep a fast so that God's grace remains on them. At the time of worshiping the Lord, a thread is tied in the hand. It is believed that this thread protects the devotees in distress.
The preparations for Ganesh Chaturthi have started. This festival is celebrated with great pomp and reverence all over the country. This ten-day long festival will start on 31st August and will end with Ganpati immersion on Anant Chaturdashi on 9th September. The festival of Ganesh Chaturthi is celebrated on the Chaturthi Tithi of Shukla Paksha of Bhadrapada month. Ganesh Chaturthi is celebrated all over India with great pomp and reverence. For these ten days, Bappa is offered his favorite things. It is believed that by worshiping Bappa by law, Bappa removes all the troubles of his devotees and brings happiness and prosperity to the house.
Ganpati Visarjan 2023
On 28th September 2023 is the festival of Anant Chaturdashi (Ganpati Visarjan 2023). According to the belief, the immersion of Ganpati is done on this day. Special events are organized especially in Maharashtra on the occasion of Ganesh Visarjan. And Bappa is sent off on this day with moist eyes.
Bappa is sent off on the tenth day of Ganesh Chaturthi i.e. Anant Chaturdashi. Various types of dishes and Modak can be offered to Lord Ganesha on this day.
Ganpati Visarjan Importance 
The idol of Lord Ganesha is immersed with pomp on the eleventh day of Ganeshotsav. Before immersion, Lord Ganesha is worshiped and aarti is performed, flowers are offered and Prasad and coconut are offered. After this, the Ganesha idol is brought to the river or pond, traditionally with pomp and ceremony accompanied by drums and drums. Thousands of devotees enthusiastically participate in the celebrations, chanting "Ganpati Bappa Morya" and "Ganesh Maharaj ki Jai", chanting the name of Lord Ganesha.
Ganpati Mandal conducts the Ganesh Visarjan ceremony in Mumbai. Here also a running ceremony is held, in which the traditional drums and other musical instruments of Maharashtra give grandeur to the ceremony. Usually, the festival of Ganesh Visarjan lasts for the whole night and till the morning of the next day.
In some families, Ganesh Visarjan is done on the third, fifth, or seventh day only a few days before, instead of Ganesh Visarjan on Anant Chaturdashi. Ganesh's idol can also be immersed in a bucket or tub at home.
Conclusion
Ganeshotsav is very important. People worship and pray by establishing Lord Ganesha to get relief from their troubles. Lord Ganesha is also known as Sankat Mochan. You can talk to Astrologer to know about what new changes will come in your life during Ganeshotsav.