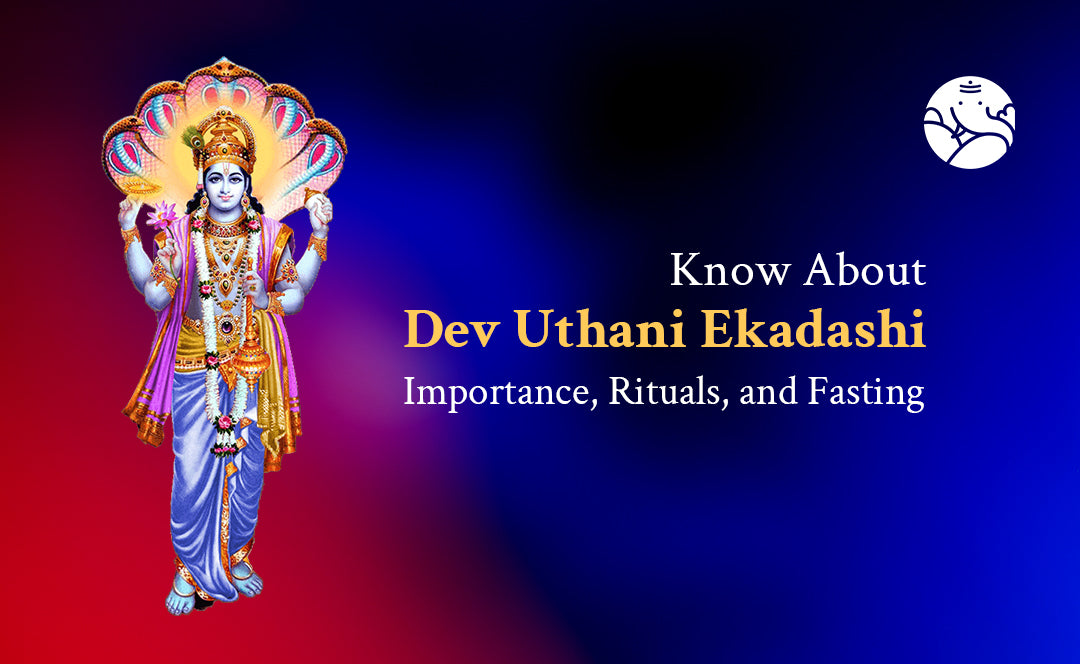 Dev Uthani Ekadashi Importance, Rituals, And Fasting
According to the Hindu calendar, Devuthani Ekadashi falls on the Shukla Paksha of the month of Kartik. Ekadashi, which falls on the 11th day of Kartik Krishna Amavasya Tithi, is known as Devuthani Ekadashi or Devotthan Ekadashi. According to religious beliefs, as soon as the rainy season begins, the Lord falls asleep on the day of Devshayani Ekadashi, and after four months, on the day of Devuthani Ekadashi, wakes up again from Yoganindra and conducts the work of creation. On the other hand, according to the scriptures, Chaturmas begins as soon as Lord Vishnu's sleeping period begins and Chaturmas ends as soon as he wakes up. At the same time, as soon as Chaturmas ends, all the auspicious and auspicious works that have been stopped during this period start again from the day of Devuthani Ekadashi.
Dev Uthani Ekadashi Date & Time
Dev Uthani Ekadashi on Thursday, November 23, 2023
On 24th November, Parana (breaking of fast) time – 07:02 AM to 09:05 AM

Dwadashi ending time on Paran Tithi - 07:06 PM

Ekadashi Tithi Starts – November 22, 2023 at 11:03 PM
Ekadashi Tithi Ends - November 23, 2023 at 09:01 PM
Importance Of Dev Uthani Ekadashi
According to the Ekadashi Mahatyam mentioned in the Padma Purana, the result of the Devotthan Ekadashi fast is equal to one thousand Ashvamedha Yagya and one hundred Rajasuya Yagya. Ekadashi fasting is wise, peace-giving and progeny. Bathing in rivers and worship of Lord Vishnu have special significance on this day. By observing this fast, the sins of birth after birth are attenuated and one gets freedom from the cycle of birth and death. According to Vishnu Purana, those who felicitate Lord Vishnu on Ekadashi due to any reason, whether because of greed or because of attachment, become free from all sorrows and become free from the cycle of birth and death.
Dev Uthani Ekadashi Puja Method
On this day, clean the place of worship in the evening, mix turmeric in flour and make Rangoli in the worship room. Light eleven lamps of ghee for the deities. Then keep Draksha, Naar, Banana, Singhara, Laddu, Patase, Radish, etc., along with seasonal fruits and new grains, etc. for worshiping Lord Vishnu. By offering all this reverently to Shri Hari, his grace always remains. On this day, there is a law to awaken the gods by chanting, recitation of sources, sounding of conch bell, and hymn-kirtan. In order to increase happiness and good fortune, one must take the feet of the Lord. It is believed that Charanamrit destroys all diseases and protects from premature death, removing all sufferings. On this day, worship of Vishnu, Shaligram, and Tulsi Mahima should be recited and fasted.
Dev Uthani Ekadashi Fasting Rules
Do Not Pluck Tulsi Leaves - On the day of Devuthani Ekadashi, Lord Shaligram and Mother Tulsi are married. In such a situation, it is forbidden to pluck Tulsi leaves on this day.
Do Not Consume Tamasic Things- Satvik food should be taken on the day of Ekadashi. If you are not fasting, then you should eat simple food on this day. One should not consume meat, liquor, etc. on this day.
Do Not Consume Rice- Rice should not be consumed on the day of Ekadashi. It is believed that by consuming rice, a person gets the vagina of a creeping creature at the next birth.
Avoid Debate- On the Ekadashi date, the debate should be avoided. Maa Lakshmi can get angry due to fighting on this day.
Do Not Insult Anyone- One should not insult anyone on the day of Ekadashi. It is believed that doing this angers Goddess Lakshmi.
Conclusion
If you also want to fast on Dev Uthani Ekadashi with reverence, then do it with the advice of astrologers so that you can get good and desired results. If you want to know about fast and Muhurta, then also talk to astrologers.