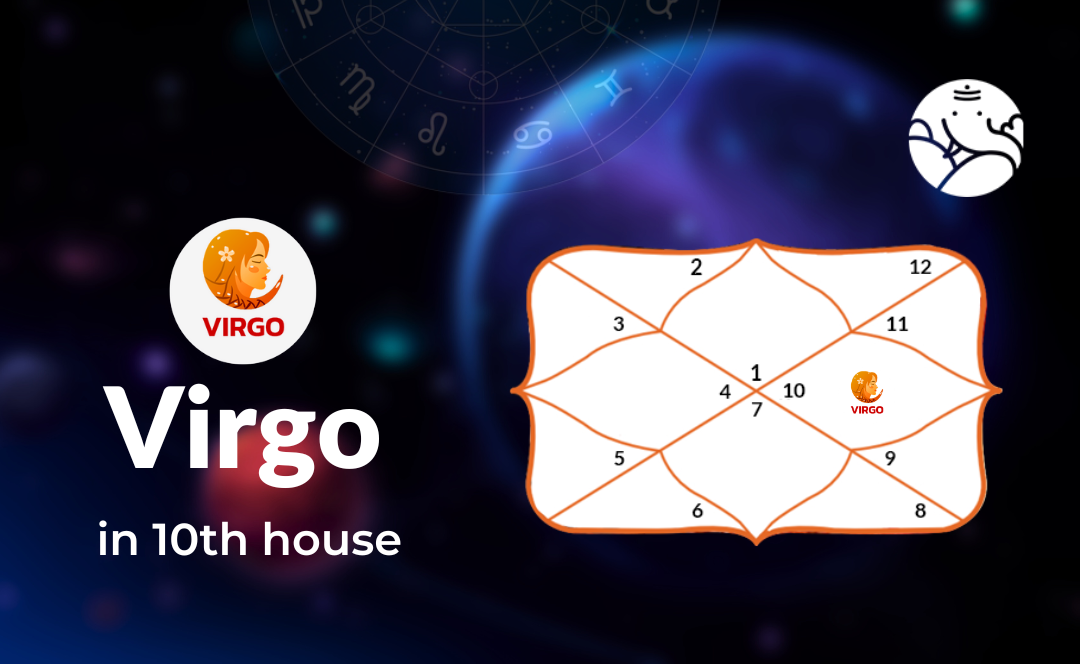 Virgo in 10th house
In astrology, Virgo's placement in the 10th house has a distinctive impact on a person's career. Virgo, an earth sign headed by Mercury, stands for accuracy, organization, and analytical abilities, while the 10th house symbolizes profession, credibility, and image in society. Virgo natives with the tenth house placement are renowned for their diligent and keen-on-detail work habits. They have a good work ethic, are conscientious, and aim for excellence. They perform well in jobs requiring meticulous attention to detail because of their aptitude for problem-solving and systematic nature. They would do well in careers involving evaluation, investigation, interpersonal interaction, or company.
Virgo in 10th house Astrology
According to astrology, Virgo's position in the 10th house significantly impacts a person's life. The 10th house is related to one's reputation, public image, and career. The earth sign of Virgo, which Mercury rules, stands for accuracy, planning, and analytical prowess. When Virgo is in the 10th house, people frequently approach their professional endeavors with a careful and focused-on-detail mindset.
Individuals with Virgo in the 10th house are frequently dedicated workers who are laser-focused on excelling in their chosen professions. They naturally tend to perfectionist tendencies, which allows them to perform well in jobs that call for close attention to detail. These individuals are extremely effective at their jobs because they have problem-solving skills and a systematic approach.
People may be drawn to occupations that require investigation, inquiry, interaction, or organization when Virgo is in the 10th house. They are respected because of their ability and expertise in their respective fields. Consider requesting an online jyotish consultation from a reputable astrologer for personalized perspectives on your astrological chart and increased awareness of how Virgo in the 10th house may affect your professional life.
Tenth House Astrology
The 10th house in astrology is very significant because it reflects an individual's career, accomplishments, and public persona. It is connected to one's career and contribution to society. The traits of the sign that rules the 10th house impact a person's career outlook. Various signs bring unique qualities and strengths. To understand one's goals, achievements, and reputation in the workplace, examining the planets' positions in the 10th house is crucial. Astrologers can offer advice on career decisions and methods for finding professional fulfillment by comprehending the vibrations of the 10th house in an individual's birth chart. 
Positive Effects of Virgo in  the 10th House
The Virgo sign's position in the 10th house has several advantageous effects on a person's career. With Virgo, a sign known for its precise and logical nature, one's career aspirations are enhanced. People with Virgo in the 10th house are extremely organized, have excellent attention to detail, and have a strong work ethic. They are extremely systematic and excel at tasks that call for precision. Their capacity for problem-solving and analytical thought makes them productive workers. These people are regarded for their skill, professionalism, and commitment to their field. Success in occupations requiring evaluation, investigation, interaction, or organization is very likely with Virgo in the 10th house.
Negative Effects of Virgo in the 10th House
Although Virgo in the 10th house typically brings positive qualities, there can also be potential drawbacks. With unreasonable expectations that can result in perfectionism and stress, people with this placement might acquire an excessively critical attitude toward themselves and others. They might need help to see the big picture or take risks because of their meticulous nature, which can cause them to become mired in details. They might struggle to maintain a healthy work-life balance, putting their careers ahead of their friends and well-being. Their analytical style may also result in overthinking and indecision. It's critical for people with Virgo in the 10th house to learn how to control their need for perfection and strike a healthy balance between their personal and professional lives.
Conclusion
In conclusion, Virgo's position in the 10th house affects a person's career in several beneficial and detrimental ways. Virgo's careful and logical nature helps them succeed in their career goals by making them conscientious, meticulous, and productive workers. They are esteemed for their competence and professionalism. However, issues like perfectionism, excessive criticalness, and trouble balancing work and life can be problematic. People in this placement must control their tendency towards perfection, keep a positive outlook, and put their well-being first. They can successfully and happily navigate their careers by utilizing Virgo's strengths and overcoming obstacles.