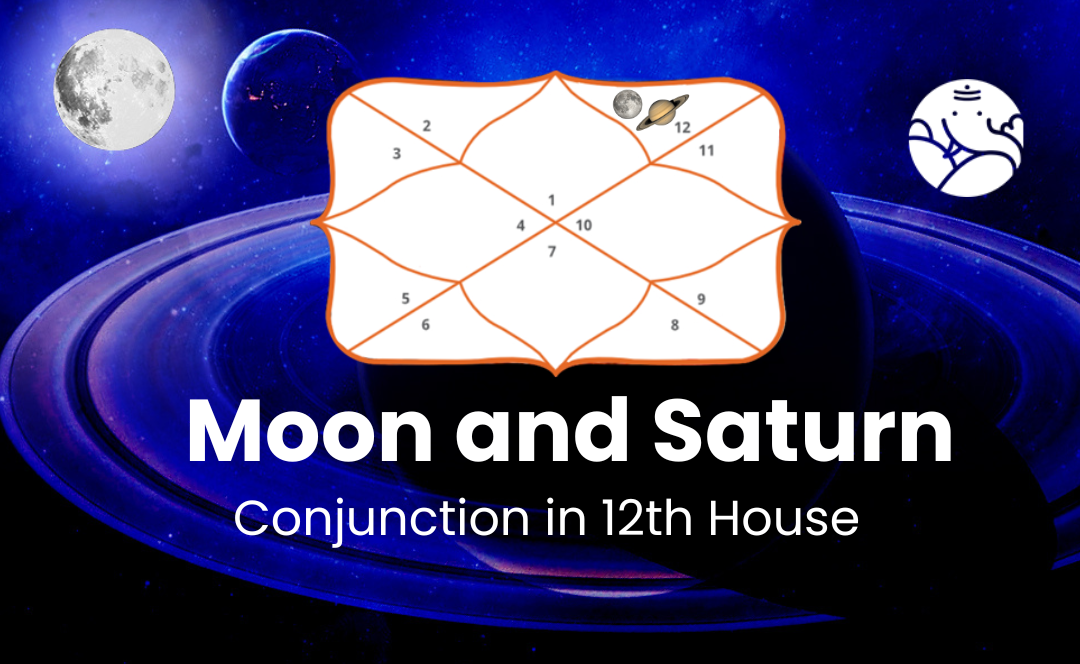 Moon and Saturn Conjunction in 12th House
Saturn represents limitation, apprehension, boredom, despair, an excessive workload, severe scheduling, karmic repercussions, pragmatism, and other traits. The unfavourable emotional habits from previous incarnations that you need to improve on. They arrange circumstances so that you might fulfil your karmic obligations and gain wisdom. Your spiritual body, hormonal moods, perceptive self, and mind are all represented by the Moon. They distribute the moon's energy to the other Graha. Saturn is the slightly slower Graha, and  They are the fastest. Saturn is in Muladhar while the Moon is in Ajnya chakra. Since they have different personalities, they will clash if they are together.
Effect of Moon and Saturn Conjunction in 12th house
A limiting aspect or conjunction of Saturn and your birth Moon is evident. Repaying your karmic obligations consumes all of your power. Your debts are staring at your mind in front of you, pleading for your attention and help. The changing Mind is unable to force itself to pay attention to this obvious problem. It attempts to divert t They are sue but only makes things worse. They will oppressively affect your Thought even if this Saturn is powerful, a benefit for your ascendant, your Moon is exalted, or everything is aspected by numerous benefits.
The native is typically at ease in judicial, professionally regulated organisations and situations, but they do not get along well with their colleagues emotionally. For a native person, allying with powerful, highly structured, top-down regulated bureaucratic institutions like the government and other authoritarian corporations is intuitively comfortable.
Positive Effect Of Moon and Saturn Conjunction in 12th house
Native people have attractive bodies. They might be sympathetic and sensitive by nature. They might naturally be motivated. They might be huge fans of relaxation. Natives may have spiritual and religious beliefs. 
It can be advantageous for a public figure to have a Saturn Moon because they will be acutely aware of the oppressed emotional needs of the populace. Saturn Moon people are typically high–achievers and hard workers whose appetite for approval intensifies their conceptions. May produce fantastic effects for the general good! These individuals feel competent and at ease performing tasks that result in outputs that are socially acceptable, professionalised, dependable, predictable, and legal. They behave primarily and frequently only in response to the voice of need, and they will exhibit whatever ethical or practical characteristics or behaviours are necessary to accomplish this.
Negative Effect Of Moon and Saturn Conjunction in 12th house
Native can be quite affordable. They don't want to spend any money, not even on important things. But, this does not imply that  They are affluent. They may be experiencing significant expenses that are out of their hands.
Natives are not usually open-minded. They possess poor moral judgement. They can be the target of embarrassment or blame. They may be the target of hatred from others. It's possible that others have insulted and defamed him.
Native people may experience precarious personal and economical circumstances. Native people can be starving. They might be experiencing commercial losses. Ask One Question to our expert astrologers about your time of marriage.
He might not be concerned with the physical realm. They might have a tendency to stay alone. They might be drawn to mindfulness.
Moon and Saturn Conjunction in 12th House in Navamsa Chart
According to Navamsa Chart, because of the fact that you have experienced emotional betrayal multiple times in your previous lifetimes here, Saturn will, in a significant way, not allow you to believe easily in the aspects of life that They govern. When the pattern keeps repeating, you carry the spirit of sorrow within your spiritual self and unconsciously anticipate being harmed by others.
Moreover, the Moon obstructs Saturn's ability to organise and carry out their tasks successfully. You frequently abandon tasks midway because you lack the mental acuity to see them through to their rational end. The sluggish Saturn cannot keep up with the variable Moon.
Conclusion
For their parents, the conjunction of the Moon and Saturn Conjunction in the 12th house is not deemed favourable. The natives might maltreat their father. Perhaps in poor health is their mother. She could be experiencing stomach or musculoskeletal pain. The native and their mother might not be on the same path. Astrology Phone Consultations will definitely assist you in coming out of problematic situations.