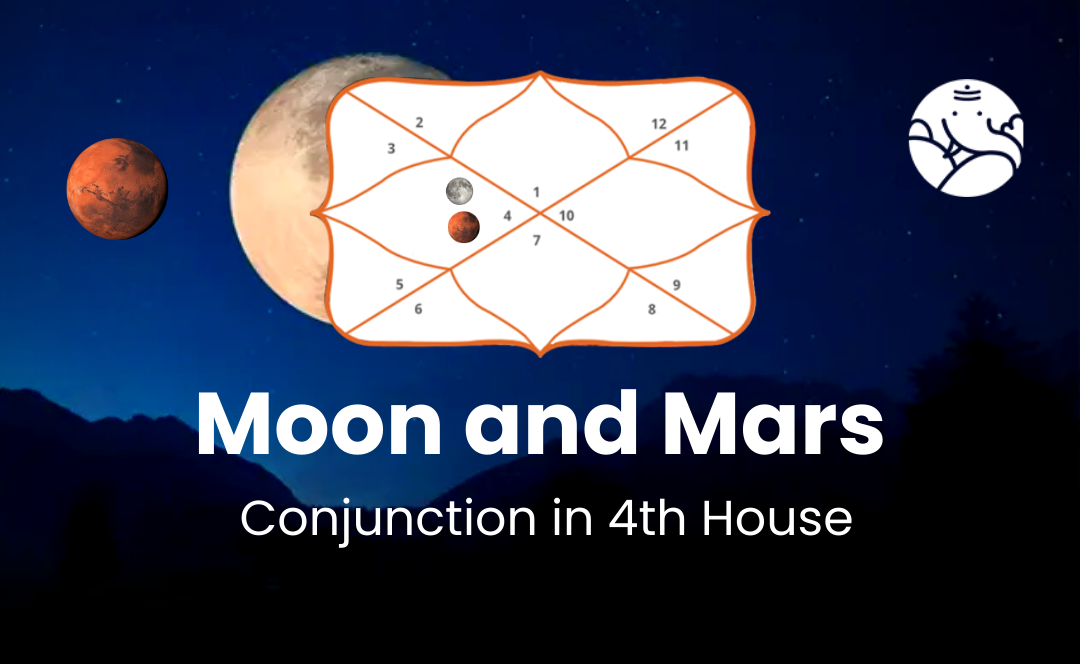 Moon and Mars Conjunction in 4th House
Chadra-Mangal Yoga is the name given to this combination. Due to the fact that Mars and the Moon are natural friends, it is a fantastic yoga to practise, yet most of the time this conjunction can be extremely unsettling. The straightforward explanation is that the Moon, which is still the most benevolent planet ever, is currently in conjunction with Mars, which is naturally malefic. Mars's malevolent characteristic nature of rage and hostility hence has a negative impact on the Moon and Mind. As a result, if Mars is placed in an unfavourable position, this individual may be easily enraged or may behave impulsively when they are angry. Ask one question to our renowned astrologers if you have any queries regarding the moon and mars conjunction in the 4th house.
Effect of Moon and Mars Conjunction in 4th house
Wealth and property are reflected in the fourth house of the birth chart. The person is courageous and full of confidence when the Moon and Mars are in conjunction in the fourth house. The person receives their mother's assistance in all of their endeavours during this time.  They are successful despite the fact that the Moon and Mars conjunction typically produces conflicting outcomes in the fourth house. In the process, respect and respect in society are gained. Success is attained in the scientific field. Even with family members by their side, the person nonetheless feels alone and powerless.
Positive Effect Of Moon and Mars Conjunction in 4th house
In astrology, the Fourth House is situated not far from the sign's lowest point. Its placement makes it simple to recall what it means: It relates to our inner "basis" or personal "foundation". Together with concepts of home, siblings, and our parents, this house also alludes to a person's upbringing or childhood. The things mentioned below are the key components of our early lives that give us our inner sentiments of security and well-being.
The Fourth House does have some influence over ancillary ideas related to the family and home, such as household finances, pets, neighbourhood safety, and housekeeping.
Native might be a military strategy expert. In battle or combat, no one can defeat them.  They may be successful in politics. They could lead the firebrand well.  They might be kind.  They have many buddies. They enjoy a solid reputation in society. They enjoy a solid reputation.
Negative Effect Of Moon and Mars Conjunction in 4th house
The conjunction of the moon and mars is bad for their mother. She can have a straightforward personality. Native and their mother can have different opinions. His mother might have medical problems. Native May doesn't live close to their mother.  They might travel frequently.
Native could be under mental stress. They might have problems with their lungs.  They could be experiencing problems with their heart. They could have high blood pressure.
Moon and Mars Conjunction in 4th House in Navamsa Chart
According to Navamsa Chart, the fourth house governs the home country, ancestry, possessions, and motherly relationship. The influence of the Moon and Mars in this house is ambiguous. Natives having this planetary position will succeed in life.
They will thus achieve a high social rank and receive praise for their valiant qualities. They will develop into science specialists and have bright minds. They could go into science.
Making Laxmi yoga is the Moon and Mercury conjunction. Native people may be prosperous and wealthy. Native people enjoy a wide range of hedonistic comforts. Native owns a car and a house.  They are well-educated and inclined.
Natives may work in the real estate or property industries.  They have a great property. They might possess productive farmland.  They might inherit her property.
They will be irritable and contentious as a result of the Moon combining with Mars' ferocious force. Sometimes they might act in a combative manner. These inhabitants are also prone to developing sex addictions because of Mars' ardent fire.
They will also exhibit philanthropic conduct and have a large global network of pals.
Conclusion
This conjunction can be successful if Mars is in good integrity since the mind will be focused on correct and dignified action. If so, the person will be very goal-oriented and achieve great things in life via their own efforts. The more irritated a person may feel, the closer the phases of the Moon and Mars are. A person can achieve positive results from this combination by working with themselves to develop goals for themselves or by engaging in meditation in such circumstances. Online Astrology Consultation is preferable if you want guidance to lead a happy and blissful married life.