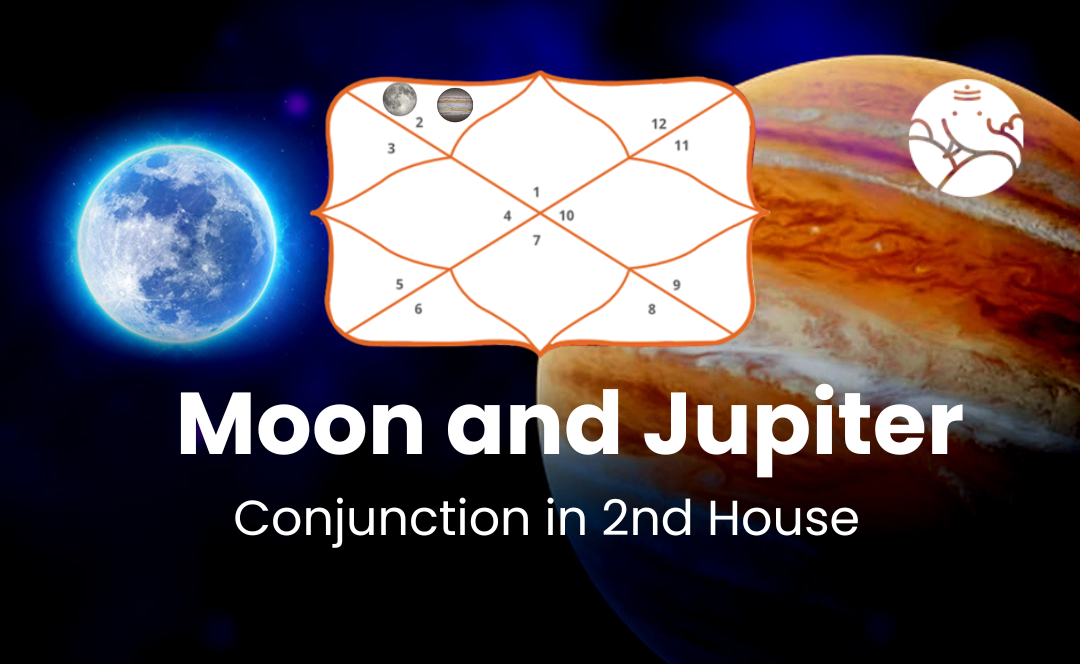 Moon and Jupiter Conjunction in 2nd House
In the second house, the relationship between the Moon and Jupiter Conjunction is auspicious. These two unquestionably increase an individual's wealth beyond their well-before economic state. A further benefit is in the shape of platinum, jewelry, diamonds, accessories, expensive soft furnishings, much superior living conditions, rich costumes, appealing appearance exterior, and connectedness.
Moon and Jupiter in the second house almost never harm the business, even when a person invests in danger zones. If, however, a loss does occur, these two stars will do everything in their power to help the person recover and regain the same level of financial security and fortune before.
Effect of Moon and Jupiter Conjunction in 2nd house
Jupiter and the Moon both have an identical effect on the second house when they are in conjunction. But if one of them elevates, it might rule the other one. If Jupiter regals in the 2nd house of your Kundali, your business life will be incredibly successful. While the overall state of your life is improved if the Moon regals in the second house of your horoscope.
Those with a Jupiter-Moon combination in the second house tend to be arrogant and promiscuous. You might give in to your sexual wants, which would show up as harshness towards other people. Given your temperament, situations will be challenging for you. As a follower of routine, you would like to dwell in the former.
Moreover, you might build emotional impulsivity and outbursts at everyone. You may have numerous emotional ups and downs during your life because restlessness is your middle name. The second residence has a significant impact on important ideas and worldly goods.
Positive Effect Of Moon and Jupiter Conjunction in 2nd house
These individuals are exceptionally adept with finances and have excellent learning abilities. They also know various financing options and industry trends. They seldom put their wealth in a situation at danger because they take great care to preserve their assets and income in financial institutions or other comparable entities.
The fact that their capital money typically comes from legitimate and ethical forms of funds is another factor in why their money is expanding and not experiencing a sharp decline. It does not take the form of undeserved cash.
They are generous in their charitable contributions to worthy individuals or organizations, and if they lack the necessary resources, they will seek whoever can.
The person has a high level of prestige and esteem in society as a result of all these admirable traits and attributes. Because of their integrity of aim, people who serve as magistrates in any courtroom, chamber, or tribunal or who are members of governmental agencies like the Legislative Council have a great deal of regard and repute in society.
Negative Effect Of Moon and Jupiter Conjunction in 2nd house
When Jupiter and Moon Conjunction are in the second house in a person's natal chart or yearly chart, gambling, and sporting event bets are more likely to result in deficits. Losses in wagering and other activities can occur during the time when Moon backward Jupiter transits the second house.
Native may be a victim of an incorrect accusation. They might be experiencing troubles with his minor ailments. They might have problems with their saturated fat. Litigation claims may be made.
They may have issues with his reputation and spend the night with prostitutes. Their wives should take special care in this regard. Ask One Question about your future with our renowned astrologers.
Moon and Jupiter Conjunction in 2nd House in Navamsa Chart
According to Navamsa Chart, as the person has Moon And Jupiter in the second house They may receive assistance from their relatives and close companions. Native people enjoy strong political support. They might be receiving aid from a woman. Native people may be sympathetic and caring. They may be courteous from upbringing.
Conclusion
In order to strengthen the planets in your Kundali power, you must contribute a few items. You must donate coconut and sesame oil to sacred sites in honor of Jupiter. About the Moon, you have to give green vegetables to young girls for 3 weeks.
The next treatment for the Jupiter and Moon in the second house combo is to retain a gold object close to you and refrain from giving it away. Also, never treat others the same way. You should never receive dairy or grain from others in addition to that. Astrology Phone Consultations will help you find your soulmate.