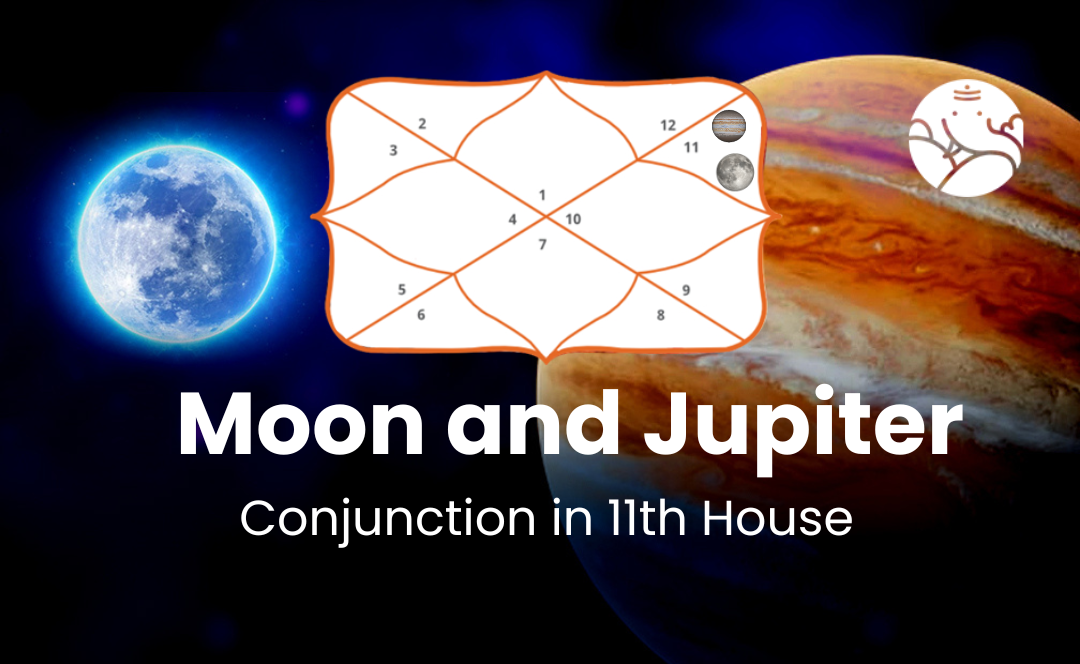 Moon and Jupiter Conjunction in 11th House
Your social connection's house, the 11th house, signifies rewards of all kinds, and riches, and is the powerhouse in terms of how likely it is that your goals and desires will turn into reality. It is also the home of your older siblings in addition to that.
When the native is accompanied by members of their community, the moon in this house promotes equilibrium in their daily lives. When the results are accruing gradually, the Moon feels happy. So, the moon is in a very favorable position in this area. As it also represents older siblings, the native benefits from them and has a strong bond with them.
Effect of Moon and Jupiter Conjunction in 11th house
Astrology states that anytime two planets move within a single house, their emotions are said to be interacting and enhancing one another. As a result, any related energy in a person is amplified.
The Eleventh House, also known as "The House of Kindnesses," is the home of friendships, groups of acquaintances, and gatherings of colleagues.
Conceptually connected to the Eleventh House are sudden shifts in the current system or unpredictable transformations. These unforeseen circumstances could be for the benefit or even worse.
Positive Effect Of Moon and Jupiter Conjunction in 11th house
Individuals with an intellectual bent of thought were born under the 11th house of the Moon and Jupiter. They are frequently quite intelligent and outgoing people. Such folks put their best effort forward and value hard work. Also, this combination creates a divine predisposition and a religious curiosity. Native people could have a propensity for yoga and travel. This is a good combination for businesspeople and power figures.
At a young age, they will be very passionate about music and journalism, but these interests will coexist with career ambitions.
Two planets in this conjunction are amicable to one another, which is positive. Jupiter, the most beneficial of the nine royal stars, is also present. Yet, Moon seems somewhat frail and feminine. Yet, individuals with such a conjunction in their zodiac are typically bright and kind. Because of Jupiter's benign influence, they appear to always be in luck. These natives are bold, stubborn, technically talented, and naturally charismatic individuals. They frequently lead holy lives.
Negative Effect Of Moon and Jupiter Conjunction in 11th house
A person may become pessimistic if Jupiter and the Moon Conjunction in the eleventh house. They might think the world is terrible, icy, and unkind. They could grumble a lot, disrupt enjoyment, or kill people's emotions with pessimistic remarks and deeds. A person who is judgemental may make snap decisions about individuals, circumstances, or even future events. For instance, a friend might warn you beforehand that a performance will be dull or unimpressive. Ask One Question our specialist which is causing you concern.
Moon and Jupiter Conjunction in 11th House in Navamsa Chart
According to Navamsa Chart, that results in an extremely powerful  Raj Yoga. Hence, a Gaja-Kesari yoga is made. Another Laxmi Yoga is the second lord in the eleventh house, while Jupiter is the eleventh lord in its own sign. This individual will have all of his wishes come true and profit from his connections. Also,  their older sibling will perform well. Nevertheless, make sure Jupiter and the Moon are positioned correctly as well, or else you won't see results.
If the moon is weak in the eleventh house, the native may experience mental distress from their family members, psychological instability as a result of their lack of success, or erratic behavior as a result of social disturbance.
Conclusion
If a person claims to be a pragmatist, you can be assured that they genuinely view life from a viewpoint infused with a greater goal, giving them an aspirational and motivating ethos. These people are frequently a pleasure to be around because of their upbeat attitude and calming energy. They believe, on a very profound level, that no regardless of what occurs, things will finally be well, so they are not frantic or ecstatic in their delight, but rather somehow more sensible and confident.  Astrology Phone Consultations can assist you in effectively dealing with any situation.