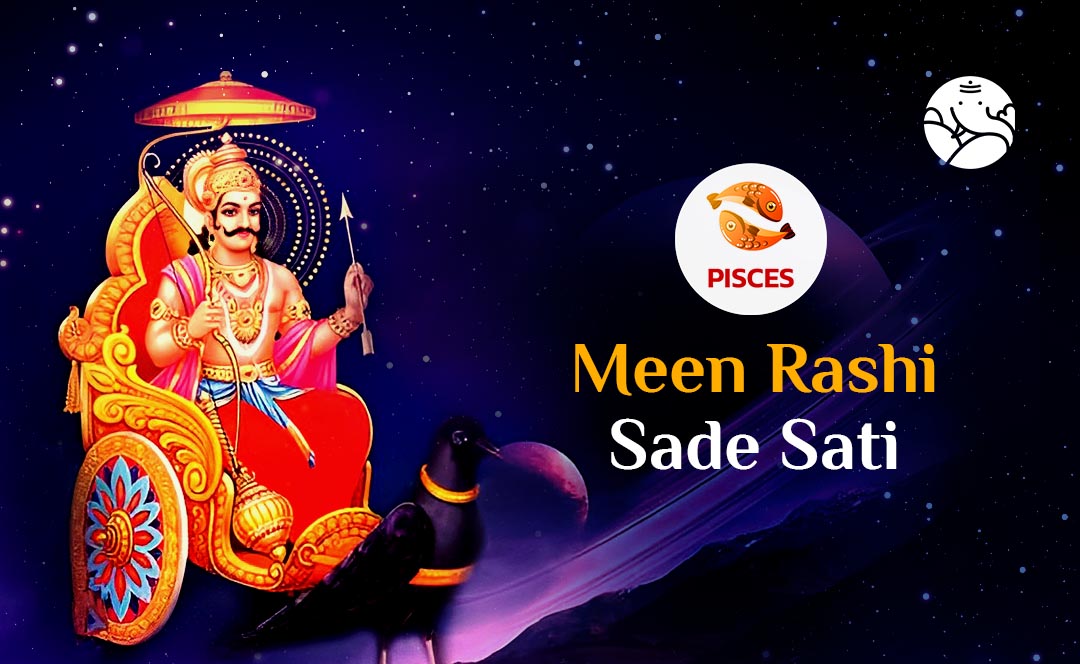 Meen Rashi Sade Sati - Sade Sati For Pisces
Pisces is ruled by Jupiter, neutral to Saturn. Both these planets are naturally associated with justice and spirituality, thus as a result of Shani Sade Sati for Pisces, the native can be very religious and spiritual. He wants to explore the depth of everything, be it study, research, science, or spirituality. He may feel quite isolated and detached from the world by the end of the Sade Sati period.

Too much detachment from the physical world is not suggested. Shani wants you to face reality but at the same time not to think too much about anything. This can cause insomnia and problems in married life. To keep things smooth in life, you have to remain calm and face the challenges firmly. Shani is just testing your patience.
Meen Rashi Sade Sati Period
Shani Sade Sati started on 29 April 2022 and will end on 29 March 2025. But we will get rid of Sade Sati completely on 17th April 2030.
Sade Sati for Meen Rashi
Saturn is sitting in the twelfth house of Pisces. This can bring a big change in the life of Pisces people. The native needs to pay attention to his health. Pisces may have problems related to the eyes.
First Phase of Sade Sati for Meen Rashi
When transiting Saturn enters the 12th house from your natal Moon, the first phase of Sade Sati begins for Pisces. This means that in the first phase, Saturn will be located in Aquarius, which is its own sign, so the effect of Sade Sati will be average. You will feel more connected and interested in spirituality and religion and you can also go on pilgrimage and travel to religious places. However, during this time you need to cut down on your expenses.

You may also change your job frequently during this phase. You may also have to travel a lot for business reasons. You need to pay special attention to your health as well. Some issues may emerge in your relationships. Sleeplessness will be a common occurrence during this phase.
Second Phase of Sade Sati for Meen Rashi
This second phase of Sade Sati for Pisces begins when transit Saturn is on your own Moon sign. Here Saturn is in the neutral sign Pisces, which is ruled by Jupiter. Now you will develop an interest in philosophy and learn deeper subjects.

During this time you will also become more just and religious. Your language and behavior would be polite and you would also like to get involved in social work. You will become very efficient in terms of making policies and taking decisions. Money will also come to you following your confident personality and attitude. However, there can be ups and downs in marital life during this phase.
Third Phase of Sade Sati for Meen Rashi
This phase is somewhat negative as compared to the previous phase, as Saturn may now enter Aries, which is ruled by Saturn enemy planets. There will be some tension in life. You may lose your job or become a victim of a false allegation during this phase. Your mother's health may also deteriorate in the third phase of Shani Sade Sati Pisces.

Some unexpected events will disturb the flow of life. Your health may also suffer a setback. Apart from this, loss is also possible in property matters. You will be very aggressive and stubborn, which is likely to affect your marital happiness as well.
Sade Sati Remedies for Pisces
Recite Sundar Kand, Hanuman Chalisa, Shani Chalisa and Bajrang Baan.




Donate saffron, Vishnu Chalisa, yellow cloth, and turmeric.




Donate black or blue colored clothes.




Donate books and spiritual texts to those in need.
Conclusion
Saturn is the lord of the eleventh and twelfth house for the Meena Rashi people. He symbolizes profit, friends, fulfillment of desires, elder siblings, expenses, foreign countries, health, etc. For you, Sade Sati begins when Saturn transits Aquarius and ends when Saturn leaves Aries. Your Ardhashtam Shani moves when Saturn transits the 4th house, Gemini. Ashtam Shani runs when Saturn transits the eighth house, Libra. Saturn is neutral for your zodiac sign lord, so you need to take some precautions while Saturn is going through bad transits. If the Pisces sign wants to know more about Sade Sati, then talk to astrologers.