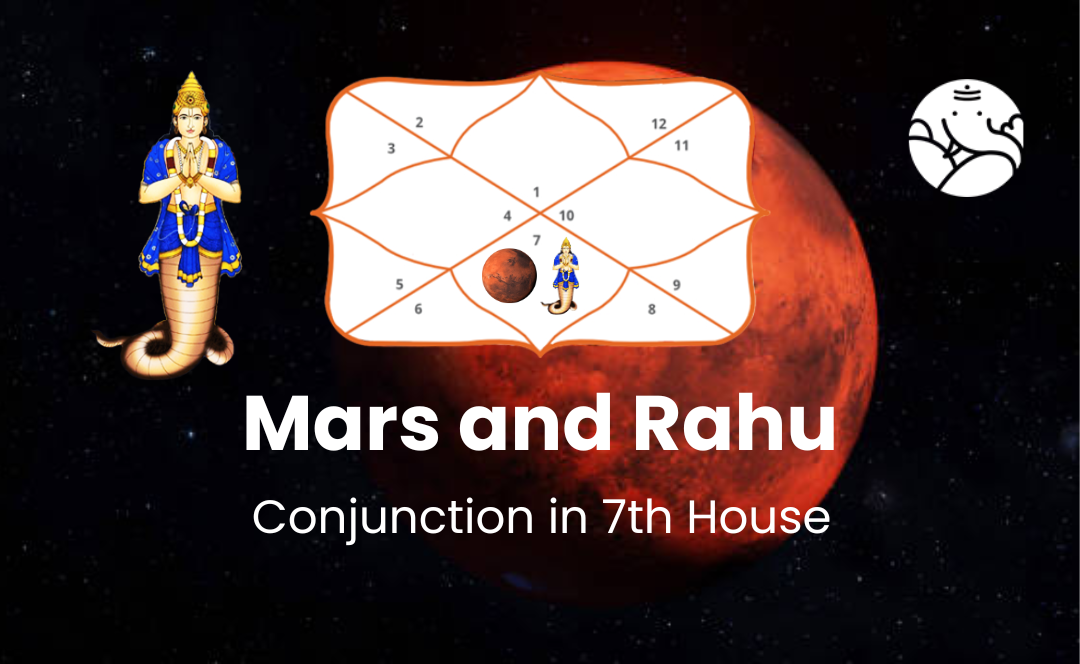 Mars and Rahu Conjunction in 7th House
The horoscope's seventh house is sometimes referred to as the place of a person's commerce, shareholders, and adversaries. It is not simply the house of marriage, but also of one's other relationships. Since the ascendant is the opposite of every house, this house reveals what the person wants in a spouse or the type of partner they will find since it is the opposite of the ascendant. In the same way that the seventh house is the house for assistance and the seventh becomes its addition and own company if a person chooses to engage in business, this is also the house of every comfort of a person, thus it can be argued that this is the house of your ventures.
Effect of Mars and Rahu Conjunction in 7th House
When Mars and Rahu Conjunction in the 7th House, Angarak Yoga or Angarak Dosha is created. Mars is regarded as the planet of fire and the source of all energy. Rahu, on the other hand, is a planet of misunderstandings and adverse emotions. Because of this, when these two planets are in conjunction, their power is greatly increased.

With enough effort, a person who has this yoga or dosha in their birth chart can become well-known and wealthy. They might experience significant ups and downs in life, which suggests that this combination could be harmful.
Positive Effect Of Mars and Rahu Conjunction in 7th House
Mars and Rahu Conjunction in the 7th House make a native a very soft-spoken person. They generally do not engage in arguments and conflicts but once they are challenged they lose their peaceful mind and answer the other person.

They do not tolerate any wrongdoing. They immediately revolt against that and this makes them purely honest people. They do not promise false hopes to others and never try to satisfy others by pampering them. They are rough and tough kind of a person and are very straightforward in their dealings.

They have an artistic approach toward life and are very much devoted to God. They perform puja regularly. They have a taste in music and often practice singing in their free time. They utilize each and every second of their life and they hate to waste their valuable time. They keep the promises which they give to others.
Negative Effect Of Mars and Rahu Conjunction in 7th House
Mars and Rahu in the seventh house give the person an aggressive and unfriendly nature, which adversely impacts their ability to make decisions. Mars is a hot planet according to Vedic astrology. It is sometimes referred to as the supreme commander of the celestial bodies. Mars represents a person's or a horoscope's strength. In astrology, Mars is in charge of two crucial points of a person's life.

These persons often get neglected by their own spouses as their wives get involved in extramarital relationships. Their wives only stay with them just for the sake of their money and good sources of income. Their wives may plot a plan to kill them and take their properties and belongings. They should stay aware of their wives and should try to maintain good relations from the start of their marriage.

They are careless individuals who carelessly disclose every minute detail to their acquaintances which might create a lot of problems. They should be very careful as these can completely ruin their business life.

They are overprotective of their children and this makes their children feel that they are excessively controlling nature and always want to keep them in their hands. They suffer from a lack of freedom and independence which may make them stand against them. They should give space to their children and let them take their own decisions once they reach significant maturity.
Mars and Rahu Conjunction in 7th House in Navamsa Chart
According to Navamsa Chart, Every relationship including weddings may suffer greatly from Mars and Rahu's conjunction in the seventh house of the horoscope.

You ought to take the recommendations of astrologers as the aspect of Mars on the 7th house has the potential to reduce the subsequent danger. You should take Astrology Phone Consultations to take the benefits of this combination.

All interactions with the outer world and mental peacefulness are represented by the 7th house. The Mars-Rahu conjunction there causes the mind to become frustrated, suspicious, combative, doubtful, and angry at times. As a result, it makes interacting with others and oneself very difficult.
Conclusion
These people are very sociable and friendly and they hate to stay alone. They have a small group of friends with whom they discuss their issues. In the case of taking decisions relating to financial matters, they are very serious and they take the help of financial analysts and invest their hard-earned money judiciously. Ask One Question regarding your career with our famous astrologers to know about the job that suits you the best.