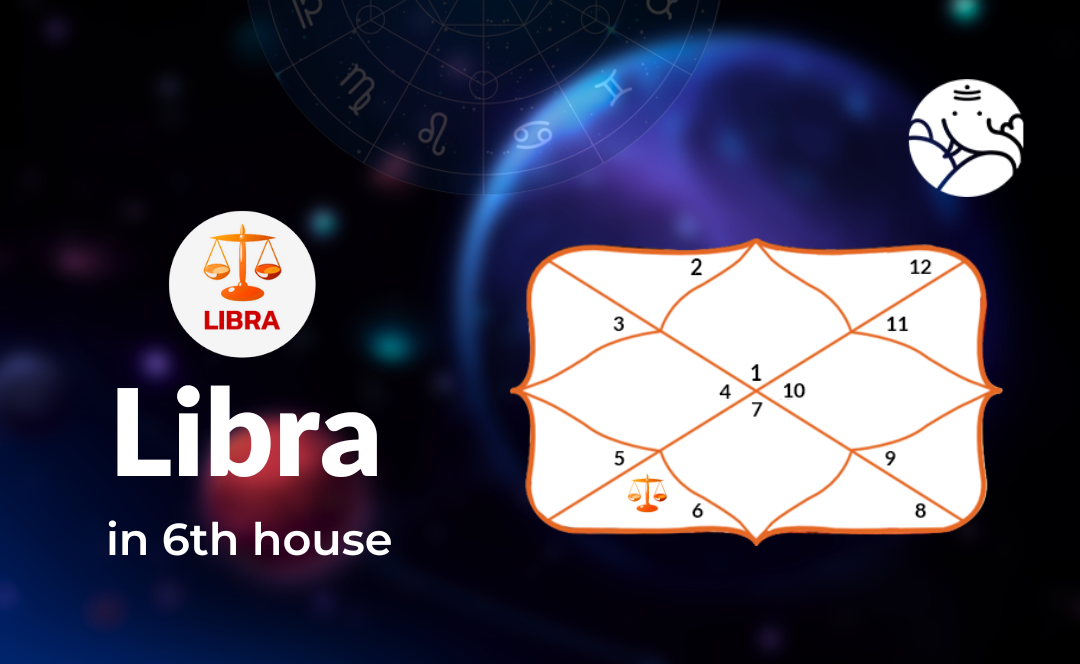 Libra In 6th house
The sixth house of a person's birth chart is ruled by Libra, which offers a special fusion of peace, diplomatic efforts, and a pursuit of balance in day-to-day labor, health, and service. The scales, representing Libra, stand for equality, balance, and an urge for fairness. This energy emphasizes the necessity of a mellow and well-rounded attitude to job duties and everyday activities in the sixth house. Individuals with such positions frequently succeed in occupations that call for cooperation, compromise, and mediation. Due to their diplomatic temperament, they can resolve disputes amicably and foster productive workplaces. Additionally, they prioritize maintaining their physical and mental health, stressing the value of moderation and taking care of oneself daily. The Libra influence on the sixth house motivates people to establish a peaceful balance between their careers, well-being, and community volunteering.
Libra in 6th house Astrology
The astrological sign of Libra in the sixth house of labor, health, and service brings a special fusion of cohesiveness, diplomatic outreach, and a pursuit of balance to these areas. People with this placement have an innate tendency towards fairness and cooperation, which makes them skilled at building positive working connections. They perform well in jobs requiring negotiation, teamwork, and collaboration, creating an enjoyable and effective work environment. Additionally, Libra's presence in the sixth house highlights the significance of keeping a balanced attitude to one's well-being and health. These people prioritize self-care while seeking an appropriate equilibrium in their professional and private lives. They might also naturally go towards helping professions because they want to uphold justice and fairness for everyone. Online Jyotish consultations with an expert astrologer can offer insightful interpretations and tailored advice for a deeper understanding of the precise implications of Libra in the sixth house and how it pertains to a particular person's unique chart. An expert astrologer may advise on achieving the best work-life balance, improving harmonious relationships at work, and fostering general well-being.
Sixth House Astrology
In astrology, the sixth house greatly impacts a person's everyday work, health, habits, and helping others. The sixth house, which rules practicality, efficiency, and accountability, is crucial in determining how one approaches work-life balance and general well-being. It controls issues relating to the job, service, personal hygiene, and everyday obligations. A person's dedication to work, organizational prowess, and capacity for maintaining an active lifestyle are all significantly influenced by the forces in the sixth house. It illustrates our commitment to excellence, meticulousness, and dedication to achieving realistic objectives. Finding fulfillment via purposeful acts of kindness to other people and maximizing productivity are all made possible through knowledge of the complexities of the sixth house.
Positive Effects of Libra in 6th House
The placement of Libra in the 6th house astrology of a person's birth chart has a variety of advantageous consequences that improve their outlook on employment, health, and service. The presence of Libra in this house encourages a mellow and well-balanced approach to duties and everyday activities. These people are good mediators and collaborators because they naturally value justice, teamwork, and diplomacy. Their capacity to foster harmony at work promotes more productivity and constructive interactions among coworkers. Additionally, Libra, in the sixth house, highlights the value of taking care of oneself and keeping a balance between work and personal life. These people actively work to establish habits that support both their mental and physical well-being because they place a high priority on it. Libras are highly desirable assets in customer-focused occupations due to their diplomatic and service-oriented character, which boosts their capacity to contribute to the well-being of others significantly.
Negative Effects of Libra in 6th House
While having Libra in the sixth house of a person's birth chart generally has many benefits, there can occasionally be some drawbacks. The focus on equilibrium and harmony could result in a propensity to prevent disputes and give maintaining peace priority, especially when it comes at the expense of dealing with essential conflicts or standing up for one's interests at work. People with Libra in the sixth house might need help to make decisions since they carefully examine the benefits and cons, which could cause delays and indecision. In addition, their commitment to justice and equality may cause them to worry too much about what other people think, which makes it difficult for them to stand up for their rights or establish boundaries. Finding a balance between upholding harmony and dealing with pressing issues at work is crucial for people in this position, ensuring their personal needs are not neglected or ignored.
Conclusion
In conclusion, the position of Libra in a person's birth chart's sixth house results in a special fusion of balance, negotiations, and an endeavor for moderation in employment, health, and service. A natural propensity for cooperation, teamwork, and fostering amicable work conditions are among the favorable impacts of Libra in the sixth house. These people perform well in jobs requiring fairness and negotiation, which helps to foster good working relationships. Additionally, they prioritize general well-being in how they relate to wellness and self-care, extending their focus on equilibrium in these areas and finding a balance between preserving peace and dealing with pressing issues or stating one's wants. Finding this balance ensures a successful work life while upholding limits and self-advocacy on a personal level.