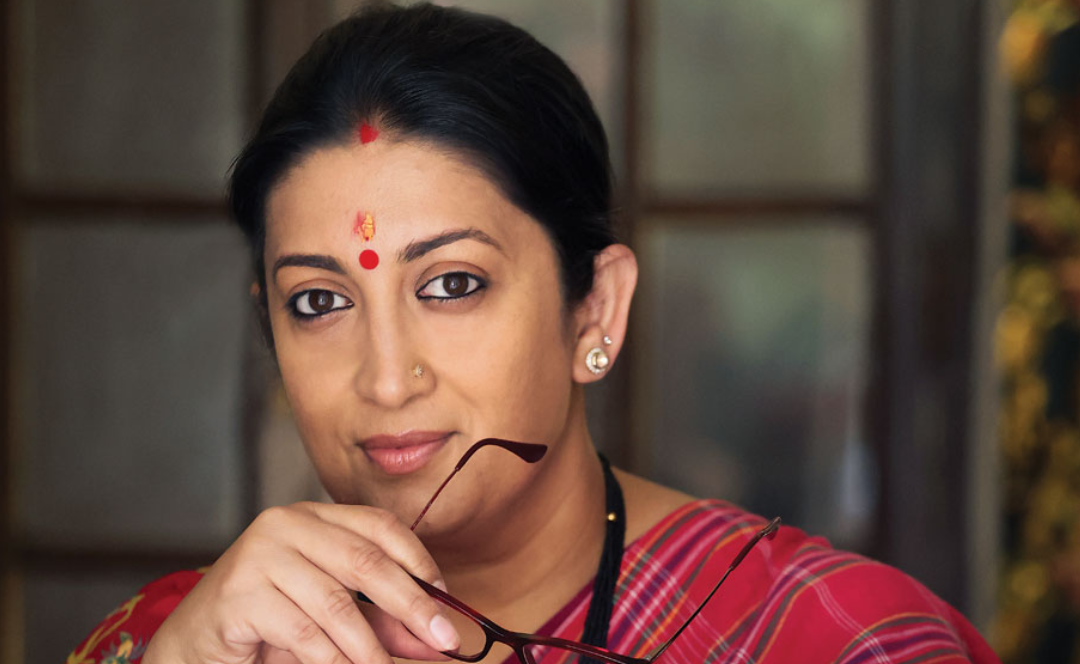 Smriti Irani Astrology Predictions by Chirag Daruwalla
Smriti Irani, who made her mark in politics from the world of entertainment, has become a well-known name in the country and the world today. At present, she is the Minister of Human Resource Development in the NDA government led by Prime Minister Narendra Modi. Smriti Irani has been able to reach this point of success today due to her hard work and passion.
Smriti Irani's name is a well-known name in Indian politics and this time she has been made the Minister of Information and Broadcasting by the Bharatiya Janata Party. Smriti Irani's name is included among those politicians, who without any fear keep their words in front of the media.
At the same time, most people also know that before joining politics, Smriti Irani has also worked as an actress in the TV world. However, she came into the limelight when she played the role of Tulsi in her TV show Kyuki Saas Bhi Kabhi Bahu Thi. She also played the role of Goddess Sita in Ramayana. She soon left the TV industry and was selected as the Minister of Human Resource Development, Government of India. While working as a TV artist, Smriti earned a lot of name and money but since choosing the path of politics, she was constantly surrounded by controversies. Recently, Smriti made major changes in the NET qualifying exam, which was welcomed by many people and criticized by many.
Smriti Irani Birth Chart and Education
Date of Birth: Tuesday 23 March 1976
Place of Birth: Delhi, Delhi City, India
Birth Time: 2:00 PM
Moon Sign: Gemini
Nakshatra: Punarvasu
Sun Sign (Western): Aries
Sun Sign (Indian): Pisces
Smriti Irani was born on the day 3 March 1976 in Delhi. Her father's name was Mr. Ajay Kumar Malhotra and her mother's name was Mrs. Shivani Bagichi. Her mother was a member of the Jana Sangh and her grandfather was an RSS Swayamsevak, so Smriti has been a part of the RSS Swayamsevak Sangh since childhood. Smriti Irani belongs to a Punjabi family. Because her father Ajay Kumar Malhotra belonged to a Punjabi family. Whereas her mother Shibani came from a Bengali family. Smriti Irani is the eldest of their three sisters.
She did her schooling at Holy Child Auxilium School in New Delhi. She is 12th pass and enrolled in B.Com at Delhi University's School of Open Learning. But after she left the course in between.
Smriti married Zubin Irani Parsi in 2001. They have two children, Zohr Irani, and Zoish Irani. In 2001, they had a son named Zohr. In September 2003, they had a daughter named Zoish. She is also the stepmother of Shanelle Irani, the daughter of her husband Zubin Irani and his ex-wife Mona Irani, both of whose children are Parsi.
Smriti Irani Political Career
Smriti Irani joined BJP in the year 2003. Smriti had to face defeat in the 2004 general election against Kapil Sibal from Chandni Chowk Lok Sabha constituency. Whereas in 2004 Smriti Irani was assigned the post of Vice President of the Maharashtra Youth Wing by the party and Smriti Irani's political career started from there and has reached a new level today. She was nominated five times by the party as an executive member of the Central Committee and also appointed as the National Secretary. In the year 2010, Smriti Irani was given the command of BJP Mahila Morcha. In 2011, Smriti was elected Rajya Sabha MP from Gujarat. In the year 2013, Smriti Irani thought it appropriate to choose the Bharatiya Janata Party (BJP) to step into politics. Smriti's grandfather is said to have been a member of the RSS. In the same year, she was also given the command of Mahila Morcha in Himachal Pradesh. In the 2014 Lok Sabha elections, Smriti Irani contested against Rahul Gandhi from the Amethi Lok Sabha constituency in Uttar Pradesh, but she had to face defeat here too. In 2014, Smriti Irani, a member of the Rajya Sabha, was made the 'Human Resource Development Minister in the Government of India. Now She is working on the post of Textiles Minister.
In her journey of 19 years in politics, Smriti Irani has performed many important responsibilities given by the party. Not only this, for the Lok Sabha elections held in the country in the year 2014, BJP had pitted Smriti Irani against the then vice-president of the Congress party, Rahul Gandhi.
Smriti Irani has served in many ministries under the Modi government. She has also been the Minister of Human Resources and Minister of Information Broadcasting. At present, she is in the post of Minister of Textiles and Women and Child Development in the NDA government of the country.
Astrological Analysis of Smriti Irani's Kundali
After analyzing the horoscope of Union Minister Smriti Irani, it is known that the Venus-Mercury conjunction in the tenth house of her horoscope creates Raja Yoga. This makes them charming, harmonious, and poetic in expression and they usually have strong opinions on a variety of subjects. The planetary positions give you appreciation in the field of arts and a successful acting career. Venus is also square in Smriti Irani's horoscope, which makes her a typical woman leader. She also enjoys public speaking and performance in the dramatic arts.
Born on March 23, 1976, in New Delhi, Smriti Irani's Janam Patri has Moon and Mars in full aspect to each other. Which makes their work efficiency stronger. However, Jupiter and Ketu have Chandal Dosha in the horoscope, so many times they get into disputes. Because of this, she also gets angry quickly. If we talk about the coming time, then a good time is going to come for them. In the coming time, the transit of Jupiter will be very good for him. In her horoscope, there will be a transit of the benefic planet Jupiter through Mercury and Venus, then through Sun, and then over Jupiter-Ketu, which will give him the power to fight opponents. Also will create a positive environment for them.
Apart from this, Saturn, the ruler of the tenth house in Smriti's Kundali, is retrograde in the third house, which makes her ambitious and enterprising. It gives him the ability to stand firm against obstacles and difficulties. However, retrograde Saturn also indicates a difficult path or sudden change. On the other hand, the Sun in the eleventh house gives him social influence and influential political contacts.
Conclusion
According to the horoscope of Smriti Irani, she can take many important steps for the development of her ministry, which will benefit the country. Under the leadership of Smriti, the Ministry of Human Resource Development will play an important role in the development of the country and Smriti will also get its benefit. This Dasha of planets will have a mixed effect on the life of Smriti. Smriti is going to get positive results under the influence of Jupiter. With the grace of Jupiter, Smriti will get a chance to take effective decisions in her field. At this time, she will have to concentrate on more than one task. Also, this is the time to be a little careful, otherwise, questions can be raised about their competence. With the blessings of Ganesha, Astrologer Chirag Bejan Daruwalla prays to God that due to the auspicious effects of planets in Smriti Irani's Kundli, the coming time may be beneficial for her and bring fame in her life.