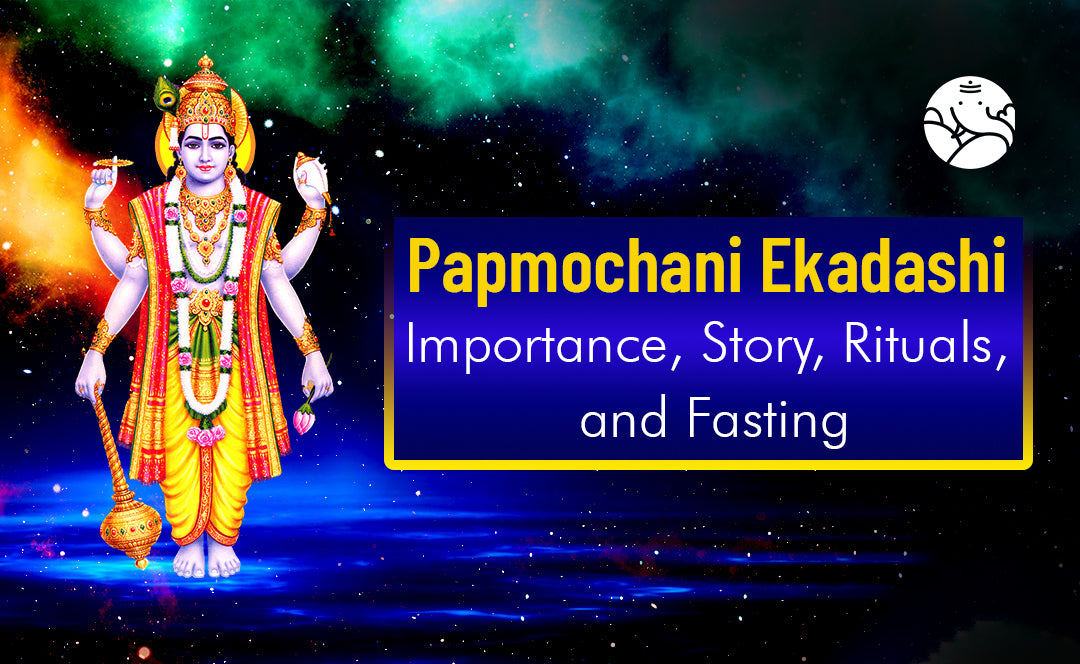 Papmochani Ekadashi Importance, Story, Rituals, and Fasting
Papmochani Ekadashi is an important day in Hinduism. According to the Hindu calendar, Papmochani Ekadashi is observed on the Ekadashi of Krishna Paksha of Chaitra month. There are about 24 to 26 Ekadashi in a year and each Ekadashi has its own special consequence, and so does Papmochani Ekadashi. It is known by the name of Papmochani Ekadashi that it is fast to get rid of sins. This fast has been described in 'Bhavishyottar Purana' and 'Harivasar Purana'. In Hinduism, 'sin' means such deeds which are wrong. The meaning of 'Mochni' is to liberate.
It is believed that Papmochani Ekadashi destroys all sins and a person who observes Pamochani Ekadashi fast with full devotion is never afraid of demons or ghosts. Papmochani fast is considered very auspicious.
Lord Narayana is worshiped on the day of Papmochani Ekadashi. King Mandhata was first told about Papmochani Vrat by Rishi Lomasa. Then Lord Krishna told King Yudhishthira about the significance of Papmochani Ekadashi. Whose fast has become popular?
Importance of Papmochini Ekadashi
In Padampuraan, the Ekadashi date has been considered as the form of Lord Vishnu. It is believed that the devotee who fasts on Ekadashi does not need to perform any other worship. After enjoying all the worldly pleasures, the person who observes this fast finally goes to Vaikuntha, the abode of Shriman Narayan. Papmochini Ekadashi burns all the sins of a man to ashes. By observing this fast, one gets the fruit of thousands of cows. Great sins like Brahma Hatya, Suvarna Chori, Surapan, and Guru Patni Gaman also go away by observing this fast, which means this fast is going to give a lot of virtue. If the fast of Papmochini Ekadashi is observed with devotion, then Sarveshwar Shri Hari, the Lord of the world, gets satisfied and removes all the troubles of his devotees. God does not get as much satisfaction from big yajnas as it does from the rituals of the Ekadashi fast. On this Ekadashi night, Lord Vishnu blesses his devotees by devoting their minds to the feet of the Lord and doing Hari Kirtan by staying awake all night.
Papmochani Ekadashi Puja Method
One day before Ekadashi, have food before sunset. On this day, wake up early in the morning, take a bath, wear clothes of clean and pure colors, and then take a vow of fasting in your mind. After the resolution, Shri Vishnu should be worshiped along with Shodshopachar. After this light incense lamps in front of Lord Vishnu, perform aarti, and read the story of the fast. Chant Om Namo Bhagavate Vasudevaya as much as possible while remaining Satvik. It is considered auspicious to recite 'Vishnu Sahastranam' and 'Narayan Stotra' on this day. On the second day, after worshiping in the morning on Dwadashi, offer food to Brahmins or the poor and give charity, then eat yourself and end the fast.
Papmochani Ekadashi Fast Story
According to religious belief, in ancient times there was a very beautiful forest named Chaitratha. In this forest, the meritorious Rishi, the son of Chyavan Rishi, used to do penance. Devraj Indra used to roam in this forest with Gandharva girls, Apsaras, and Gods. Meritorious sages were devotees of Shiva and Apsaras were followers of Shivdrohi Kamdev. Once upon a time, Kamadeva sent an Apsara named Manju Ghosha to break the penance of the meritorious sage. She distracted the meritorious sage with her dance, singing, and beauty. At the same time, Muni Medhavi was also got fascinated by Manju Ghosha. After this, both spent many years together. One day when Manjughosha asked for permission to go, the meritorious sage realized his mistake and the dissolution of his penance. After this, getting angry, he cursed Manjughosha to be a vampire. After this, the Apsara fell at the feet of the sage and asked for a way to get rid of the curse. On Manju Ghosha's repeated requests, the meritorious sage told him the way to fast on Papmochani Ekadashi and said that by observing this fast, his sins would be destroyed and he would regain his former form. By telling Apsara the way to salvation, the meritorious sage reached his father's sage Chyavan. After listening to the curse, Rishi Chyavan said- "Son, you have not done this well, by doing this you have also earned sin, so you also fast on Papmochani Ekadashi."
Conclusion
Papmochani Ekadashi means Ekadashi which destroys sin. All Ekadashis have their own importance. But the Ekadashi of Chaitra month is considered to be the main and better than all other Ekadashi because this Ekadashi frees humans from their sins. That's why it is called Papmochani Ekadashi. On this day Lord Vishnu should be worshiped according to the rules and regulations. On the day of Papmochani Ekadashi, one should refrain from condemning anyone and telling lies. By observing this fast, one gets freedom from the guilt of many heinous sins including Brahmatya, gold theft, drinking alcohol, non-violence, and feticide. If you want detailed information about the importance of Papmochani Ekadashi, rituals, and fasting, then you can consult an astrologer through an astrology phone consultation.