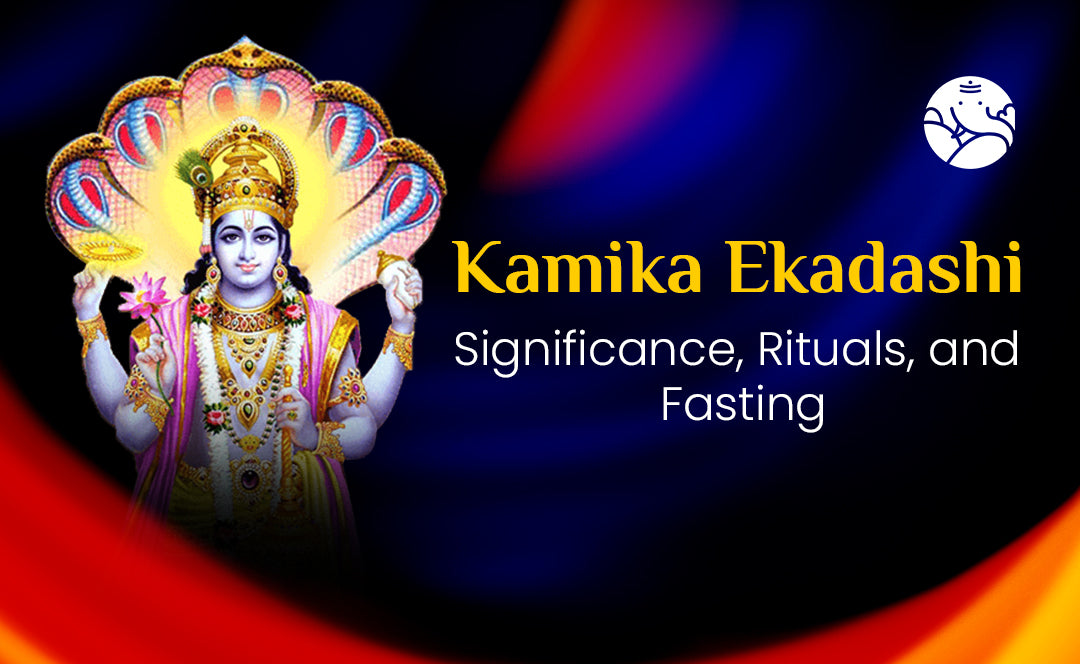 Kamika Ekadashi Significance, Rituals, and Fasting
Ekadashi has special significance in Hinduism and there is a total of 24 Ekadashi fasts in a year. According to the Panchang, Kamika Ekadashi fast is observed on the Ekadashi that falls in the Krishna Paksha of the month of Sawan. This year Kamika Ekadashi fast is on 13 July 2023. There are many specialties of this Ekadashi which falls in the month of Sawan. By worshiping Lord Vishnu on Kamika Ekadashi, Shri Hari Vishnu fulfills all the wishes of his devotees. According to religious belief, the person who observes the fast of Kamika Ekadashi gets freedom from all the sins committed in his life and also gets his blessings. This Ekadashi which falls in the month of Sawan is considered special. Let us know about the importance of Kamika Ekadashi, worship method, auspicious time, and mantras.
Kamika Ekadashi Muhrat 
Kamika Ekadashi 2023 - 13 July 2023, Thursday
Start Time – July 12, 2023, at 05:59 PM
End Time – 13 July 2023 at 06:24 pm
Kamika Ekadashi Story
It occurred a long time ago. In a village, there lived a most brilliant Kshatriya named Bhima. Gopal Das, a supreme scholar Brahmin also lived in this village. Bhima got angry about everything and he was unable to reason with the anger. On the other hand, Gopal Das was very polite.
It is a matter of one day that due to some issue, an argument broke out between the two. Gopal Das was explaining to Bhima very politely that Bhima froze in anger but picked up the lying stone and hit Gopal Das on the head.
Gopal Das died on seeing the pictures. In anger, Bhima was deeply saddened by the death of a Brahmin at his own hands and started committing crimes.
But the same thing is that now what happens when the bird pecks the field. Anger is for two moments and in that a man commits the biggest sin and later he repents for his work all his life.
Now with a sad heart, Bhima wanted to perform the rituals of the dead Brahmin with his own hands. But the other Brahmins refused to allow him to participate in the ceremony because he had committed the great sin of Brahmacharya.
Due to the fault of Brahmhatya, now no other Brahmin could take food in his house. They remain very sad because of this too.
One day a sage came from Bhima's other house and asked for alms from Bhima. On this Bhima said - "O Rishivar! I am guilty of Brahmahatya, so I will not be able to give you alms. I am very sad because of this defect. 
Seeing this condition of Bhima, Rishivar said – "O Vats! You fast with devotion on the Ekadashi of the Krishna Paksha of the month of Shravan, which is also known as Kamika Ekadashi, and break the fast by offering food to Brahmins on the Dwadashi date. 
According to the sage, Bhima observed the fast and also recited the Vrat Katha. In the night, Lord Shri Vishnu ji appeared to Bhima and said you have got freedom from the sins of Brahma Parmatma, now you can lead your life without any worry and give up anger. Even now the reins lived happily in the village and he gave up anger and became the supreme devotee of Lord Shri Vishnu.
Kamika Ekadashi Significance
The fast of Kamika Ekadashi is dedicated to Sri Hari Vishnu. It is believed that the person who observes this fast with all the rules and regulations, then all the obstacles in his life are removed. Worshiping Kamika Ekadashi also gives blessings to ancestors. Doing charity and charity on the day of Ekadashi is also beneficial. For those who observe this fast on Kamika Ekadashi, all the troubles that come in their life go away and they attain salvation.
Kamika Ekadashi Rituals
On the date of Kamika Ekadashi, wake up early in the morning and take a bath and wear clean clothes.




Lord Vishnu loves the yellow color, that is why if possible wear yellow clothes.




After this, sit in front of the idol of Lord Vishnu and take the vow of fasting.




On the day of Ekadashi, especially offer Tulsi leaves to Lord Vishnu.




Do bhajan kirtan of Lord Vishnu on the day of Kamik Ekadashi. Also, recite Vishnu Sahastranam.




The next day, after feeding the Brahmins, send them off by giving them Dakshina.




After this, break your fast on Dwadashi Tithi only.




Offer fruits, flowers, sesame seeds, milk, Panchamrit, tulsi, etc. to God. Must offer Tulsi, because without Tulsi the worship of Lord Vishnu is not considered complete. After this, read or listen to the fast story of Kamika Ekadashi. In the end, perform aarti.
Kamika Ekadashi Fasting
It is also called Vaishnava Kamika Ekadashi but fasting is important for all Vaishnavas. They completely abstain from eating grains on Ekadashi and consume only water, fruits, or dairy products. Devotees observe a complete fast on Vaishnava Kamika Ekadashi. The fast of Kamika Ekadashi starts from the time of rising on Ekadashi and continues till the time of sunrise on 'Dwadashi'. The observer of this fast should keep vigil throughout the night in honor of Lord Krishna.
Devotees worship Shri Krishna on Kamika Ekadashi. The main purpose of observing Ekadashi is to engage in spiritual practices and read 'Shrimad Bhagavatam' and chant Krishna Kirtan. It is considered auspicious to light a lamp of ghee in front of God on Kamika Ekadashi. Devotees also visit Lord Vishnu's temples in the evening and attend special programs organized for the day. Special consecration and worship rituals are performed and different types of 'Bhog' are prepared and offered to the Lord.
The holy Tulsi tree has special significance on this Ekadashi. It is believed that on this Ekadashi, all the sins are removed even by visiting the Tulsi tree and worshiping Goddess Tulsi cures all the diseases of the body. On Ekadashi, one should offer Tulsi leaves to Shri Hari Vishnu as it is equivalent to offering precious stones to the Lord. The person who waters the Tulsi tree will never fear Yamraj, the god of death.
Conclusion
Kamika Ekadashi has special significance. Kamika Ekadashi is also known as Pavitra Ekadashi. Kamika Ekadashi is celebrated in the month of Sawan. It is believed that the Upendra form of Lord Vishnu is worshiped on this day. Through Online Astrology Consultation, you can know in detail about Kamika Ekadashi fast, its worship method, and its importance.