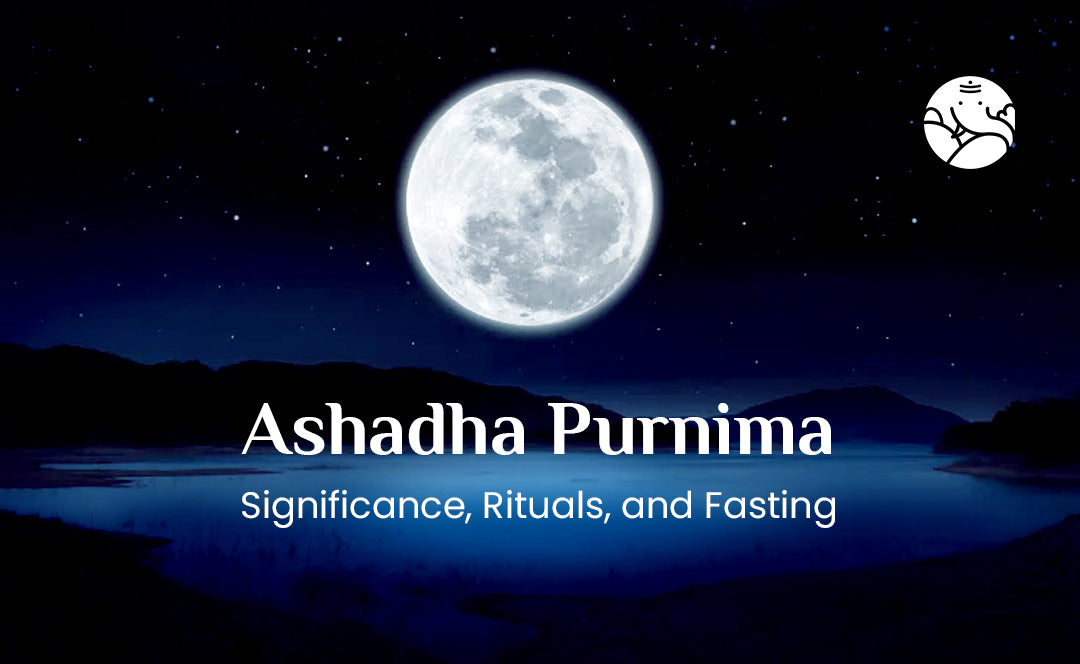 Ashadha Purnima Significance, Rituals, and Fasting
Ashadh Purnima Vrat is observed every year on the full moon day of Shukla Paksha of Ashadh month. Ashadh Purnima has special significance in Hinduism. This year, the full moon date of Ashadh month is on 3rd July. Maharishi Vedvyas was born on this day. It was Vedvyas who had told mankind the knowledge related to the four Vedas. It is a mythological belief that Maharishi Ved Vyas ji had a very special contribution to Sanatan culture. This is the reason why Ashada Purnima is celebrated as Guru Purnima in view of his great contribution. Gurus are worshiped on this day. Apart from this, there are many benefits of fasting on Ashadh Purnima. People observing fast on this day worship Lord Vishnu according to the rules and regulations.
Ashadha Purnima Muhurat
Ashadha Purnima 2023: July 3, 2023, Monday
Start Date - 3 July 2023 from 08:21 pm
End Date -  4 July 2023 till 05:08 pm
Guru Purnima and Ashadha Purnima
The full moon of the month of Ashadha is also known as Guru Purnima and in its direction, this time also seems more effective. This Ashadh Purnima expresses gratitude towards the knowledge and affection of the Guru. Guru has got a place ahead of God. In such a situation, there is a ritual of Guru Puja on this auspicious occasion.
One can get the form of a Guru in life in any form. It can be a teacher giving education, parents, or anyone who can dispel the darkness of our life by giving us the light of the path of knowledge. People get peace, devotion, and power only after reaching the Guru.
Ashadha Purnima 2023 Significance
Guru Purnima is celebrated in honor of the teachers who dispelled our ignorance. Since ancient times, Guru has had a special place in the life of the disciples. A mythological Sanskrit phrase "Mata Pita Guru Daivam" states that the first place is reserved for the mother, the second for the father, the third for the guru, and so forth for God. Thus, in the Hindu tradition teachers are given a higher status than the deities. Guru Purnima is celebrated around the world by communities of Hindu, Jain, Sikh, and Buddhist folk in honor of gurus or teachers. In India, gurus hold a respected place in daily life, as they impart knowledge and teachings to their disciples. The presence of a Guru in a person's life serves to guide them in the right direction so that they can lead a principled life. Followers of Buddhism also respect the day of Guru Purnima, as Lord Buddha delivered his first sermon at Sarnath on this day. On this auspicious day of Guru Purnima, whom people in India give immense religious importance to this festival, we have listed here the best ways to celebrate this auspicious day wholeheartedly.
Ashada Purnima Fasting
In various religious texts of Hindus, there are many festivals and special rituals for fasting. According to the scriptures, there is a special method of Gopadma Vrat to be observed on Ashadh Purnima 2023. Lord Vishnu is worshiped in Gopadma Vrat. This fast is supposed to provide all kinds of happiness. It is believed that if one observes the Gopadma Vrat with devotion and follows all the rituals properly, he would be blessed by Lord Vishnu; All get worldly pleasures too. Also, by observing Gopadma Vrat all the wishes of the devotees are fulfilled and they get the blessings of salvation at the end of life.
People born under Uttarashada or Purvashadha Nakshatra should do charity or meditate on Ashadh Purnima. Doing so helps them to gain immense benefits and solutions in every aspect of their life.
On this day, after getting up early in the morning and taking a bath, clean clothes are worn.




Meditation is done on Lord Shri Vishnu throughout the day of the fast. His four-armed form is remembered, in which he rides on the Gurudwara, and Goddess Lakshmi is also meditated upon.




Worship is done according to the method with incense, lamp, flowers, smell, etc. After the worship of Lord Shri Hari, a learned Brahmin or any needy person is given food, and donation is given according to their capacity.




It is believed that if this fast is observed with full devotion, it pleases Lord Vishnu and fulfills the wishes of the devotee. By enjoying all the physical pleasures while living in the world in the end, the fasting person attains salvation.
Ashada Purnima Rituals
According to mythology, there are exclusive rituals to observe Gopadam Vrat on Ashadha Purnima:
After waking up in the morning, take a bath and wear new clean clothes.




Worship Lord Vishnu or chant his name throughout the day and can also read or listen to Satyanarayan Katha.




During meditation, meditate on the four-armed Lord Vishnu seated on Garuda along with his consort Goddess Lakshmi.




Earthen lamps or Diyas, perfumes, flowers, and incense should be offered to Lord Vishnu.




After offering prayers to Lord Vishnu, devotees should offer food to Brahmins or needy people. And according to your convenience, you should also do charitable work.




On the day of Ashadha Purnima, the person observing Gopadam Vrat should worship cows and apply tilak on the cow's head and seek its blessings.
Conclusion 
According to the lunar or Purnimanta almanac, each month is named after the Nakshatra in which the Moon is located on the full moon date. If the Moon is in the Uttarashada Nakshatra on the full moon date of the month of Ashadha, then that full moon is considered extremely auspicious and fortunate for achieving prosperity and abundance. On the day of Ashadha Purnima, humans observe Gopadam Vrat and worship Lord Vishnu. Gopadma Vrat is very fruitful and the person observing the Vrat is blessed with all kinds of blessings and happiness. If you want to know more about the full moon of Ashadh month, then you can get complete information about its significance, rituals, and fasting through Online Astrology Consultation.