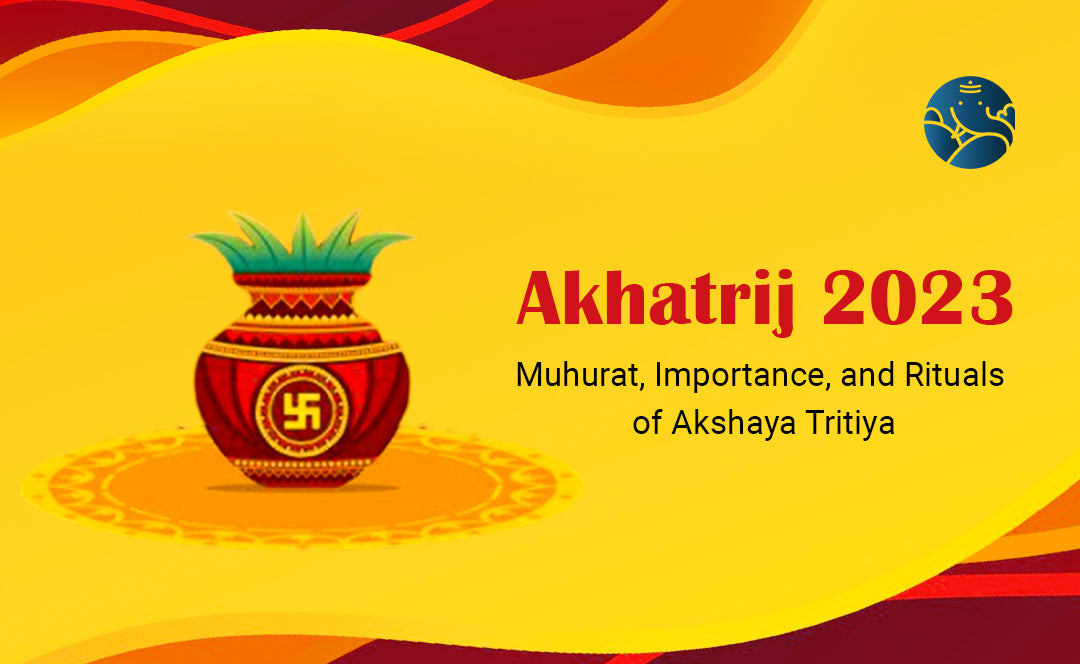 Akhatrij 2023: Muhurat, Importance, and Rituals Of Akshaya Tritiya
In the scriptures, Akshaya Tritiya is an Abujha Muhurta i.e. a date on which Muhurta is not observed for any kind of auspicious work or auspicious purchase. All kinds of auspicious work can be started without an auspicious time. According to the Hindu calendar, the festival of Akshaya Tritiya is celebrated every year on the Tritiya Tithi of Shukla Paksha in the month of Vaishakh. This time this festival is on 22 April. Akshaya Tritiya is known as "Akhtrij". The word Akshaya means 'that which never perishes'. It is believed that on the day of Akshaya Tritiya, auspicious shopping or auspicious work always increases. On the day of Akshaya Tritiya, there is no dearth of auspicious results by doing auspicious work, charity, bathing, chanting, etc. At the same time, especially on the day of Akshaya Tritiya, gold jewelry is specially purchased. It is believed that by buying gold and silver jewelry on this day, the blessings of Goddess Lakshmi remain in a person's life, due to which the person's life is filled with happiness, prosperity, and splendor.
Auspicious time of Akshaya Tritiya 2023
Akhatrij 2023 Date – 22 April 2023, Saturday
Akhtriya Puja Muhurta – 07:49 AM to 12:20 PM
Duration – 4 hours 31 minutes
Aakhtriya Starts – 22 April 2023 at 07:49 AM
Aakhtriya Ended – 23 April 2023 at 07:47 AM
Auspicious time to buy gold
22 April 07:49 AM to 23 April 05:48 AM
Morning Muhurat (auspicious) – 07:49 AM to 09:04 AM
Evening Muhurat (Chara, Labh, Amrit) – 12:20 PM to 05:13 PM
Night Muhurat (Benefit) – 06:51 PM to 08:13 PM
Night Muhurat (Shubh, Amrit, Char) – 09:35 PM to 01:42 AM, Apr 23
6 auspicious Mahayoga on Akshaya Tritiya 2023
In the year 2023, Akshaya Tritiya will be celebrated on Tritiya of Shukla Paksha of Vaishakh month. This date is considered very auspicious in Hinduism. But this time the importance of this date will increase even more, because this year on 22 April i.e. on the day of Akshaya Tritiya, 6 big auspicious yogas are being formed. Please tell that this time on Akshaya Tritiya, Ayushman Yoga will be from morning till 09:26 in the morning. After this Saubhagya Yoga will start, which will last for the whole night.
Also, on Tritiya Tithi, Tripushkar Yoga will be from 05:49 am to 07:49 am. After this, Ravi's Yoga will happen from 11:24 the night till 05:48 the next morning. Along with this, Sarvartha Siddhi Yoga and Amrit Siddhi Yoga will remain from 11:24 the night till 05:48 in the morning the next day.
Mythology related to Akshaya Tritiya
According to Hindu scriptures, Pandava's son Yudhishthira had expressed his desire to Lord Krishna to know the importance of Akshaya Tritiya. Then Lord Krishna told him that this is a very auspicious date. On this day before noon, the person who does baths, chanting, penance, Yagya, self-study, father-sacrifice, and charity, is a part of Akshay Punyafal.
According to a legend, in ancient times there lived a poor, virtuous, and devout Vaishya. He was always very upset because of being poor. Someone advised him to observe Akshaya Tritiya fast. On the arrival of this festival, he bathed in the river Ganges, worshiped the gods and goddesses, and donated whatever he had according to him, and this Vaishya became the king of the Kushawati kingdom in the next life. With the effect of worship and charity on the day of Akshaya Tritiya, that poor man became very rich and majestic. All this was the virtuous effect of the Akshaya Tritiya fast, due to which he became a king in the next birth. This is the reason why this fast and date is considered very auspicious and whoever fasts, worships, and does charity on this day, all his troubles go away.
Significance of Akshaya Tritiya 2023
Akshaya Tritiya is considered a very auspicious and important date in Hinduism. This festival is considered a symbol of wealth, prosperity, happiness, and success. On this day religious works like worship-worship, charity-charity, religious programs, and ceremonies are organized. It is said that on this day the Sun definitely enters its Uttarayan path, hence this day is called Akshay. The special thing about this day is that whatever is done on this day, is definitely immortal and remains forever. Apart from religious works on the day of Akshaya Tritiya, there is special importance in doing charity. Also, people do various types of charity on this day like knowledge donations, food donations, clothing donations, and health donations, and pray for wealth, prosperity, and success.
Bathing in the Ganges on the day of Akshaya Tritiya is also considered very auspicious. The person who takes a bath in the Ganges on this day is definitely freed from all sins and also gets a lot of benefits.





There is also a law to perform Pitra Shradh on the day of Akhtriya, which is very beneficial if a person donates wheat, gram, sattu, curd, rice, milk products, etc. in the name of their ancestors and feeding a Brahmin. On this day, it is considered very good to go to a pilgrimage place and perform tarpan in the name of one's ancestors.





Let us tell you that it is believed that buying gold on this day is very auspicious.





The doors of Badrinath Ji are also open on Akshaya Tritiya.
Must do this auspicious work on Tritiya Tithi
Worship Lord Vishnu: Worshiping Lord Vishnu on this day gives benefits to the native.





Donating: By donating, the person gets virtue. You can donate according to your faith, like food, clothes, etc.





Performing Yagya: Performing Yagya brings happiness and prosperity to the house.





Pilgrimage: Pilgrimage on the day of Akshaya Tritiya gives virtue.





Keeping fast: Keeping fast on this day brings happiness and prosperity.





Helping others: Helping others on this day gives virtue.





Donating water: Donating water on this day gives virtue.





Reciting Shanti: Reciting peace brings peace to the mind.





Buying Jewelry: Buying jewelry on the day of Akshaya Tritiya brings wealth and prosperity.
Akhtriyas 2023 Rituals
Due to the great importance of the Akshaya Tritiya fast, it is done with great devotion. This fast should be observed with complete rituals. Given below is the Puja Samagri for Akshaya Tritiya Vrat:
Gangajal, flowers, Naivedya (fruits, paan, supari, etc.), lamp, Kalash, Roli, Akhshata, Mauli, etc. are used in the worship of Tritiya Vrat.





On this day the worship of the fast should be started before the time of sunrise.





Make ornate latches in one place.





Make the shape of the foundation inside the pot and fill it with water.





Now take the Kalash and keep it at the place and put Gangajal, Akshata, Roli, Molly, etc. in it.





Now place a garland of flowers on top of the Kalash.





Light a lamp and keep flowers and offerings in front of it.
Offer Arghya to the Sun according to the method of fasting.





Listen to the Vrat Katha and distribute Prasad.





After this, you can have food. But keep in mind the rules of fasting.
Conclusion 
The country of India is a symbol of religion, faith, and festivals. Many festivals are celebrated throughout the year in our country. Which Indians celebrate with great enthusiasm. Akshaya Tritiya has been considered to be of special importance for auspicious works in all the festivals. Akshaya Tritiya is a celebration of the junction of spring and summer. On this auspicious day, Sun is in its exalted sign Aries, and Moon is in its exalted sign Taurus. In the Indian public, Akshaya Tritiya is also famous for the names Akhatij and Akshaya Teej. It is believed that just as there is no scripture like Vedas, there is no era like Satyayuga, there is no pilgrimage like Ganga and there is no month like Vaishakh. Similarly, there is no date similar to Akshaya Tritiya and if you have a worship problem regarding Akshaya Tritiya, then you can solve your problem by taking online astrology consultation.