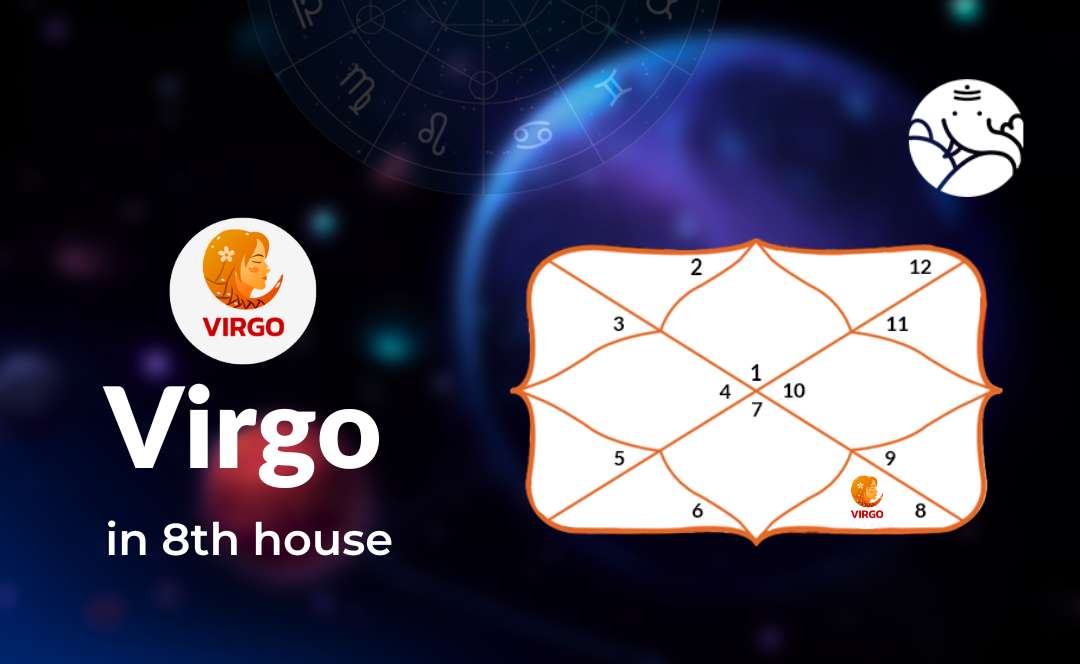 Virgo in 8th house
A unique fusion of analytical and practical energy is brought to transformation and shared resources when Virgo is housed in the eighth house of a person's birth chart. The eighth house symbolizes profound psychological insights, life's hidden facets, issues of intimacy, and inheritance. Mercury's ruling earth sign, Virgo, brings attention to detail and meticulous nature to this house. People with Virgo in the eighth house are knowledgeable and driven to learn the truth. They take a cautious and well-organized attitude when dealing with intimate, communal, and financial issues. Understanding Virgo's influence in the eighth house can help you better understand how they approach transformation, reveal hidden truths, and handle money.
Virgo in 8th house Astrology
Virgo brings a unique energy to the area of change, collaborative assets, and life's mysteries when positioned in the 8th house of a birth chart. Deep mental knowledge, closeness, lineage, and hidden facets of life are all related to the eighth house. This house is enhanced by the analytical and practical traits of Virgo, an earth sign ruled by Mercury.
People with Virgo in the eighth house are knowledgeable and caring and approach life's hidden facets. They have a strong desire to learn the truth, delve into their psyches, and ponder the mysteries of life. Thanks to their analytical nature, they can delve beneath the surface and reveal hidden patterns and meanings.
Regarding money, Virgo in the eighth house could bring a systematic and cautious approach to joint assets, investments, and inheritances. These people will carefully ely manage and analyze; they're finally looking for doable and practical solutions to ensure stability and security. However, Virgo's placement in the eighth house can also present difficulties. Particularly when it comes to intimacy and trust issues, the analytical nature can cause excessive thinking and worry. They might have a propensity to be harsh on themselves and other people, making it difficult to forge strong emotional bonds.
An online Jyotish practitioner should be consulted to thoroughly understand how Virgo in the 8th house affects your unique birth chart. An Online Jyotish Consultation can offer specialized insights and direction based on your astrological configurations. It can give you tips for navigating the difficulties of transformation, intimacy, shared resources, and methods for achieving personal development and fulfillment. Remember that astrology is a complicated subject and that the full birth chart is necessary to interpret planetary positions. InToully understand how Virgo in the eighth house affects your life specifically, and to help you realize its transformative potential, you may find it helpful to seek the advice of a Jyotish practitioner.
Eigth House Astrology
In astrology, the Eighth House is a significant area that stands for change, cooperation, closeness, and the mysteries of life. It probes our psyche's depths, revealing secrets and venturing into realms beneath the surface. Inheritances, taxes, debts, and strong emotional ties are all connected to this house. Our approach to these areas is influenced by factors like planets and signs that are located in the Eighth House. Understanding the dynamics of the Eighth House can help us understand our ability to transform, how we feel about sharing resources, and how we handle the difficulties of intimacy. We can investigate the unseen facets of life and use their changing potential for personal development.
Positive Effects of Virgo in  the 8th House
In astrology, when Virgo is in the 8th house, it has several advantages in change and collaboration on assets. Mercury's ruling earth sign, Virgo, brings its practical and logical nature to this house. People with Virgo in the eighth house are knowledgeable and approach life's mysteries carefully. They naturally possess a talent for spotting hidden patterns and truths, which can help them with personal growth and self-discovery. Their careful and organized handling of mutually beneficial assets, investments, and inheritances ensures financial stability and security. When it comes to decisions involving intimacy and trust, their analytical outlook assists them in doing so realistically and effectively. Overall, the benefits of Virgo in the eighth house include a keen awareness of life's hidden facets, paradigm-shifting insights, and conscientious management of communal resources.
Negative Effects of Virgo in the 8th House
While having Virgo in the eighth house has its advantages, there may also be drawbacks. Due to their analytical nature, Virgos may overanalyze situations involving closeness and shared assets and become excessively critical of themselves and others. This may prevent them from developing solid emotional bonds and limit their capacity for trust and let-go. Financial prudence and caution can cause excessive stress and a propensity to be overly strict with funds. Additionally, a constant desire for order and perfection can lead to inner conflict and make accepting life's transformative aspects difficult. Finding an appropriate equilibrium between utility and relinquishment is crucial for people with this placement, who should also be aware of their propensity for being overly judgmental and regulating.
Conclusion
To sum up, Virgo, in the eighth house of a birth chart, has a mix of advantageous and unfavorable effects on transformation, cooperation, and intimacy. Positively, those with this placement have a sharp intellect, a systematic approach to uncovering secrets, and responsible resource management. However, there are some potential drawbacks to be aware of, such as difficulty accepting the transformative aspects of life, difficulty embracing overanalysis, excessive criticism, and control issues. When people with Virgo in the eighth house know these dynamics, they can cultivate solid emotional bonds, balance practicality and surrender, and handle the difficulties of money and transformation with self-awareness and grace.