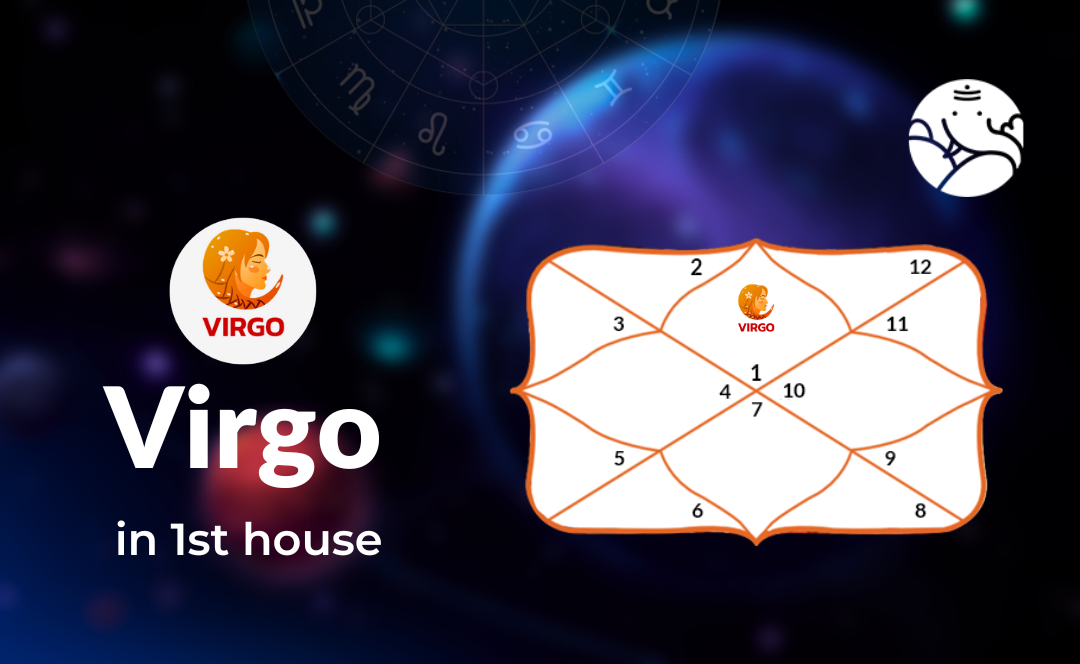 Virgo in 1st house
Astrologers believe that Virgo's placement in the first house of a natal chart dramatically impacts an individual's demeanour and perspective on life. The first house stands for the self, appearance, and overall identity. Virgo, an earth sign headed by Mercury, highlights its logical and diligent qualities when positioned in the first house. Individuals with Virgo in the first house often stand out because of their focused awareness of specifics, utility, and dedication to obligation. They seek perfection in all areas of their lives and are drawn to efficiency and organisation. Due to their placement, their usually present one another elegantly and professionally. In the first house, Virgo represents people with a systematic and logical outlook on life and values accuracy and organisation in their endeavours.
Virgo in 1st house Astrology
In astrology, the placement of Virgo in the first house of a birth chart has significant ramifications, especially for people seeking online Jyotish consultation. The first house also called the ascendant, stands for a person's self-perception, personality, outward appearance, and general life philosophy. This house bestows certain traits on the person when Virgo, an earth sign renowned for its accuracy and logical nature, takes it up.
The practical and meticulous nature of those with Virgo in the first house makes them suitable candidates for online Jyotish consultation. They excel at analysing minute details and have an acute knack for perfection. They can effectively solve complex problems thanks to their systematic method and logical thinking skills.
These people are reserved and typically modest, putting more emphasis on their work than attention-seeking. They frequently have a tidy appearance, which reflects their preference for cleanliness and order. They place a high value on their health and well-being, which makes them conscious of leading healthy lives. But those with Virgo in the first house should be mindful of their propensity for being overly judgmental. While recognising nature aids in providing precise and thorough Jyotish consultations, they must balance to avoid engaging in excessive self- or other criticism.
First House Astrology
The first house, the Ascendant or the "Rising Sign," is of utmost significance in a natal chart. It represents one's identity, overall self-image, and outward appearance. The individual's identity and how they present themselves to others are influenced by the characteristics and traits of the sign taking up the first house. This house frames one's distinctive personality and initial impact on others. It perfectly captures their attitude towards life, assurance, and assertiveness. Understanding an individual's unique character and how they relate to their environment is greatly influenced by their first house.
Positive Effects of Virgo in 1st House
There are many advantages of having Virgo in the first house, which contribute to an individual's personality and self-expression. A keen eye for specifics, a desire to analyse, and a practical outlook on life define this placement. They are intensely aware of structure and productivity and aim for excellence in everything they do. Thanks to Virgo's influence in the first house, which encourages an organised and systematic nature, an individual may succeed in tasks that require accuracy and meticulousness. They are dedicated workers who care about other people. Because of their pragmatic nature and ability to solve problems, which enable them to navigate challenges with a measured approach, they have an image of reliability and dependability. 
Negative Effects of Virgo in 1st House
Virgo, in the first house, tends to emphasise positive qualities, but there could also be unforeseen repercussions that need to be considered. The exorbitant perfectionist tendencies and self-criticism that this placement is prone to can lead to ongoing dissatisfaction with oneself and others. They may forfeit awareness of the big picture due to an excessive focus on small details, miss opportunities, or treat others and themselves harshly as a result. In addition, because they tend to analyse things, they might worry too much, which prevents them from fully embracing spontaneity and enjoying life. It's critical for those with such a position to grow in their ability to accept their flaws, be flexible, and have self-compassion. By establishing an equilibrium between focusing on detail and embracing oneself and others, one can take advantage of the positive aspects of Virgo in the first house while preventing the negative aspects that could arise.
Conclusion
In conclusion, the first house of Virgo contains a unique combination of characteristics that affect an individual's personality and perspective on life. Strong values at work, pragmatics, and a keen eye for specifics are benefits of this placement. In the first house, Virgo is associated with reliable, efficient, and well-organized people. However, they might also struggle with issues like perfectionist tendencies and criticism of themselves. They must find a happy medium between their propensity to evaluate and approve their shortcomings. By being adaptable while maintaining the big picture, individuals with Virgo in the first house can maximise their advantages while minimising potential disadvantages. Personal development, achievement, and a well-rounded perspective on life will follow from this.