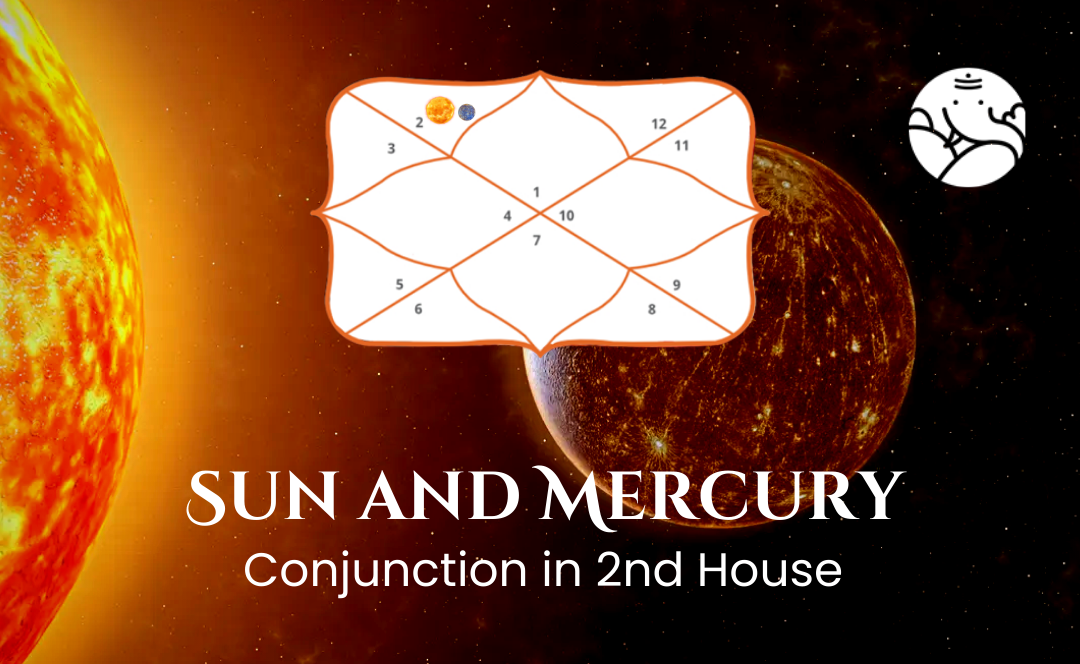 Sun And Mercury Conjunction In The 2nd House
First, we have to understand the meaning of conjunction in astrology. Basically, the meaning of conjunction is the unification of planets. When we know or study the birth chart then the merging of two planets in the same house makes a conjunction. In the birth chart, the significance of conjunction is that it gives an explanation of someone's life. Sun Mercury conjunction is called Buddha Aditya Yoga. The astrologer says that it is one of the imperial conjunction. The word Buddha is used in the context of Mercury, whereas the word Aditya is used in the context of the Sun so this is the origin of the name of the Sun-Mercury conjunction.
Effect Of Sun And Mercury Conjunction In 2nd House
Sun-Mercury conjunction in the 2nd house is an abbreviation of voice. In the 2nd house, Sun is regarded as power, and Mercury is regarded as communication. If in someone's birth chart this Sun-Mercury conjunction is present in the 2nd house then this individual has the potential to be a prominent speaker because the most important quality to being an influential speaker is communication which is already present in this house. In the horoscope, Yoga in the 2nd house can service someone by luxuriance, profligate and having a satisfactory wedding life, richness, and other things which are also important for a happy life. Get our Astrology phone consultation and get the perfect solution from an Expert for your better life. 
Positive Effect Of The Sun And Mercury Conjunction In 2nd House  
It is too fascinating to notice that the Sun-Mercury conjunction in this house is all about communication/conversation and also for self-enunciation. Basically, the Sun-Mercury conjunction in the 2nd house is very life delightful for most individuals because of its presence.
This conjunction in the 2nd house shows that the particular person has very excellent business practices in handling and allocating money, and is also good in terms of budgeting and accounting. Mercury in the 2nd house also shows how brilliant and rational we are, we can easily overcome the problems that come our way, we can develop a reason for our father or family to be elated, we can easily conquer enemies, and is used individually. They use their money very productively. The presence of the Sun in the 2nd house indicates a person is very kind and sympathetic, a person to have a strong financial background, and has the proper wisdom to deal with his/her own money. This can be more important in the context of certain types of jobs such as a writer, speaker, author, journalist, travel planner, teacher, coach, and director of wealth All of these are positive aspects of the Sun-Mercury conjunction. In another house. 
Negative Effect Of The Sun And Mercury Conjunction In 2nd House
The presence of the sun and Mercury conjunction in 2nd house has a negative impact too sidewise with positive attributes. In some set of conditions of our life, we make very quick decisions which in real are irresponsible and very drastic, here Mercury has a great deal of trouble sorting out what to do exactly. As we know we can't be good at everything this exactly works at that time. Mercury in 2nd house signifies that we cannot handle every hurdle and practice in our life doesn't matter how much we are passionate to deal with the problem or with that work. This all indicates that they don't get their direction on their own but in some circumstances, we have to grip them we have to catch them. One of the positives of this sun-mercury conjunction presence is that a particular individual has rational thinking and so they thought that they have the best skill of decision making and they can drive every problem into a perfectly perfect decision but somewhere they have this misconception because it becomes one of the negative impacts of sun Mercury conjunction in 2nd house. 

Conclusion 
As I say all about the effects of the Sun and Mercury conjunction in 2nd house. It has both pros and cons if it is present in our birth chart. We are gifted with very good skills in delivering conversation and communication and we can use them to be influential speakers in all manners. our life can become luxurious through our hard work if we have this conjunction. One of the negative points is that our very fast and quick decision become a game changers in our life it can be bad for individuals to think that they have very rational thinking so they can deal with every issue in their life and can make a good self-decision. Are you facing problems in your life and not getting solutions? Ask one Question from an expert and get a phone consultation.