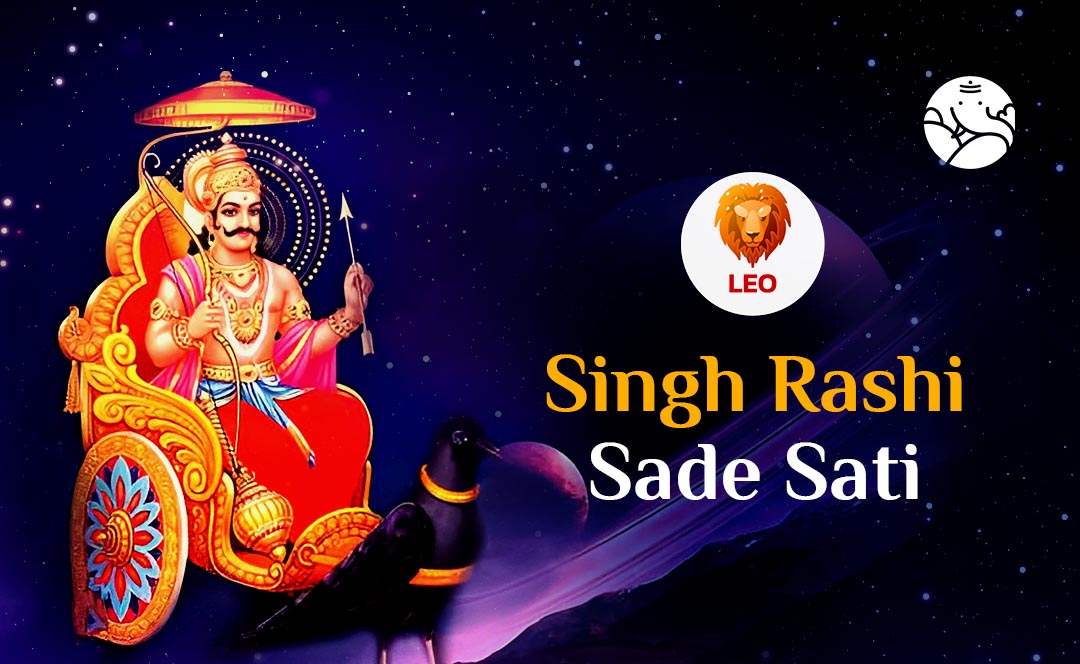 Singh Rashi Sade Sati - Sade Sati For Leo
Leo is a fire sign ruled by the Sun while Shani is an air sign. Fire needs air to kindle but this combination can be explosive, especially during the Shani Sade Sati period. Sun and Shani are arch-enemies of each other. It is time for the people of the Leo zodiac sign to be careful from seven and a half enemies and backstabbing people. You need to be cautious like your mascot Leo, the lion.
You'll know the issues when the job is done. This is definitely not the time to trust people with money. You should also take care of your language. During this, there will be a lot of mental trouble and due to all this, your relationships can also be affected.
Singh Rashi Sade Sati Period
Sade Sati for Leo will be from 13 July 2034 to 29 January 2041. Shani's dhaiya has started on Cancer sign and this is the eighth Dhaiya. The marriage of the people of Leo Zodiac can be fixed soon. There may be some problems in business, but you can get rid of them by taking a wise decision.
Sade Sati for Singh Rashi
For Leo people, Saturn is the lord of the sixth and seventh house. They symbolize careers, enemies, debt, health, marriage, married life, business, etc. For you, Sade Sati begins when Saturn transits Cancer and ends when Saturn leaves Virgo. Your Ardashtam Shani moves when Shani transits the 4th house, Scorpio. Ashtam Shani runs when Saturn transits the eighth house, Meena Rashi. Saturn is the enemy of your Rashi lord, so you need to be extra careful when you are going through a bad transit of Saturn.
First Phase of Sade Sati for Singh Rashi
The first phase of Sade Sati for Leo begins when Saturn moves into Cancer sign, 12th from the natal Moon. This is going to be a difficult time for the native due to unnecessary expenses and losses. You may also run into debt during this time. Some wasteful travel could also occur.

Saturn may also affect your eyes somehow. Enemies become stronger during this phase. You may face some issues at the workplace and you might indulge in conflicts with your colleagues.
Second Phase of Sade Sati for Singh Rashi
The results of Sade Sati for Leo in the second phase are also not very favorable as Saturn enters Leo, which is ruled by an enemy planet. The native will now experience trouble in their marital and love life.

Your relationship with children also goes through a bad phase. During this, your concentration level drops considerably. You may also face problems related to your stomach and heart. During this time you can become a bit more stubborn and you can develop a tendency to dominate.

On the positive side, you will feel more interested in writing and reading. You may also want to explore spirituality. During this time you can get some benefits but after a long wait.
Third Phase of Sade Sati for Singh Rashi
The third phase of Sade Sati will be quite comfortable as compared to the previous phase. Saturn is now entering a friendly sign in the second house from Moon.

It gives you a philosophical inclination. You are likely to win debates as your communication skills will support you. However, there may be some quarrels in the family. However, you would want to bring justice whenever possible. Still, there is a need to cut expenses.
Sade Sati Remedies for Leo
Worship Hanumanji along with Shani Dev.




People of Leo zodiac sign should donate iron, black sesame seeds, pots filled with water, etc.




feed boiled grain to the birds




Offer water to the Sun every morning.
Conclusion
If Saturn is in its exalted sign, it will give you the courage to take a big decision. You may take a business decision or think of a change that will secure profits for the future. There will be an increase in luck but you will have to control your anger a little during this period. Special attention will also have to be paid to food and drink. If you make any investment related to land, then you have to be careful. Necessarily check the legal documents. If the Leo sign wants to know more about Sade Sati, then talk to astrologers.