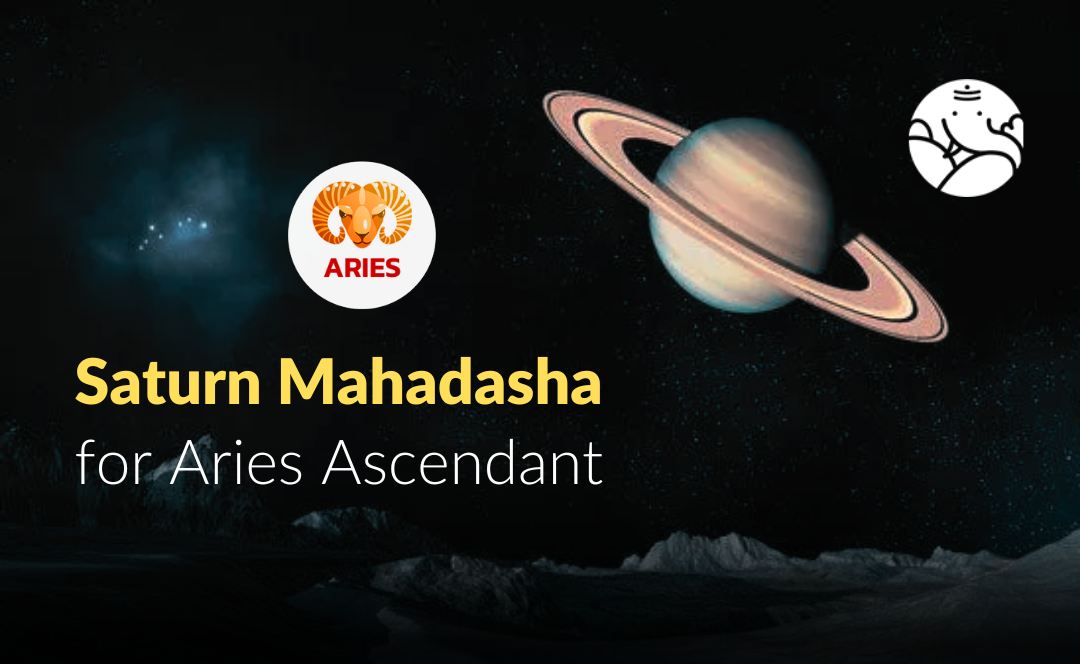 Saturn Mahadasha for Aries Ascendant
Saturn is highly hostile to Mars, the lord of Aries. Also, Saturn is asthenic in Aries, which makes this situation unfavorable for the native. The house in which it falls is affected the most, especially if it is the 7th house as it is related to marriage and partner and Mars is the significator of passion. In Vedic astrology, it is also related to auspicious occasions, especially marriage. People having Saturn in Aries in the 7th house either face delays in marriage or difficulties in their hitched life. This location of Saturn also increases aggression in behavior.
Natives in these conditions struggle to enjoy contentment and gratification in their relationships. They have to face many obstacles in progress. This gives them a lot of worry and stress in life. While they can lead, they suffer greatly in leadership situations. Others often misunderstand them. They are hard-working but they can be villainous in their ways. They also indulge in illegal activities and can be sinful and jealous. They are not that reliable either. They are often blamed for their wrongdoings.
Result of Saturn Mahadasha for Aries Ascendant
Saturn is the lord of the tenth house in Aries ascendant. It represents honor, prestige, karma, father, dominance, business, authority, havan, rituals, enjoyment of opulence, fame, leadership, foreign travel, ancestral property, etc. If it is in the eleventh position in your Kundali, then it represents greed, selfishness, slavery, childlessness, corruption, bribery, dishonesty, etc.
Saturn is the lord of the tenth house (Dasmesh) and the eleventh house (Ekadashesh). Being Dashmadhipati, he is the representative of the state, honor, prestige, work, father, dominance, business, authority, havan, rituals, enjoyment of opulence, fame, leadership, foreign travel, ancestral property, etc. And being the delegate of the eleventh house, it represents the subject of greed, profit, selfishness, slavery, slavery, childlessness, female child, maternal uncle, uncle, husband, elder brother and sister, corruption, bribery, dishonesty, etc. Saturn with sacrificial and auspicious effect gives auspicious and weak and malefic Saturn in the above thematic results.
Positive Effects of Saturn Mahadasha for Aries Ascendant
Such a person gets the full support of money, family, and family. The sum of a daughter is formed. Suddenly there is a situation of profit. Being in the high zodiac, the wife is intelligent and gets benefits from her partners. The person is a devotee of his father, is just, luck favors him, he gets the house, vehicle, and property and the blessings of the mother always remain on his head. If you work under your father, you get benefits, travel abroad, results come late and the person has to face court cases. Is victorious in the competition. By being selfish, the work of the person goes well. The happiness of land, house, and vehicle comes late. There is a decrease in the pleasure of the mother. All the benefits related to the seventh house are received. There is a possibility of foreign settlement, work comes to a standstill, court cases go on, and unnecessary expenses are incurred. The family does not get along. The person is an atheist and remains angry with his father.
Negative Effects of Saturn's Mahadasha on Aries Lagna
In this zodiac, Saturn is considered lowly and inauspicious. If Saturn is in the ascendant of Aries, it makes the person a slave to bad habits and anger. Whenever Saturn Mahadasha comes on such a person, his family members, friends, and trusted people also leave him. Therefore, in the Mahadasha of Saturn, work can stop, it can change. Does not get along with younger brother, wife, or partner. Head injury may occur. He works hard and gets negligible results. There is fierce speech. There is trouble with the mother, house, vehicle, and land. Obstacles keep coming one after the other. The person is very hardworking. The destiny of the person does not support him. Your younger sister's yoga is formed. Stomach upset, and weak memory, children have to face many difficulties. Does not get along with their father, have wasteful expenditures, and travel abroad. The person gets the happiness of land, house, and vehicle very late. The mother is in pain. If work is associated with Saturn Dev, then it is in a better position. Vijayashree comes late to the competition.
The memory of the person is weak. Delayed marriage is possible, elder brothers and sisters do not make it. Relations with wife and partners do not remain cordial. Relations with elder brothers and sisters remain sweet, it takes a long time to complete the desired work. There is a lack of money.
Conclusion
Saturn is the owner of two good houses in this Lagna Kundli and the Lagna lord is the worst enemy of Mars. That's why they are equal planets. Saturn Dev will give good or bad according to his position. In Indian astrology, Saturn is said to be the giver of Karma. Saturn is reputed to be a malefic and cruel house. But these are harmful only to those who have been indulging in immoral, inhuman acts. Otherwise, Saturn Dev is the master of such ability to make an ordinary human like a god. If you have never cheated anyone for personal gain, no innocent person has suffered because of you, or done any act that has caused unnecessary harm to someone and has benefited you personally, then you do not need to be afraid of Saturn. Through Astrology Phone Consultation, you can know in detail about Saturn Mahadasha in Aries ascendant.