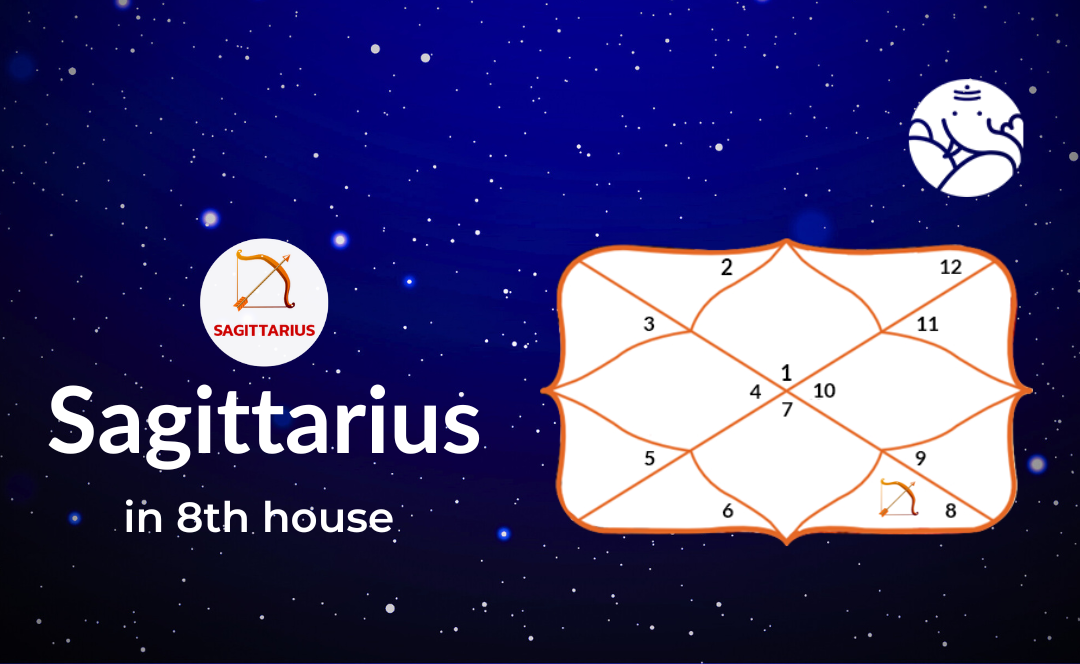 Sagittarius in 8th House
Sagittarius in the astrological Eighth House brings a unique energy and impact to issues involving change, collaborative assets, and the more profound facets of life. It combines thrilling activities, growth, and intellectual exploration in personal closeness, money, and personal development because it is between the Seventh and Ninth Houses. This placement infuses the transforming facets of life with an optimistic, exploratory thirst for understanding and a curious spirit. People with Sagittarius in the eighth house may look for life-changing encounters that challenge their preconceived notions and broaden their consciousness. They naturally desire to ponder life's mysteries, examine intellectual and religious traditions, and welcome life-altering encounters that promote personal development and evolution.
Sagittarius In 8th House Astrology
When Sagittarius is in the 8th House in astrology, it delivers a special energy brew that can profoundly affect a person's life. While Sagittarius personifies exploration, expansion, and philosophical pursuits, the 8th House symbolises change, sexuality, and mutually beneficial assets. According to this combination, people with this placement may undergo significant shifts through their spiritual or philosophical explorations. They strongly desire to learn and comprehend things, frequently delving into complex topics like philosophy or religion.
These people might greatly desire to delve into taboo or hidden areas of life, which might help them grow spiritually and undergo personal change. Their method of approaching sexuality and intimacy may reflect their passionate and daring personality as they look for out-of-the-ordinary encounters.
In addition, Sagittarius' influence in the 8th House may result in success or growth in situations involving shared resources, inheritances, or wealth. Through their philosophical or spiritual endeavours, they may have a gift for developing shared wealth and generating prospects for financial benefit and getting an online jyotish consultation with a qualified astrologer who can examine the full birth chart and offer detailed advice based on the person's particular planetary placements if you want personalised and in-depth insights.
Eigth House Astrology
In astrology, the Eighth House significantly impacts things like modification, cooperative assets, and more fundamental facets of life. It depicts our ideas regarding proximity, sexuality, heirlooms, and issues about life and death because it is situated between the Seventh and Ninth Houses. The areas of leadership dynamics, psychological development, and shared investments are explored in this house. It clarifies our capacity to accept modifications, release the burden of the past, and go through personal growth. Understanding our aspirations for intimacy, how we approach business partnerships, and how we view death and the afterlife are all possible by investigating the eighth house. It is essential for revealing the deeper levels of our existence and the possibility of empowerment and personal progress through transforming experiences.
Positive Effects Of Sagittarius In 8th House
In astrology, Sagittarius's presence in the Eighth House has various favourable benefits connected to change, shared assets, and profound facets of life. People with this placement have a robust inherent curiosity and desire to unravel the secrets of life. They hunger for information, an interest in growth in their spirituality, and a positive attitude toward enduring significant change. Sagittarius in the Eighth House encourages individuals to look for prospects for growth and abundance by encouraging an adventurous approach to share resources and wealth. Additionally, it fosters an attitude of embrace and curiosity towards life's cycles, enabling people to welcome change and personal development with energy and confidence. The setting offers the possibility for great spiritual realisations, life-altering encounters, and a solid connection to the unfathomable mysteries of existence.
Negative Effects Of Sagittarius In 8th House
Regarding issues of metamorphosis and cooperative assets, Sagittarius in the Eighth House delivers a lot of wonderful traits, but it can also have some unfavourable repercussions. The lack of seriousness or depth with which they address joint financial problems and intimate relationships may be problematic for people with this placement. They may tend to avoid or fight profound emotional experiences to preserve their sense of independence and freedom. This placement might cause a dread of exploring the more profound facets of life, such as psychological development and the discovery of unspoken truths. In addition, Sagittarius in the Eighth House could bring a propensity for overspending or taking chances with pooled resources, which could result in a precarious financial situation. To balance their emotional and monetary stability requirement with their desire for independence, people with this placement must establish a feeling of accountability, dimension, and dedication in their interpersonal interactions and business transactions.
Conclusion
In conclusion, Sagittarius in the astrological Eighth House has a mix of favourable and unfavourable impacts on issues involving transition, shared resources, and the most profound facets of life. On the plus side, it encourages curiosity, spiritual development, and a risk-taking attitude to learning about the intricacies of the world. People with this kind of position can undergo significant changes and have access to a variety of resources. The drawbacks include a propensity to shy away from magnitude, an apprehension of showing mental acuity, and a potential absence of fiscal accountability. People must strike a happy medium between their need for psychological and material security and their thirst for liberty and adventure to get the most out of this situation.