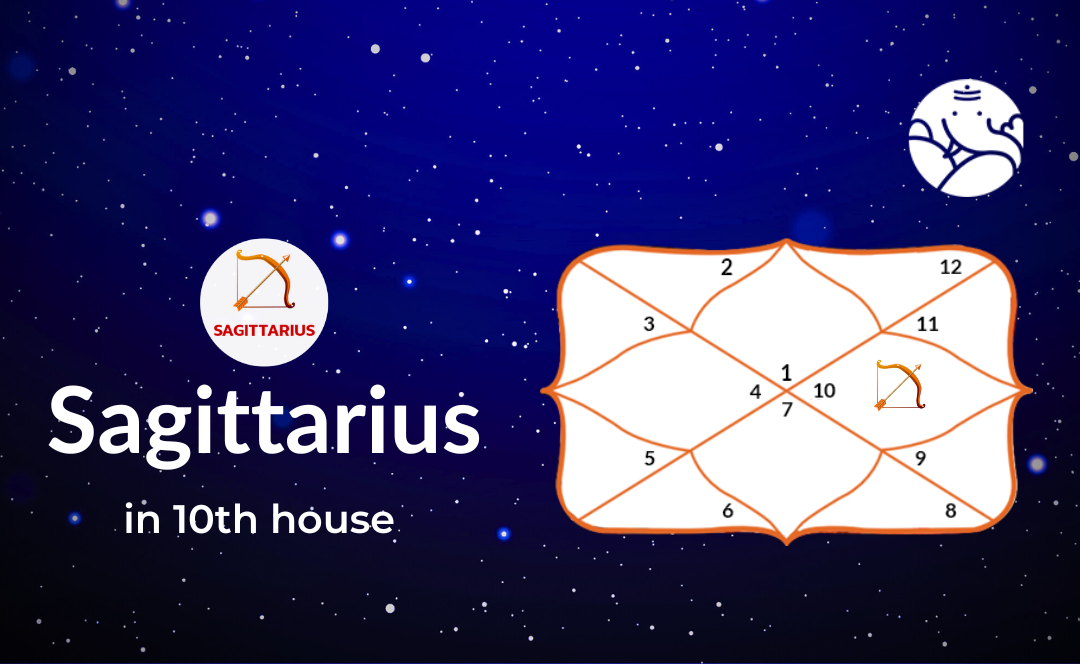 Sagittarius in 10th House
Sagittarius has a big astrological impact in the 10th House in a natal chart. The 10th House represents career, reputation, public image, and ambitions, while Sagittarius represents growth, adventure, and the pursuit of knowledge. According to this configuration, those who have Sagittarius in the 10th House are motivated by a clear goal and an upbeat attitude. They aspire to succeed, and acclaim in professions that allow them to discover new worlds, broaden their knowledge, and constructively influence society. They may flourish in professions like teaching, journey, publishing, or philosophy thanks to their upbeat and energetic temperament, which inspires others.
Sagittarius In 10th House Astrology
Sagittarius's presence in the 10th House of a birth chart has important astrological ramifications for a person's job and public image. Sagittarius embodies aspects of development, thrills, and the study of philosophy, while the 10th House symbolises a person's professional objectives, accomplishments, and social effects. With Sagittarius in the 10th House, people are more likely to have a strong desire for achievement, notoriety, and having a significant impact on the world through their job, according to this combination.
These people are naturally upbeat and energetic, encouraging others and catapulting them into leadership positions. They are open-minded natural visionaries constantly seeking new possibilities for learning and advancement. They are excellent candidates for jobs in imparting knowledge, the publishing process, travelling, or philosophical interests due to their adventurous nature and capacity to take chances.
Balancing their sense of adventure, discipline, and reality is crucial for those with this placement. Need help to struggle with restlessness, a dislike of regularity, or trouble committing to long-term objectives. A professional astrologer's online jyotish consultation can offer advice and solutions for maximising the benefits of Sagittarius in the 10th House while mitigating any potential disadvantages. By navigating the professional world in a manner that maximises their influence and fulfilment, individuals can better match their professional objectives with their beliefs.
Tenth House Astrology
In astrology, the tenth house greatly impacts a person's objectives, reputation, and public image. It stands for our desire for recognition and achievement in the outside world. This house rules our objectives for the workplace, the routes we decide to take, and our successes in the public eye. The Tenth House helps us discover fulfilment and meaning in our job, enabling us to impact society significantly. It represents our feeling of accountability, tenacity, and the ceilings we can scale in our chosen profession. The Tenth House inspires us to take up leadership responsibilities, pursue excellence, and build a strong reputation that showcases our efforts and successes.
Positive Effects Of Sagittarius In 10th House
Sagittarius in the 10th House has various advantageous implications for a person's job and reputation. These people have an ambitious and inventive attitude that motivates them in their careers. They have a clear sense of mission and a burning desire to change the world significantly. Thanks to their upbeat and energetic personalities, they flourish in sectors like instruction, publication, journey, or psychology. They can succeed and be recognised in their chosen endeavours because of their capacity for broad thinking and acceptance of new perspectives. They are charismatic and visionary natural leaders who can bring about beneficial shifts and make an indelible impression in their field.
Negative Effects Of Sagittarius In 10th House
Sagittarius in the 10th House generally has many favourable consequences, but there can also be some difficulties. A propensity to be bored and readily frustrated by routine or typical job choices may be problematic for those with this combination. Their penchant for adventure may cause individuals to change careers or have difficulty committing to long-term objectives constantly. They might also have the propensity to make employment decisions that are overly idealistic or impractical, taking on tasks or obligations that are outside their scope of competence. Additionally, because of their great desire for independence and freedom, they could be reluctant to hierarchy or authority, which could cause issues at work. Finding an equilibrium between their daring nature and the pragmatism necessary for effective career progress is crucial for people in this placement.
Conclusion
In conclusion, Sagittarius in the 10th House influences a person's profession and public perception in both favourable and challenging ways. The internship inspires them to pursue their careers with a feeling of commitment and a thirst for discovery. They strongly desire to leave a lasting impression and motivate others with their positive outlook. However, they might need to watch out for immaturity, restlessness, and opposition to authority. They must balance their spirit of adventure, commitment, and discipline for long-term success. Sagittarius in the 10th House can build a happy and significant profession that creates a great and lasting influence in their chosen sector by harnessing their excitement and accepting possibilities that coincide with their ideals.