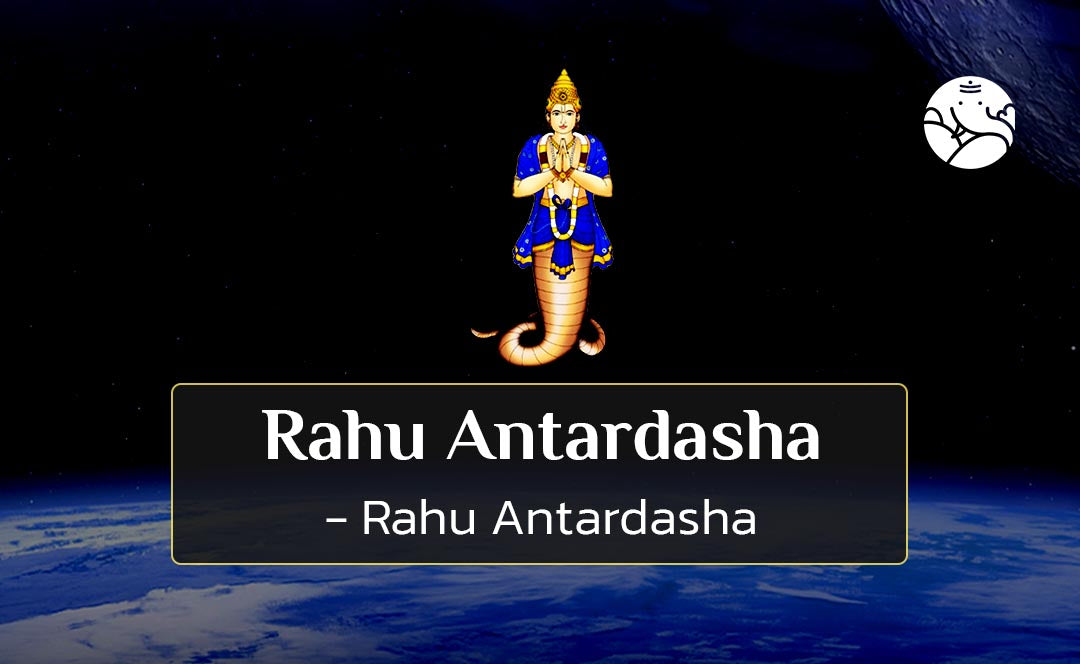 Rahu Antardasha - Rahu Ki Antardasha
The Mahadasha of Rahu lasts for 18 years. Dasha of Rahu can give auspicious or inauspicious results depending on the position of the planets. During this dasha, the person is usually restless and restless. He can even travel abroad in search of peace. When this Antardasha is auspicious, then the person can suddenly get monetary benefits. On the other hand, when it is inauspicious, it can make a person suddenly poor. The inner state of Rahu is also considered to give inauspicious results.
If Rahu is an exalted sign then its Mahadasha gives auspicious results. Such a person will get immense wealth, happiness, agricultural produce, vehicle, etc. This condition can also be related to the birth of children, religious inclination, recognition from the government, clothes, etc. If Rahu is associated with or aspected by auspicious planets. If it is in a benefic sign and in the 3rd, 4th, 6th, 10th, and 11th house, then you will get results like happiness by the grace of the government, getting money from a foreign government, sovereignty, and happiness in the house. On the other hand, if Rahu is in the 5th, 8th, or 12th house then there will be bad results like all kinds of problems and suffering. There will be loss of position, destruction of residential house, mental agony, trouble to wife and children, and misfortune of getting bad food.
The native in this class may indulge in immoral and evil deeds and may be inclined toward materialistic pleasures, besides there will be fear due to thieves, poisonous substances, weapons, and authority. The native will be surrounded by many enemies and will face separation from his dear ones. In Rahu Mahadasha, people will not support the native and he may also face loss of respect and position.
There may be some changes in personal and professional spheres and some diseases including sexual dysfunction, asthma, urinary diseases, and weakness are also possible, besides this, the person will sometimes become unduly aggressive. On the other hand, a positive position of Rahu can reverse all the effects and bring goodness to life.
Rahu Antardasha Rahu Mahadasha 
This Antardasha gives sudden growth and profits in business. Happiness takes place in life. There is also a tendency towards spiritual activities during this period. During this period, the person also gets a chance to go abroad. Willpower and courage are also encouraged and the power to defeat the opposition is given.
If inauspicious, this dasha can also cause confusion, indecision, loss of money, and career decline. Problems in family affairs and failures in life drag the native down to a state of misery. If the position of Rahu in your Kundli is difficult then you should avoid making any major decisions in life during this period of Rahu Antardasha in Rahu Mahadasha.
Conclusion
Rahu Antardasha's period in the life of the native is mostly going to give inauspicious results. During this time, the person is afraid of enemies, there is a possibility of many types of troubles. There are strong possibilities of money loss. There are obstacles to the work being done. Brain-related diseases arise. Eye diseases arise and there is a decline in might. In this way, the house in which Rahu is present in the birth chart and the house on which it makes an aspect relationship spoils the work related to that house, but Rahu attracts the person towards worldly pleasures. Talk to astrologers to know more about Rahu Antardasha.