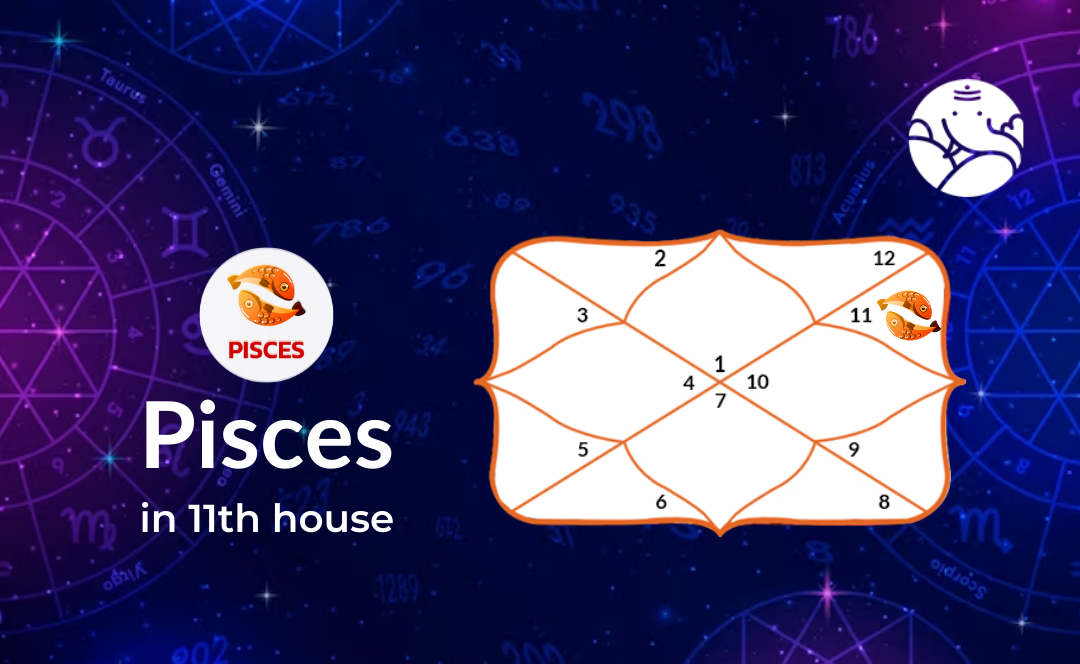 Pisces in 11th House
Pisces' astrological placement in the 11th House produces an alluring and fascinating cosmic impact. As the 12th zodiac sign, Pisces represents compassion, feeling, and innovation: the 11th House rules relationships, social circles, and aspirations. As a result of this cosmic alignment, people gain a keen sense of empathy and understanding, which helps them build deep and enduring relationships with those around them.
They are dependable and encouraging companions because of their ability to perceive the needs and feelings of others because of their intuitive nature. The Piscean influence inspires them to be optimistic visionaries who pursue their goals with creativity and a strong desire to make a positive difference in society. Embracing the interaction of Pisces in the 11th House enables people to establish satisfying connections and significantly impact the world.
Pisces in 11th House Astrology
When Pisces occupies the 11th House in astrology, an intriguing cosmic alignment affects a person's friendships and objectives. Pisces represents empathy, intuition, and creativity, while the 11th House rules social circles, group memberships, and future aspirations. They are deeply compassionate and empathetic, resulting in sympathetic and understanding friends. Thanks to their wise character, they can create strong, harmonious ties throughout their circle of friends.
Additionally, the Piscean influence motivates them to be utopian visionaries who actively participate in charitable endeavours and work towards improving society. An online jyotish consultation can benefit people looking for a more in-depth study of celestial influences and customised recommendations. Professional astrologers can examine a person's birth chart and provide insights on how Pisces in the 11th House affects friendships and objectives.
Through consultation, people can obtain insight into overcoming obstacles, establishing boundaries, and making the most of this alignment's advantages to cultivate meaningful connections and realise their objectives with purpose and vision. Individuals with Pisces in the 11th House can go on a transforming path of growth in themselves and affect society by embracing cosmic wisdom.
Eleventh House Astrology
The astrological Eleventh House significantly influences friendships, social ties, and aspirations. The "House of Hopes and Wishes," as it is often known, stands for our larger social circle, group affiliations, and the accomplishment of hopes and aspirations. This celestial realm depicts our capacity for cooperation, networking, and engagement with like-minded others to accomplish shared goals.
The influence of group activities on our development and the encouragement we get from close companions are both governed by the Eleventh House. The placement of this house in a person's birth chart offers important clues about their societal interactions, goals, and ability to make significant contributions to their community and society.
Positive Effects of Pisces in 11th House
The influence of Pisces in the 11th House has a variety of favourable impacts on a person's friendships and objectives. Pisces are trustworthy and dependable companions because of their sympathetic and sensitive temperament, which develops deep and lasting ties with others. They can be sensitive to the demands of their peer group thanks to their intuitive grasp of emotions, which promotes peaceful interactions.
They actively participate in philanthropic and charitable organisations because they strongly desire to impact the world. The Piscean influence encourages people to be idealist thinkers and drives them to follow their objectives with imagination and ingenuity, fulfilling their aspirations.
Negative Effects of Pisces in 11th House
The 11th House in Astrology placement of Pisces might have some unfavourable impacts on a person's friendships and objectives. Due to their emotional openness and heightened receptivity, Pisces people may be susceptible to receiving the energy of others, which could cause emotional overload in their social circle. Due to their sympathetic nature, they could take on their friends' emotional baggage, which could lead to burnout and tiredness.
Furthermore, they could find it difficult to establish reasonable boundaries in friendships due to their ideological tendencies, making them vulnerable to exploitation. With careful planning, there is a chance of being bogged down in hopes and aspirations, which could prevent their objectives from being achieved. It's imperative to balance self-preservation and compassion to successfully navigate the difficulties brought on by Pisces in the 11th House.
Conclusion 
The dynamic interplay of favourable and unfavourable influences on a person's friendships and objectives is highlighted by Pisces in the 11th House. They can connect profoundly thanks to Pisces' sensitive and empathic temperament, which makes them dependable and encouraging friends. They can foster happy relationships within their social circle thanks to their intuitive grasp of emotions. They are motivated by ideological impulses to work for humanitarian causes and make constructive contributions to society. However, to prevent emotional exhaustion and burnout, individuals must be careful to establish healthy limits. People with Pisces in the 11th House are more able to create satisfying relationships and realise their objectives through imagination and creativity, which promotes both individual development and societal advancement.