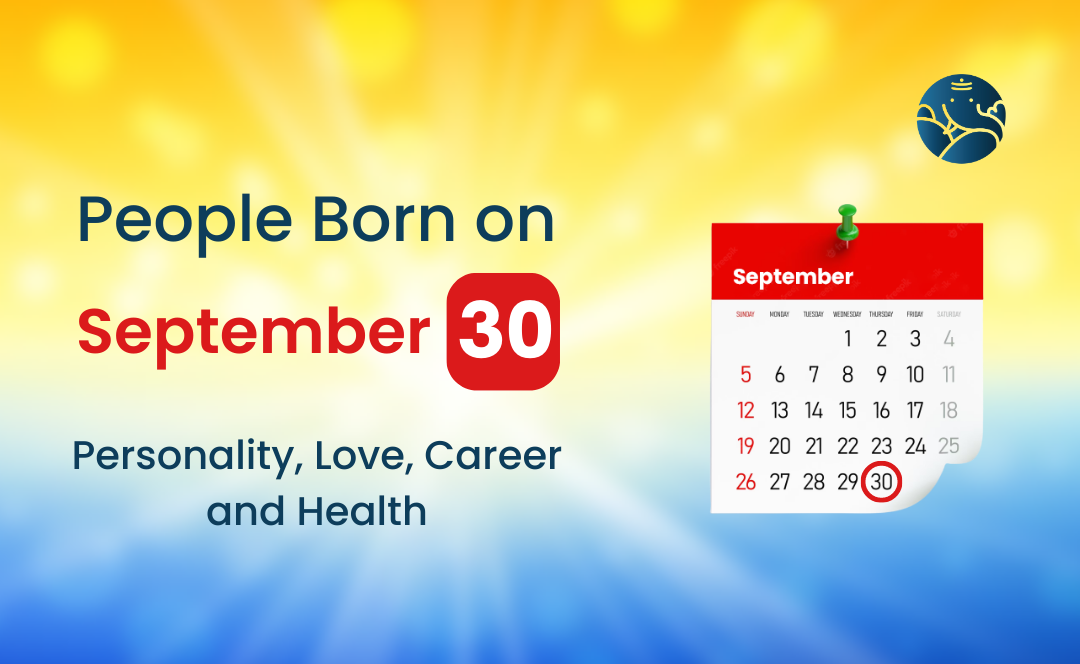 People Born on September 30: Personality, Love, Career, And Health
Those born on September 30 are likely to be more controversial than most typical people. It is also the case that you are going to be a serious person who is free and independent in how you relate to people. Also, you will be a highly creative person who is very sociable, understanding, and romantic. You believe in the generosity of human nature. Thus, you do everything possible for those who need your help.
September 30 Birthday Personality
Those born on September 30 will be concerned about life and the future. You need to understand that life is straightforward to live when there is planning and hard work. Forget the nervousness that plagues you because of your tendency to meet a deadline. Those born on September 30 are also prone to make one tragic mistake, which leads them to lose many opportunities in life.
September
 30 

Zodiac Sign

The zodiac sign of a person born on September 30 is Libra.
September 30 Zodiac Sign Compatibility
Well compatible with Leo, Sagittarius, and Taurus born on September 30.
People Born on September 30 Positive Traits
You are one of the most respected individuals born on September 30 because of the many positive qualities you possess. Overcoming problems will be primary to you because of your ability to creatively and imaginatively carve your world. You will most likely be an intelligent person who is always ready to brainstorm ideas that will add up to your success story. You often combine optimism and idealism to create an atmosphere that is diplomatic, fair, and serious. Another thing you know and understand is that freedom and justice are two things that you hold dear. You can do everything possible for a person to enjoy justice, freedom, and fairness. Besides, you are a lover of the masses; You often make sure that you take care of the less privileged and give them what they need to survive in life. You are one of the best in terms of expression and creativity. Furthermore, you are a humane and optimistic person with strong charisma and charm, which enables you to overcome any problems you may face as an individual.
People Born on September 30 Negative Traits
Someone born on the 30th of September has a high tendency to lose many things due to the depression that you are prone to. You will be a bit impulsive, boring, and aggressive in your relations with people. You do not know how to control your manners as you are prone to act impulsively. Likewise, you are most likely sad and tired. Your horoscope also shows that you are most likely to be destructive to your relationships with people. They often act as if you are the best in life.
People Born on September 30 Love
As per Love marriage astrology, It will be easy for those born on September 30 to fall in love. It also shows that you are most likely to be a romantic person who is loyal and enthusiastic. You are an imaginative and reliable person who is affectionate and trustworthy. You fully understand how to focus your energies on the growth of your life and future. Also, you are an extrovert which is most likely responsible for many relationship problems. Also, you will find love in a person born on the 6th, 9th, 15th, 18th, 24th, and 27th of the month.
People Born on September 30 Career
As per Career astrology, those born on September 30 are blessed with many job prospects because of their talents, skills, and one thing. Good understanding of life. It is likely that you will face a lot of difficulties in choosing your career. The intelligence, strong will, and tact of the person born on September 30 show a high tendency to go for a job. You run after a job that inspires you to care for the people around you or that lets you showcase your skills.
People Born on September 30 Health
As per health astrology, You will most likely be a grown-up born on September 30th. You will be blessed with strong health. It also signifies that your health will be one of the best on earth. However, you will most likely provoke some actions that will make you lose your status as one of the persons in excellent health. You have a good tendency to eat more than you can consume. Learn how to eat good food that fires up your heart and burns off your extra calories. Always exercise and go to the dentist for the treatment of your teeth. Also, you will enjoy solitude the most as you mentally charge yourself during that time.
Conclusion
Those born on September 30 love challenging tasks that are fueled by your interest in them. Possible jobs for you are music, law, and songwriting. You will be an ambitious, just, fair, and understanding person. You have always stood against any form that you may face as an individual. Talk to astrology to know more about the future of those born on 30 September.