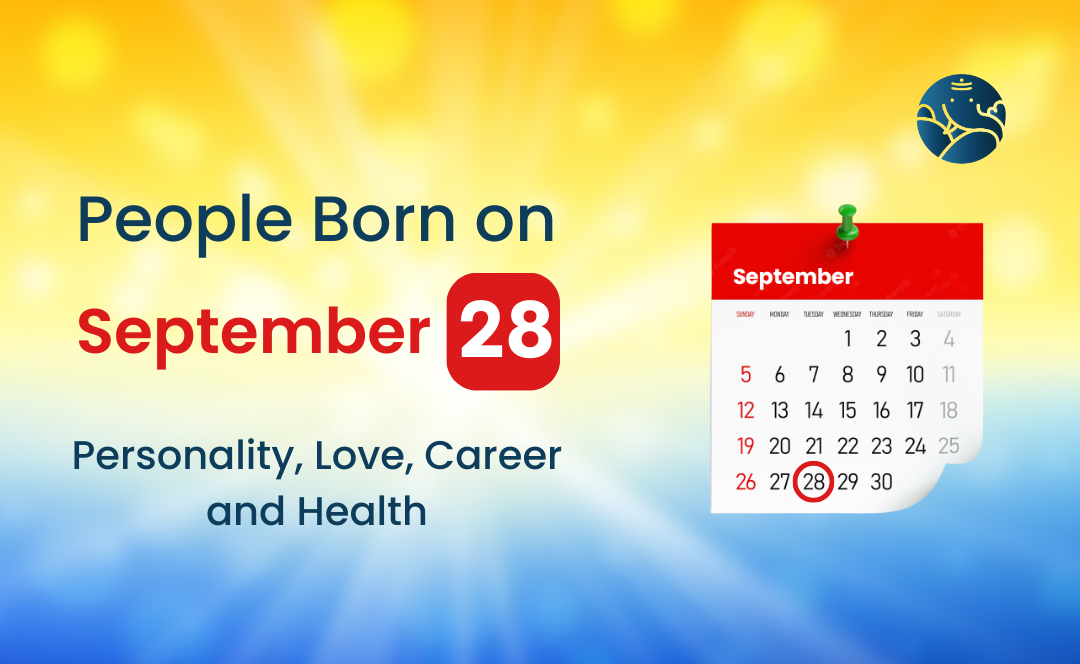 People Born on September 28: Personality, Love, Career, And Health
Many people born on September 28 respect you for your understanding, caring, and ability to create a peaceful society for the people you love. One thing that sets you apart from others is your ability to deal with sudden changes in people. You understand what people like and dislike and thus do everything possible to find compromises in your relationship with people. You tend to be indecisive and unsure of your relationships with people. Apart from this, you will be a spendthrift who is always ready to spend on your lover.
September 28 Birthday Personality
Those born on September 28 are endowed with an independent and generous personality wrapped in a charming personality. You find it easy to underestimate people and are careful in your interactions with people. It also happens that you have more tendency to get confused. Let the future decide itself but learn to plan for your future. Most of the time, you end up making many mistakes because of the time limit you have.
September
 

28

 

Zodiac Sign

The zodiac sign of a person born on September 28 is Libra.
September 28 Zodiac Sign Compatibility
Well compatible with Leo, Sagittarius, and Taurus born on September 28.
People Born on September 28 Positive Traits
Those born on September 28 are endowed with many positive traits that enable them to relate to those around them. You are an alert, observant, caring, and understanding person. Born on September 28 will be the most balanced and assertive person who will be grateful and balanced. You are also a selfless person who is caring, sweet, and altruistic. Another thing you need to know is your ability to forgive those who hurt you. You believe in taking care of yourself and make sure that you let peace reign wherever you are. Your horoscope prediction shows that you are an idealistic and optimistic partner who is well-grounded and stable in your faith. You are an optimistic person endowed with ideas and seriousness.
People Born on September 28 Negative Traits
Those born on September 28 will be argumentative people who will find it very difficult to admit mistakes. You are an impulsive person who is destructive and prone to frustration. One thing that is capable of causing you problems as a person is your tendency to despair and boredom. Don't get discouraged or distracted by the things around you.
People Born on September 28
 

Love

As per Love marriage astrology, those born on September 28 will be the most focused individuals who will be lonely and affectionate individuals. Additionally, the September 28 person predicts that you will be an extreme love and will most likely be concerned with love and relationships. It is easy for you to fall in love because you have a high instinct for love at a very young age. Plus, you'll most likely choose a boyfriend who is intelligent, kind, and caring. You also choose a rich boyfriend from a large family with good parents. You will be one of the best parents, always ready to make some sacrifices for your children. Try to stay away from relations with the natives of Aries while you. The most common with the natives is Aquarius or Libra. As a person born on September 28, you are a romantic and loyal person on the 4th, 6th, 8th, 13th, 15th, 17th, 22nd, 24th, 26th, and 31st of any month There are
People Born on September 28
 

Career

As per Career astrology, Your natural skills and talents make up for your goodwill and the myriad job opportunities you are known for. It is the case that you are going to be an imaginative, caring, and creative individual known for churning out good ideas for the betterment of society. You are most likely to be an advertiser, sales representative, or public relations executive. There is a possibility. Furthermore, you have accomplished artistically because you do everything you can in life to overcome the problems you know you have.
People Born on September 28
 

Health

As per health astrology, Most of all will be affected by the carefree attitude of the one born on September 28th. It happens that you eat more than your body needs. It is the case that the extra calories you take in are able to make up for what your fast metabolism is losing. Plus, you're likely to be overweight as a result of the extra calories and fat you're consuming. You should consider exercising to burn extra calories and fat known to your personality. You should make sure that you reduce the stress that you often go through. The more workaholic you are, the more you stress yourself. Try to stop eating sweets as they are capable of causing your diabetes problems.

Conclusion

Those born on September 28 will most likely go for jobs that will allow them to show off their generous skills by helping those in need. Although you will be successful, you will be strict about the expenditure. Talk to astrology to know about the future of those born on 28 September.