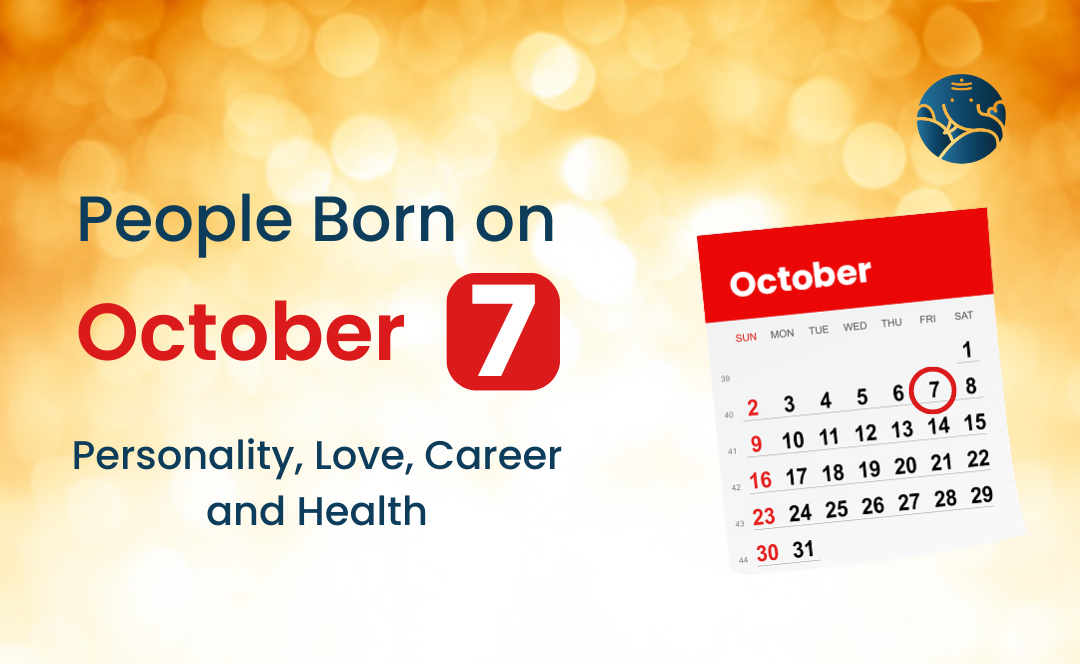 People Born on October 7: Personality, Love, Career, And Health
The person born on October 7 is the most intelligent. You are most likely creative and imaginative. It will be much easier for you to brainstorm ideas that will make the world a better place to live in. Moreso, make sure you always have harmony, order, and peace rule the world. You often do everything possible to stay away from violence and preach peace and harmony to the people.
October 7 Birthday Personality
Those born on October 7th will be affectionate and kind people who will find it easy to help those around them, especially the poor. You are also going to be a charismatic and charming person who finds it very easy to provide a solution to a particular problem. You are alert, thoughtful, and spiritually high. Furthermore, you will be one of the most reliable and trustworthy individuals with good moral values. You are going to be a thoughtful person who will not hesitate to think about life.
October 7 Zodiac Sign
The zodiac sign of a person born on October 7 is Libra.
October 7 Zodiac Sign Compatibility
Well compatible with Leo, Sagittarius, and Taurus born on October 7.
People Born on October 7 Positive Traits
Born on October 7, you are one of the most intelligent and respected people. You are caring, reflective and inquisitive. You are a lover of knowledge and wisdom and often make every effort to gather that knowledge that will make you successful. Apart from this, you are going to be one of the most interesting people in society as you often amuse people with your high sense of humor. Because of your intelligence and imagination, it will be very easy to overcome any kind of problem you or the people around you may face. You will enjoy living a life full of intuition and ideas because of your creativity. You often brainstorm ideas that will make the world a better place.
People Born on October 7 Negative Traits
Born on October 7th is a superficial and skeptical person who will need a lot of arguments to be convinced about a particular situation. You will most likely be an aggressive and impulsive person who will lose a lot of good friends. You will be intolerant and it will not be easy to relate to everyone. You need to learn how to prioritize things and get things done as per your priority. You don't need to be very naive about things. Try to be more versatile about things other than your discipline. You also need to embrace the calmness that you sometimes preach, especially when you are sad and discouraged. Most likely, you will be unrealistic with your demands and isolate yourself.
People Born on October 7 Love
As per Love marriage astrology, you are going to have a high tendency to fall and break up in a relationship because of your lack of seriousness. Oftentimes, the people you love don't always wait for some period for you to be more serious. You are going to be one of the most dependable and reliable people as you make every effort to make sure that you give your partner a reason to believe in you. Born 7 October most likely you will fall in love with a caring, calm person. You will also fall in love with someone who you feel will not betray your trust. However, you are the one most likely to experience emotional betrayal. Those born on the 1st, 2nd, 10th, 11th, 19th, 20th, 28th and 29th of the month are compatible for you.
People Born on October 7 Career
As per Career astrology, a person born on October 7 always has a hard time choosing for himself because of his numerous talents. You have a high tendency to be a creative, caring, and understanding person. You will find it very difficult to enjoy a job that doesn't allow time for play or relaxation. You often run after tasks understanding that people need some time to rest or go on vacation. They are going to be very creative and passionate about your work. You always plan your time so that you can inspire your determination and passion to overcome any challenges you may face in your career. Earning money is easier for you than spending it, because you know how hard it is to earn money.
People Born on October 7 Health
As per health astrology, has good health which will often deteriorate due to neglect. Also, your horoscope predicts you to be a workaholic, who is likely to lose too much time to rest in order to work often. You are prone to many health issues due to your lack of rest and sleep. It will help if you always eat plenty to replenish the calories you burn when you eat. You will likely have a fever, headache, and, most likely, backache due to your workaholic nature. Watch what you eat and eat accordingly to what your body can use.
Conclusion
Those born on October 7th are interested, liberated, and sensible. Your indecisive nature will make it very difficult for people to understand you. You will be aggressive and impatient. Talk to astrology to know about the compatibility of those born on 7 October.