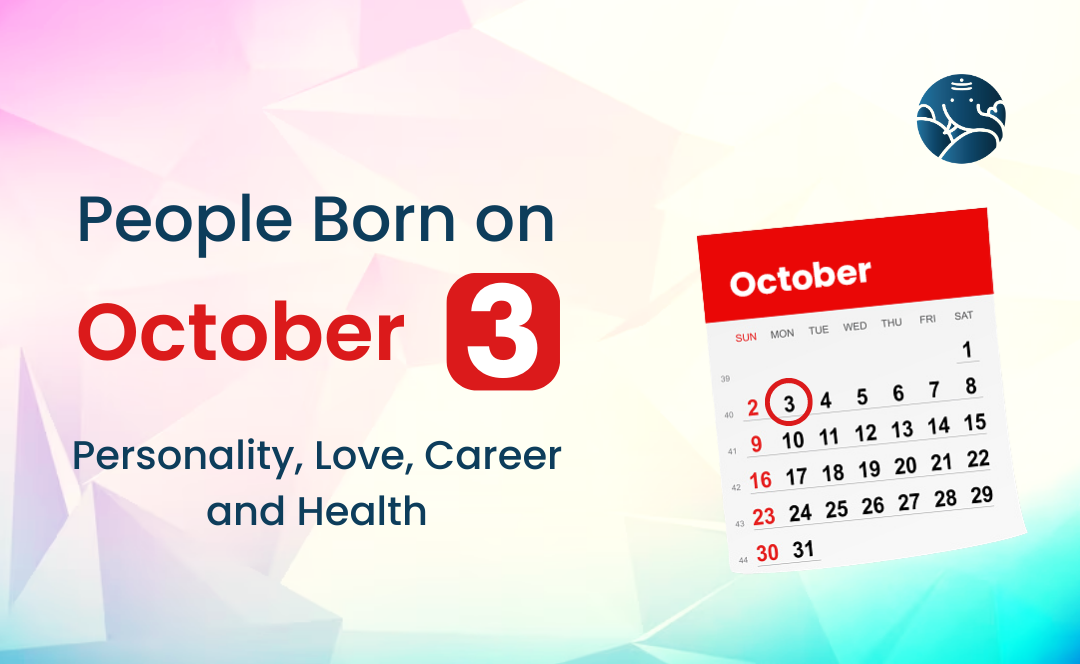 People Born on October 3: Personality, Love, Career, And Health
Those born on October 3rd are caring and the interested individual who is understanding, benevolent, and caring. You will also be a lover of knowledge as you make every effort to gain knowledge out of your curiosity.
October 3 Birthday Personality
Who is the expressive and talkative person born on October 3rd? You are one of the ardent believers of peace and harmony in a relationship; Thus, you allow it to reflect in your relationships with people. You are going to be an interesting person who is communicative and understanding. You will also be a bit indecisive, tolerant, and charming. You are expressive, understanding, and caring. It also shows in the way you relate and communicates with people. It also signifies your eloquence and great social skills. You are most likely a pleasant person who is strong and funny. Most of the time, you face any kind of problem because of your intelligence and a good understanding of life. You are one of the most attractive people around because you are extremely friendly and caring.
October 3 Zodiac Sign
The zodiac sign of a person born on October 3 is Libra.
October 3 Zodiac Sign Compatibility
Well compatible with Leo, Sagittarius, and Taurus born on October 3.
People Born on October 3 Positive Traits
Those born on October 3rd will have a lot of positive traits that will make you feel caring and understanding. Oftentimes, you win a lot of contracts because of a combination of your charm and charisma. You have an intelligent and mentally agile mind which makes you successful in life. You often find it very easy to overcome any kind of problem that you may be suffering from. They also find it easier to mediate and negotiate with people to make peace. You are more of a diplomat who is articulate and calm. You have a way of standing up to kings without fear of persecution to defend your sane views or beliefs. You are going to be inquisitive and always ready to do what will bring success. You are a source of inspiration for other people and there is a reason why people choose you as a motivator.
People Born on October 3 Negative Traits
Learn to be less cautious with your behavior born on October 3, as you often behave irrationally because of your over-cautious nature. People may not see or know what you do in the confinement of your room. Let people see your talent by being open to doing what you can. You are also likely to suffer from too many distractions, causing you to almost lose focus on what you want to become in the near future. You are more of a show-off person likely to be a bit of an introvert. Overconfidence often kills, don't be too sure of yourself; Always take a balanced view of who you are and what you will become in life. Also, learn from their mistakes and accept your mistakes with good intentions.
People Born on October 3 Love
As per Love marriage astrology, those born on October 3rd will be one of the most reliable and successful individuals who will find it easy to commit to someone for a lifetime. However, it often takes longer than expected to commit to a relationship because you make every effort to know more about your lover before falling for him. You always try your best not to experience unrequited love. Don't Furthermore, you will fall in love with a very affectionate and romantic person who is caring and understanding. To win his heart, ambition, creativity, and energy must be shown. This is the result of your affinity with an energetic and enthusiastic person. You will fall in love with someone born on the 6th, 9th, 15th, 18th, 24th, or 27th of the month.
People Born on October 3 Career
As per Career astrology, those born on October 3 have many natural abilities that are well-suited for certain careers. This makes it difficult for them to choose the right career. You will likely choose an NGO job because of your humanitarianism and consideration. You are most likely suited for fundraising jobs for social work and other community services because of your generous nature. You are going to be intelligent and quick-tempered. Thus, they will find themselves in a job with many challenging tasks. Your love for details can make you an actor or a lawyer.
People Born on October 3 Health
As per health astrology, those born on the 3rd of October get many benefits from this health which makes you a better person. You will be more successful in life, especially when you are free from health problems or health issues. what do you eat; The more excess food you eat, the worse your metabolism. Always eat in the right proportion to keep your body systems functioning well; If you don't do this, you will fall prey to excess calories and slow metabolism. You will be prone to stress-related health problems because of your workaholic nature. Always take rest and sleep at the right time for the good of your health.
Conclusion
Those born on October 3rd are calm, understanding, and caring partners, whereas you will be aggressive and impulsive. You will become withdrawn and isolated from those around you. You must learn to control your attitude. Talk to astrology to know about the future of those born on 3 October.