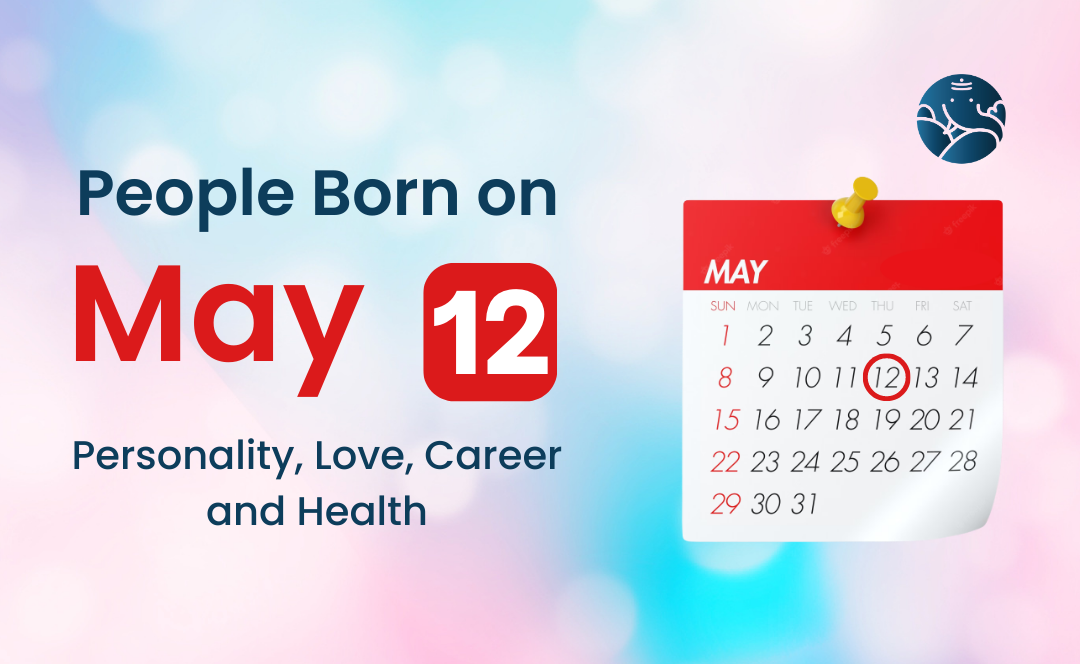 People Born on May 12: Personality, Love, Career, And Health
A person born on 12th May is very loyal and highly disciplined. You are globally different from other people as you are always ready to complete whatever task you start. You love your family member very much and make sure that your family members are safe, sound, and healthy. and enjoying. They are a personable person who is versatile and can multitask. You seem wiser and less stubborn than other bulls.
May 12 Birthday Personality
Those born on May 12 are good at having a love affair and always make sure that you are independent. You have a strong will and consistency to do things the right way. A May 12 Born man or a woman will be creative and imaginative with his/her thought. You are sociable and energetic because of your connection with your element. It should also be noted that a person born on this day will be good at public speaking. They also seem to be lovers of money and material things. You believe that ethics should be taken care of in whatever you do. Thus, you do not go after the kind of money that will tarnish your image and that of your people.
May 12 Zodiac Sign
The zodiac sign of a person born on May 12th is Taurus.
May 1 Zodiac Sign Compatibility
Born on May 12 is favorable to Capricorn and Virgo.
People Born on May 12 Positive Traits
Those born on May 12th will be imaginative and straightforward today. You will be a person who has a lot of positive traits that he is endowed with. You will be full of loyalty, and will always be loyal to you. You are the kind of person who will stand on their own feet and refuse to do something that would make them a treacherous person. You are someone who will always be ready to fight for the people around you and make sure they succeed. They learn and have an easy way of understanding people's problems and solving them. You are simple and courageous with your personality. Your gentleness and eagerness to change the world set you apart from other people. You have a persuasive spirit that makes people feel good doing your bidding. Furthermore, you are humorous and always happy, making people around you happy.
People Born on May 12 Negative Traits
You are inflexible and will not change your stand on any particular thing. The source of your strength is the source of your weakness. The source of their abilities can become their weakness if you don't know how to control them. You get frustrated and angry with people. Often, you portray a more dispassionate nature towards those around you because of your belief that you are the best. Try to know that your best can be another person's best. You have a high tendency to run away from any kind of pride, arrogance, and domineering attitude. They tend to be impulsive and aggressive with the people around them.
People Born on May 12 Love
As per Love marriage astrology, Ready to give all his love to someone born on May 12th. You need a lot of devotion and loyalty in a relationship, just like you do. He is a determined lover who is always ready to take care of his lover. You are the one to cherish when it comes to giving your spouse money and whatever else you have. You do not always want your relationship to take away from anything. You will be a loving and caring May 12 horoscope personality. Those born on 6th, 9th, 15th, 18th, 24th and 27th are favorable for you.
People Born on May 12 Career
As per Career astrology, those born on May 12 have unique personalities that set them apart. Sometimes you keep your relationship and health away from your career. Your ultimate goal in life is a career and nothing more. You will go for a job that will make you travel across the globe. You will also go for a job that is highly engaging and productive. In addition, your good taste in beauty may attract you to become a gardener. Go for the legal profession; You will be successful as you have been given the powers of eloquence and strong will.
People Born on May 12 Health
As per health astrology, your health should be bigger than anything else. You should always be prepared with the right and necessary tools to fight every disease that comes your way. It would help if you didn't always put your health away or unclaimed. Your health is the reason you're still breathing. You should make every effort to strengthen your health to make it better and more effective. Another thing that you should consider in life is that you cannot be the person that you are without good health.

Always make sure that you eat food that will increase your metabolism and not decrease it. They should also always consider exercise as the best thing in life. Exercise can protect you from stress and improve your metabolism. It would help if you also learned how to be strict with regulating your calorie intake.
Conclusion
You make it easier for those around you to perform better and easier with your ability to understand their problems and solve them. You are well connected to your unique personality. You will not give up your stand to please someone. You are judicious in your relationships with others. Your sense of humor often makes it possible for you to lose sight of certain things in your life. If you want to know about the health of the person born on 12th May, then talk to astrologers.