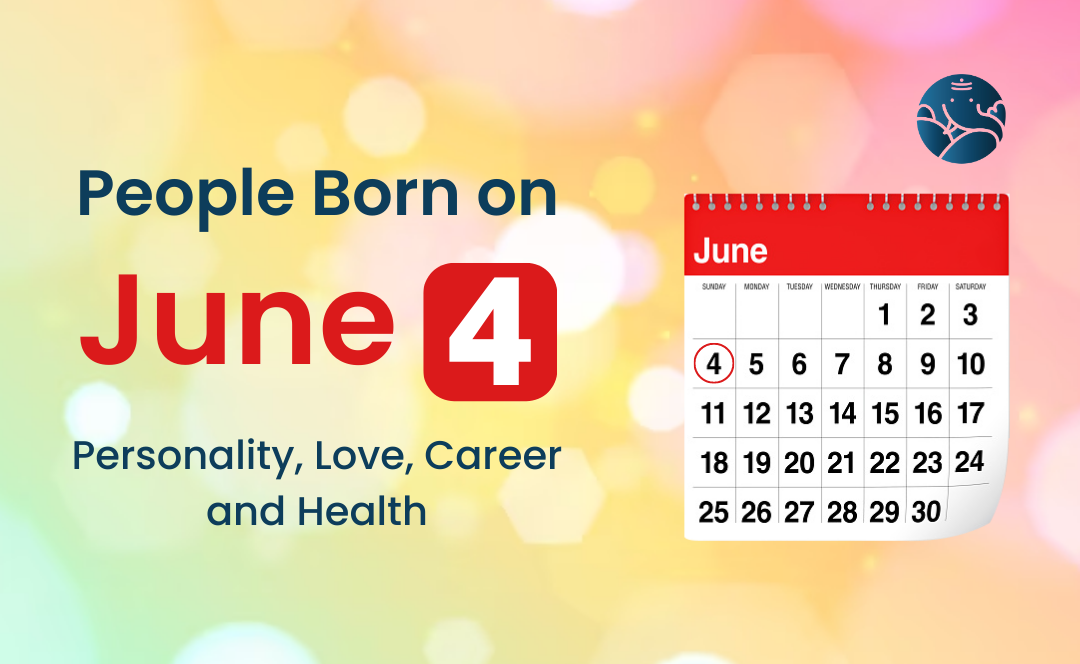 People Born on June 4: Personality, Love, Career, And Health
Those born on the 4th of June believe in sharing their every bit of information with the public. Also, you are a justice lover as you are always ready to fight against injustice till the last drop of your blood. You are good at socializing with people. In fact, you draw your energy from your relationships with those around you. You are very confident and courageous as you can stand anywhere in this world to defend your claim.
June 4 Birthday Personality
Born on 4th June are hard-working individuals who are very creative and imaginative. Also, you are cautious and critical in your approach to life. You understand that friendship is the key to success; Thus, you are always friendly to people including strangers. Don't push people away with your indecisive attitude about their beliefs or needs. You should learn how to control your mood swings. You get angry easily whenever you are in public; You need to work on that. Furthermore, you are highly unpredictable and unreliable.
June 4 Zodiac Sign
The zodiac sign of a person born on June 4th is Gemini.
June 4 Zodiac Sign Compatibility
Well compatible with Libra, Sagittarius, and Aquarius born on June 4th.
People Born on June 4 Positive Traits
You are endowed with many positive characteristics that set you apart as a unique and talented individual. It is the case that they are endowed with an allure that people simply cannot resist. Oftentimes, you work this charm to gain the trust of your client and your friend. You are endowed with tremendous communication skills. In fact, you can speak anywhere and anytime in a clear and melodious voice that is capable of sweeping the audience off their feet.

You have an excellent ability to persuade people and get them to do their will without any effort from outside forces. In addition, you are a good negotiator who knows how to strike the right chord in business transactions. You have an excellent repertoire of words because you have a unique way of using the right word to describe a situation. Born on June 4th are quick-witted and always ready to solve any difficult issue or situation.
People Born on June 4 Negative Traits
It is also the case that they may lose their respect among the people of the world because of these negative characteristics. They should understand more about your negative traits and change them for your good. It would help if you learned how to turn your aggression and impulses for your own good by aggressively pursuing good things instead of being aggressive with people. You must learn how to make yourself approachable and accessible to people. It will help if you understand that people are needed for one's upliftment.
People Born on June 4 Love
As per Love marriage astrology, those born on the 4th of June are versatile and caring individual who understands what it takes to be loved. You are the kind of person who would rather go after the person they love than anyone else. You hate making people choose for you because you always want to choose a lover at your own discretion. Additionally, you are the person who will ensure that his/her freedom and independence are reflected in the relationship. You will go for an unpredictable lover who will be able to keep you in suspense about his next course of action. You want an exciting man who will take care of you. It is also the case that you will be a sensational and passionate lover who knows how to take care of his lover. Those born on 1, 8, 10, 27, 19, 26, and 28 will be most compatible with them.
People Born on June 4 Career
As per Career astrology, those born on June 4th are extremely talented. Your talent is known to open up many job opportunities for you. However, it is unfortunate that you are an indecisive person as you are always faced with the dilemma of which job you should choose. Regardless of your predicament, you often go for a job that appeals to your high sense of morality. You will also not accept a job that does not satisfy both your physical and spiritual lifestyle.
People Born on June 4 Health
As per health astrology, you have powerful health which is always at risk from your actions and inaction. It is also the case that you have a frivolous attitude toward your health. This casual attitude is the reason for the ups and downs that characterize your health. You must also learn to understand that some ailments require traditional medicine, just as some require holistic healing. You should not always give priority to holistic healing. Try to understand the type of therapy that would augur well for your ailment. You should have a doctor who is well-versed in holistic and traditional medicine. Apart from this, you should also learn to eat well at the right time. Don't skip any meals or eat more than they can take. Always regulate your meals to take in essential nutrients.
Conclusion
Also, you can land a job that will give you a chance to travel around the world. You will be ready to use your position for the good of others. You also need a job that is liberating because of your love for freedom and independence. Also, you do not give your money to help people because of your resolve against laziness. If you want to know more about the career of those born on 4th June, then go for an Astrology Phone Consultation.