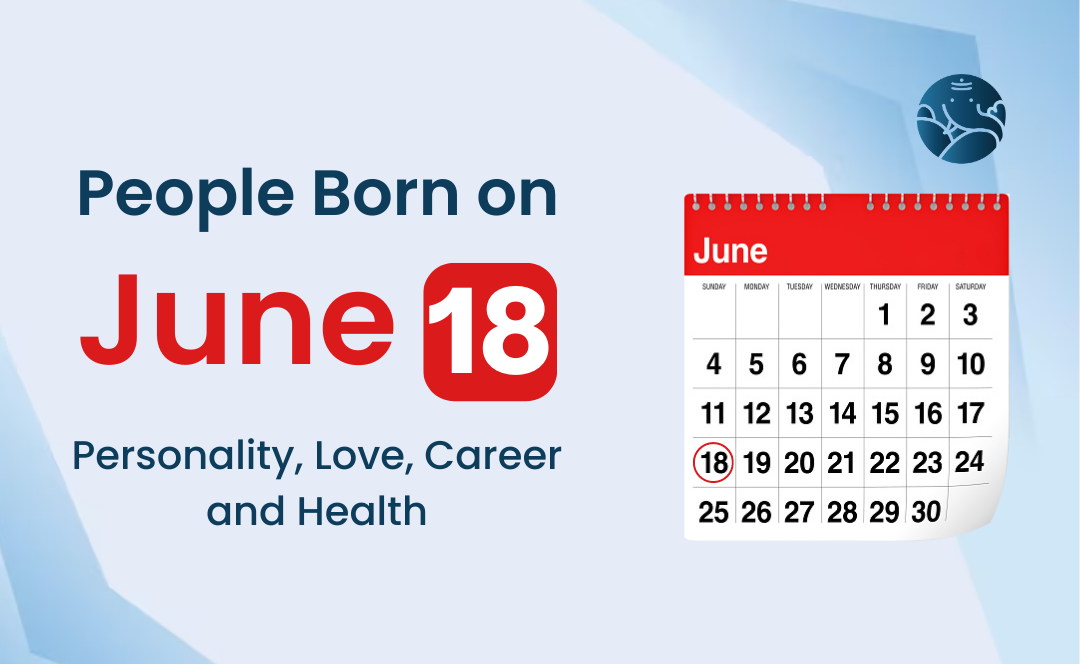 People Born on June 18: Personality, Love, Career, And Health
Those born on June 18 become successful and become leaders. It is also the case that he will be an eloquent and charming person who has a good understanding of life. You have an advantage in life because you often place yourself among people with similar values. Also, you do not like to be alone as you get your energy from the people around you. You love being unpredictable because you understand the value of being unpredictable.
June 18 Birthday Personality
Those born on June 18 are affectionate and imaginative. He can be a progressive person who is very innovative. Furthermore, you will be a human idealist who is imaginative and cheerful. They will also be an impatient person who is likely to get on people's nerves, especially when they fail to honor your personality or their promises. Moreover, you will be a selfish and overly greedy person because of your high tendency to turn people's property into your own.
June 18 Zodiac Sign
The zodiac sign of a person born on June 18th is Gemini.
June 18 Zodiac Sign Compatibility
Well compatible with Libra, Sagittarius, and Aquarius born on June 18th.
People Born on June 18 Positive Traits
Those born on June 18 can be very persuasive and can persuade people to believe their point of view. Also, you can be practical and comfortable with your approach to life. You will have a kind and nice personality, which will allow you to consider people in any plan you make. Your charm and humor stand out from other women. You are a person with an irresistible charm, which makes it very difficult for those around you to resist. They often win a lot of contracts and projects as a result of their charm. Apart from this, you will be a humorous person who will make everyone around you happy. You are also an enthusiastic and optimistic person. You are always ready to take risks and face them to the best of your ability. In addition, you have a special way of revealing your creativity and imagination, making those around you successful in life.
People Born on June 18 Negative Traits
Born on June 18 often face some negative traits which enable you to lose control over yourself. You must learn to concentrate more because you have a high tendency to lose your temper. You will be highly volatile and prone to emotional distress due to the one-sided love you are likely to be in a relationship with. Along with this, the native will suffer from loneliness when he separates himself from other people. This is because we get energy from the people around us.
People Born on June 18 Love
As per Love marriage astrology, those born on June 18th are charming and irresistible individuals who are eloquent and passionate. You are going to marry someone who will accept your whims and keep your individuality. Also, you have a step-by-step way to express your feeling to your lover. Also, they will be very protective and patient with their families. You will be most compatible with those born on the 3rd, 5th, 6th, 12th, 14th, 15th, 21st, 23rd, 24th, and 31st.
People Born on June 18 Career
As per Career astrology, your personality reveals that you have a high tendency to go into any vocation of your choice because of your independence and freedom in choosing a career. You will be someone who will not allow yourself to be influenced by other people's opinions. Although they are talented, they will still lack the ability to choose.
People Born on June 18 Health
As per health astrology, Very important for those born on June 18. It happens that you will experience a great danger to your health because of your actions and inaction. You will have a higher tendency to skip your sleep and meals due to overwork. Also, you will have a tendency to take in too many calories, which can create obesity in your personality. It will help you if you learn to reduce the extra calories in your personality by exercising yourself. In addition, sleep and exercise can help you ward off any stress-related ailments you may be suffering from. Learn to eat at the right time to increase metabolism.
Conclusion
You will be in a dilemma because of the personality born on June 18th. You will go for professional subjects like Engineering, Accounts, and Law. Plus, you'll be sure that your eloquence and posture impress at your work. You will not go for a routine job as a result of your love for fun and adventure. Furthermore, you will hate giving your money to people because of your belief in laziness. Apart from this, you will create employment for many people as a result of your belief in hard work. If you want to know more about someone born on 18th June, then talk to astrology.