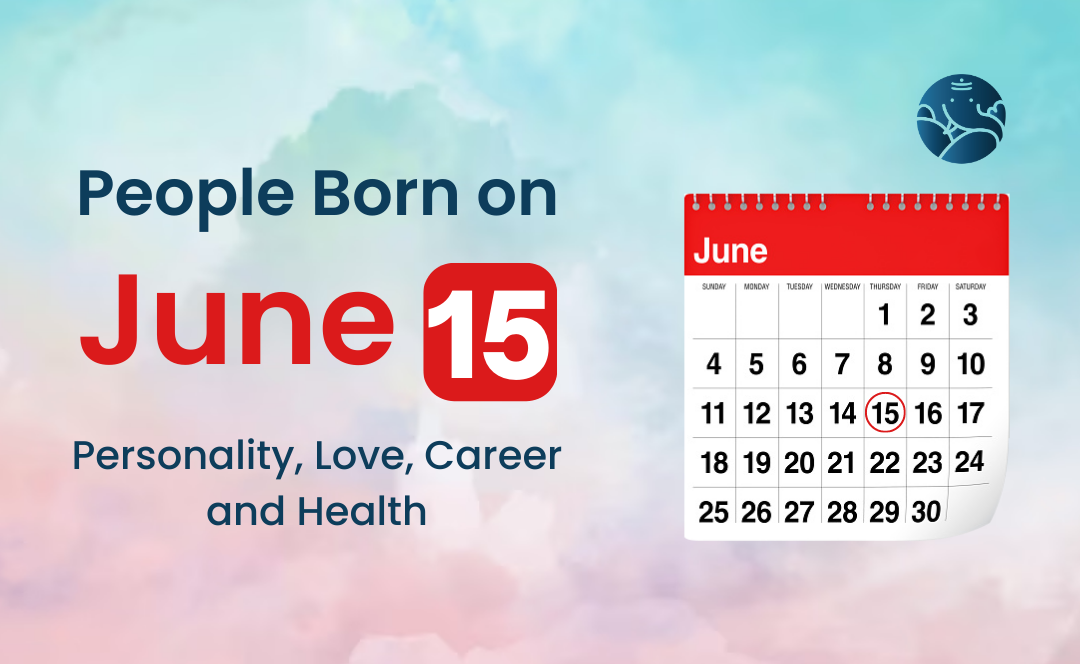 People Born on June 15: Personality, Love, Career, And Health
Those born on June 15 are friendly person who cares a lot for the people around them. In addition, you have a good understanding of people and their relationships. You are independent and ready to accept adventure and challenges with open arms. Also, you are known for your close relationships with the people around you because of your sociability. Besides, you will be a knowledgeable person who is always thirsty for more knowledge.
June 15 Birthday Personality
Those born on 15th June are devoted and responsible. It also suggests your practicality and your originality. Also, you will be blessed with a lot of talents because of your numerology. Also, you will be more active than any other person because of your numerology. Unreliability often makes them lose their friends. Furthermore, you have a high tendency to start too many projects at once, without even considering whether you can complete them or not. This lack of calculation often causes you to lose respect among people as they will be disappointed in you.
June 15 Zodiac Sign
The zodiac sign of a person born on June 15th is Gemini.
June 15 Zodiac Sign Compatibility
Well compatible with Libra, Sagittarius, and Aquarius born on June 15th.
People Born on June 15 Positive Traits
Those born on June 15 are known for their unique charity and their irresistible charm. Oftentimes, the people around you, especially your customers, fall for your irresistible charm. Your versatility is unmatched as you are knowledgeable and endowed with a good understanding of the world. You are a blend of compassion and creativity. Plus, you'll be known as the CNN of your workplace because of your poise and your readiness to take in new details. Your personality also shows that you will be a generous and outspoken person who can easily deal with issues and situations. Your personality shows that they will be lovers of adventure. Apart from helping people overcome their problems, you have a special way of making people smile and be happy. In addition, you will serve as a source of inspiration for other people.
People Born on June 15 Negative Traits
You must learn how to suppress any negative traits known in your personality. Your personality is known to get frustrated easily and is known for its impatience. Additionally, you have a high tendency to lose your temper because of your association with your element. You will be impulsive and aggressive in your interactions with those around you. You are prone to forget things easily and at the same time prone to selfishness. Also, you may want to convert the ownership of others into your own without considering the original owners. You are going to be moody and restless because of your personality. Oftentimes, your unpredictable nature may make you lose some opportunities in life.
People Born on June 15 Love
As per Love marriage astrology, those born on June 15th will be sensible and passionate lover who believes in love alone. You believe that true love exists. Your personality also shows that you will go after someone who will be your true love, and who will be ready to accept your whims. You also have a special way of talking to people, especially the ones you love. You often explain your feelings to your loved one in a step-by-step manner without getting bored. You will be a loving and caring partner who will give birth to intelligent children. You will also forget about some of your interesting dreams for the person you love. Favorable for those born on 1st, 6th, 9th, 10th, 15th, 18th, 19th, 24th and 27th.
People Born on June 15 Career
As per Career astrology, those born on June 15 are exceptionally talented individuals with several job opportunities attached to their names. However, it is the case that your indecision often makes you lose many job opportunities. In addition, you have a high standard that any potential job of yours must satisfy before going for it. You will also go for a position that will allow you to showcase your skills. Equally, find the type of profession that best suits your personality, your strong sense of duty, and your need for some financial security. Your skillful ability to understand and understand other people's problems without much delay will earn you a place in an NGO. Also, you will go for a scientifically based career. Plus, you hate giving in to people because of your resolve against laziness.
People Born on June 15 Health
As per health astrology, Born June 15 have strong health, often threatened by your actions and inaction. Oftentimes, your health tends to fluctuate as a result of your lack of rest. Your personality shows that you often overwork yourself to such an extent that you don't have time for the people around you. They often suffer from mental exhaustion due to overwork. Regarding the diet you consume, you are extremely picky and push yourself very hard. They believe the world is all about competition. Thus, you often make every effort to be on top or to be first. You often do this without considering your stress levels. A person should keep his stress level in check through exercise. You should also learn how to take a break from your work.
Conclusion
Born on June 15th will be an active, stubborn, and fierce person. You are always ready to research those things which will make you successful in life. If you want to know more about the love life and marriage life of the person born on June 15, then talk to astrology.