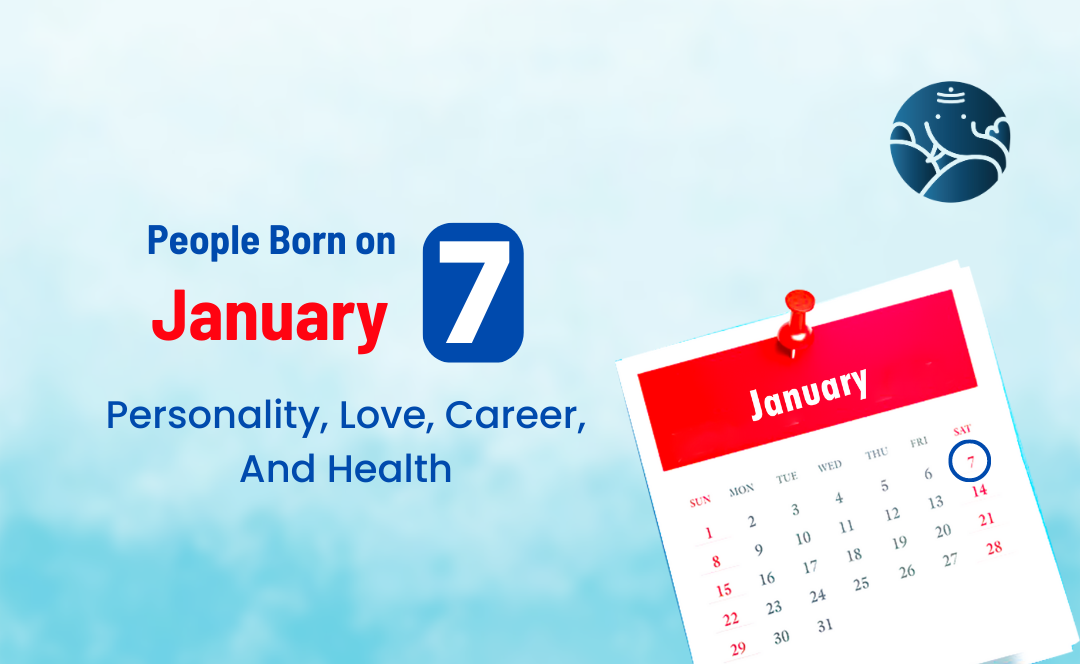 People Born on January 7: Personality, Love, Career, And Health

People born on January 7th endow people with their sociable and warm nature, so they often take their discovery as something to be excited about. Furthermore, their irresistible charm makes for a long list of friends. People born on the 7th of January are strong-willed and do not compromise on their high standards. 



January 7 Birthday Personality


People born on the 7th of January are mentally developed to understand other people's moods and are highly sensitive towards people. You are highly logical and intuitive, which makes you unique among all other Capricorns. Often, you are involved in charity work because you are very kind and caring; You love to bring beautiful smiles to people's faces. Also, you can be in sync with everything around you. You dream a lot, but you don't let yourself get carried away by your dreams.

One of your main characteristics is that you have a great affinity for extraordinary imagination and charm. People born on January 7th are sometimes known as oddball people. They are also defined by your ability to adapt to anything in life. Also, you are a charming and hardworking person who often uses your creativity to solve challenges and bring smiles to people's faces.

If you are not able to get some of your work done then the man often gets disappointed. However, you need to develop the confidence to be able to speak your mind and accept other people's opinions in order to fight your depression.


January 7 Zodiac Sign
The zodiac sign of a person born on January 7th is Capricorn.
January 7 Zodiac Sign Compatibility
Born on January 7 is favorable to Taurus and Virgo.
People Born on January 7 Positive Traits


People born on January 7th are possessed of great spirits of perseverance and endurance; They don't give up on things easily. Often, you try to solve any challenge that may come your way without giving up. You care for people a lot and always try to bring a smile to their faces. In addition, you are highly skilled and enjoy learning from people, adding to your vast knowledge. Your cleverness, charm, and your passion make you irresistible to people.

You are naturally gifted with the core values of a leader as you are highly dependable, friendly, adaptable, charismatic, and determined. Your strong will and high standards often make you a mentor to some. Communication is the key to business. But, you can understand the mood of other people. This gives you a better chance of communicating with them; This means that you will be lucky. People born on the 7th of January have tremendous imaginative intelligence and mature qualities that allow them to accept situations.
 
People Born on January 7 Negative Traits


The primary challenge affects those born on January 7th and informs accurate judgment. You have a natural tendency to be too clueless about things. You are overly cautious while dealing with people and like to double-check before accepting things done by others; Sometimes when you trust people too much, you get disappointed. Your imagination often allows you to set some unrealistic goals, which often make you feel sad and frustrated whenever you are unable to meet these goals.
 
People Born on January 7 Love


As per Love marriage astrology, people born on the 7th of January can be very shy and choosy when it comes to choosing someone for a close relationship. They have a strong heart for a relationship, especially when they feel that the time is not right for a relationship. However, you have a high propensity to fall in love with a rational, passionate, receptive and intellectually compatible person who can share your interests and outlook on the world.

You often need someone who is free-spirited and who you will be able to turn to when you need some personal time and moments alone to think. January 7th born have a very romantic life in love. And he is a dedicated person. You are compatible with those born on the 1st, 2nd, 10th, 11th, 19th, 20th, 28th, and 29th.


People Born on January 7 Career


As per Career astrology, you are very fortunate to have many natural gifts that can help you make ends meet in any career. It chooses a task for you that is a bit difficult for you. You often become the happiest person. You are extremely hardworking and are always happy to work without any rancor. Increased understanding usually leads you to work better and more efficiently with others. You are always ready to invest extra money in something that will be an additional income source for you. You have great finance management skills which will allow you to manage your finances better. Gives you an opportunity to know whether you are losing or making profits from your career. You can work as a teacher, mediator, or fashion designer. Also, those born on January 7th may find themselves in the world of entertainment or business.
 
People Born on January 7 Health


As per health astrology, people born on the 7th of January may face health problems related to stress as you often work tirelessly to solve any particular challenge with your intelligence and creativity. Sometimes you work so often that you forget to take breaks. You always need to relax and engage yourself in breathing techniques, yoga, and physical meditation to save yourself from the destructive effects of stress on your body. Your body chemistry can be easily upset by too much worry and distraction; You always need to take every step to balance your body and protect it from worries and troubles. To maintain your health status, you need to watch your food intake and give your body plenty of exercises to help improve your mood. You have a tendency to be most impatient, especially when you worry too much.

Conclusion


People born on January 7 have a high power of creativity that will help them solve seemingly insurmountable challenges quickly and efficiently. If you want to know more about the future of people born on 7th January then astrology consultation.