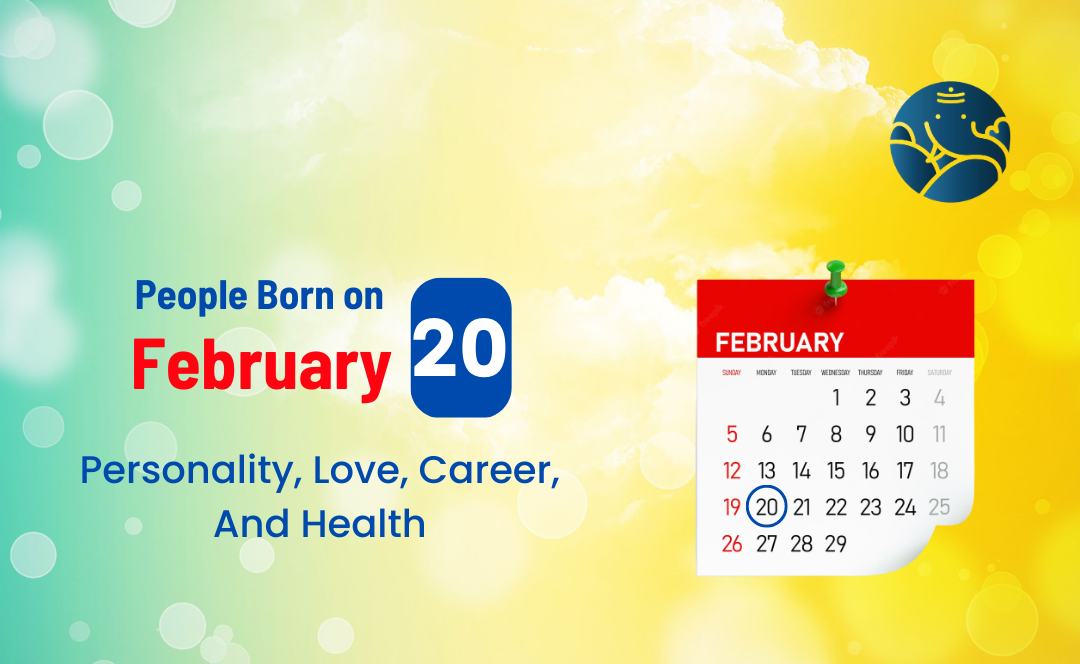 People Born on February 20: Personality, Love, Career, And Health

Born on February 20 has a soft spot for culture and idealism, which often makes you blindly chase them. You are an inquisitive person who may be different in appearance but soft in nature. You are a well-mannered fellow with a highly diplomatic mind in dealing with people. Your politeness and empathy often endear you to people and relate to them better and faster.



February 20 Birthday Personality
Those born on February 20 have a selfless quality that makes them famous across the nation. You have an intuition and a loving spirit, which makes you aware of people's feelings. You are a compassionate person who will always know about people's feelings and put them first. If there's one thing you value the most, you value your freedom and independence. You can do anything to free yourself from any kind of shackles. It is a matter of you knowing how to connect with people better in business matters. They have a way of creating a balance between your inner world and the outer world. Other things you also cherish are peace and harmony. They are endowed with a highly receptive mind. This receptive mind gives you a great desire to listen to others, even at your own cost. You are endowed with warmth and great adoration of the beautiful things in life.
February
 20 

Zodiac Sign

 

The zodiac sign of a person born on February 20th is Pisces.

 
February
 20 
Zodiac Sign Compatibility
Born on February 20 is favorable to Taurus and Cancer.
People Born on February 20 Positive Traits
Those born on February 20 have a way of being aware of people's plight without being told. After knowing about their plight, you always extend a helping hand to them. Because of your responsibility, you make sure that your duty is not left behind. You are an outspoken person who can speak for and against anything, even if it is unorthodox. He is known for his romanticism and idealism. You are the backbone of a team as you give them the ideas that are essential for their success. Your sensitive nature and intuition give you complete fantasies and fun that other people only pray for.

You have gifts in so many areas of the arts that often make you create beautiful things for people to use. Success is not far from you because of your commitment and attitude toward the world. No sweet talk; You are a dreamer who has all the potential to make it a reality. He is a sincere and inspiring person who knows how to connect with people better than anyone. You have a way of bouncing back from any kind of challenge.
People Born on February 20 Negative Traits
You should always tell yourself that you cannot change the whole world by yourself. You are a little naïve about things and people take advantage of you. You often display an "I don't care" attitude, which you usually use to hide your insecurities. You envy those around you and feel like they have what you have. Not there. Your connection with your element often makes you overreact to issues. You are most likely to be aggressive with your methods and people.

You need to learn how to keep your emotions under your control because you are prone to emotional imbalance. That's why you can sometimes seem careless and selfish. This often leads to people making the wrong impression about you. You do it alone nature sometimes prevents you from achieving some of your goals and visions. You don't need to rush people; The situation around you will sometimes be of these people.
People Born on February 20 Love
As per Love marriage astrology, You are an ardent and romantic lover. You are a lover whose versatility knows no bounds and you are always eager to find new ideas. You are the kind of person who is always eager to go on an adventure. Commitment isn't your thing, especially when you're in a relationship with someone you don't love. When love strikes you, you often become the most foolish person to love. You become very loyal to the person you love and would even die for such a person. You are an extreme lover who considers acceptance in itself to be the key to marriage with Him. It has happened on 2, 5, 9, 11, 14, 18, 20, 23, 27, and 29, it is compatible with you.
People Born on February 20 Career
As per Career astrology, a career for you is another way to prove your potential to people. You have so many talents that it becomes almost difficult to find the one that is more suitable for you. However, you often go to work which gives you a sense of fulfillment. You have a great retaining memory which helps you to remember things forever. Your versatility and attention to detail often make law the right path for you. You are very sensitive towards people and always try to ensure that your duty does not lag behind. You hate working behind a desk and sitting in a chair all day because of your love for freedom. You are always running after jobs so that you can learn more about your work and gain more new experiences. Your intuitive and inventive mind can lead you to engineering jobs or jobs that will give you a chance to showcase these abilities.
People Born on February 20 Health
As per health astrology, the diseases known to the persons born on February 20 are not numerous, but diseases of the nervous system are prominent. You are very likely to suffer from skin allergies, so you must run away from things that irritate your skin. You are more likely to suffer from back pain and headache due to the following reasons Your love for work. Along with food, sleep is also more important, always try to take some or the other. If you get a good night's sleep, you will perform better in a day. When it comes to diet, always plan your meals in a way that does not affect your health. Above all, watch your calorie intake and normalize it. Always exercise to reduce your mood and obesity.
Conclusion
You are a pure speaker like free-flowing water. Your free nature and freedom are found in your relationship to the free-flowing form of your essence. You are overwhelmed by an inconsistent feeling that makes you unpredictable in the way you think. If you want to know more about the person born on February 20 then take an astrology phone consultation.