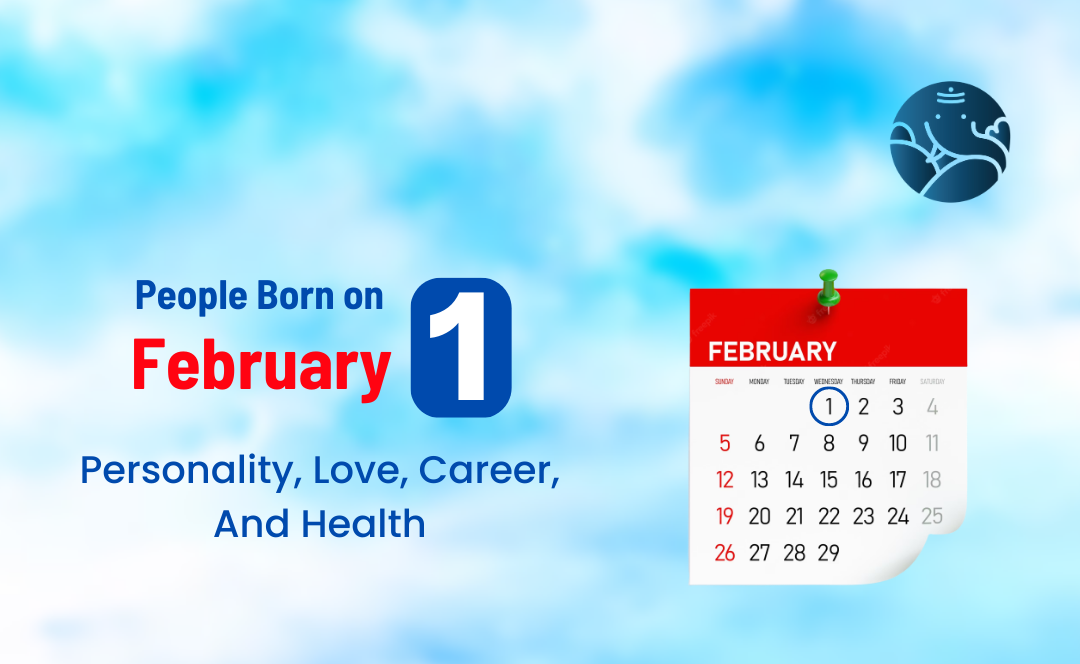 People Born on February 1: Personality, Love, Career, And Health
Those born on February 1 will be very creative and eccentric in their own way, apart from the fact that they are ready to accept life as it comes around. They are born with an individualistic mind, which often makes them independent in whatever they do. If you were born in this month, you tend to be very attractive.



February 1 Birthday Personality
The personality of a person born on February 1st often has big dreams and plans in her mind to carry them out. It is the case that you are always ready to be among the achievers because you believe that success is contagious. You have the spirit of progress and often do everything possible to fulfill all the dreams you have. It is the case that you are very honest and often wish that others could do the same. You are so blunt and direct that you can say just about anything without sugarcoating it.
The dedication of the February 1st is always there in helping others overcome any obstacle that appears to be insurmountable. You can work better in the middle of a group or when facing an audience. You don't like it when people don't believe in what you believe in and always support your belief to the last drop. February 1st personality traits include a well-developed temperament and intellect, which often help in a challenge.
February
 1

 

Zodiac Sign

 

The zodiac sign of a person born on February 1st is Aquarius.

 
February
 1
Zodiac Sign Compatibility
Born on February 1 is favorable to Gemini and Libra.
People Born on February 1 Positive Traits
Makes communication with those born on February 1 a pleasant one. You often surprise your listeners with your new ideas and projects, usually unfolding in a well-patterned way that makes it hard for anyone to get bored. It is the case that your mind is filled with so many innovative ideas that it becomes almost difficult for people to dismiss you.
You are always straight and clear with people. You do not like to embrace the truth, even if it means lying. You keep on doing something without any compromise. You are always ready to stand up for people and yourself and defend what you think is right. You have a soul that helps you distinguish right from wrong. It often helps you make your choices in real life.
People Born on February 1 Negative Traits
One of the weaknesses of those born on February 1st is your tendency to worry. You worry a lot, and the more you worry, the more emotional instability you experience over time. You don't last long with people because you believe that everyone is not good enough for you. You can be rude and aggressive when someone makes a promise to you and doesn't keep it because you detest betrayal and dishonesty. When it comes to your ideas, your ideas are sometimes not very practical. You often find them to be the best ideas, even if they aren't very practical.
You are very stubborn, and it often takes a lot of reasoning for people to persuade you of something. The things you like are always based on your whims and fancies, which often makes you less reliable. Although you are willing to help people, you become selfish when you think about time. Selfishness is right.
People Born on February 1 Love
As per Love marriage astrology, those born on February 1st always make it to the top of the list of highly admired people. Yet, you are always ready to choose a relationship that is very honest and open. You always yearn for a good relationship that will provide you with the emotional security you need. Because you are often the victim of despair, raise your bar above your head until you find the right person. You are always eager to find someone who respects your privacy, even though you always have time for such a person. Whenever you find the person you love, you are liable to make a very enjoyable family with loyal and loving partners and an Aquarius child or children. You can choose between 4, 6, and 8, Compatible with people born on the 13th, 15th, 17th, 22nd, 24th, 26th, and 31st.
People Born on February 1 Career
As per Career astrology, one of the challenges you often face in life is how to find a particular career that suits you, despite the fact that you have the skills to work in a variety of careers. Those born on February 1 are always on the lookout for a career that is commensurate with their salary, whatever the type of work. You also look for work that will allow you to get the attention you want. Furthermore, your choice of job will be one that satisfies your need for new experiences.
The types of work you might be happy with include sales and marketing, non-profit campaigns, and managerial positions. Serving with your voice as a negotiator or a leader is your best suit to speak against injustice and ensure that people do better in whatever they do. You are careless about your spending, if you have a budget it becomes almost impossible to stick to it. You are always trying to get the luxuries of the world, which often results in spending more than necessary.
People Born on February 1 Health
As per health astrology, the emotional state of February 1st born is one of the most important causes of health issues, even if they possess good health. You often indulge in all kinds of shortcuts to ease your feelings, which leads you to drugs, cocaine, smoking, etc. You are also prone to overeating and investigate the beneficial effects of such food. Tend to eat whatever comes your way without doing it. People expect you to always control yourself and not use any shortcut to rectify your feelings. You can participate in exercise or rest to ease your emotional trauma. Exercise can also serve as a treatment for stress and being overweight.
Conclusion
The influences of independence and curiosity are seen in those born on February 1st. Your determined and strong visionary personality is also fueled by the element you possess. Your love for new experiences is powerful and difficult because of your influence on the air. If you would like to know more about the personality of someone born on February 1st take an astrology phone consultation.