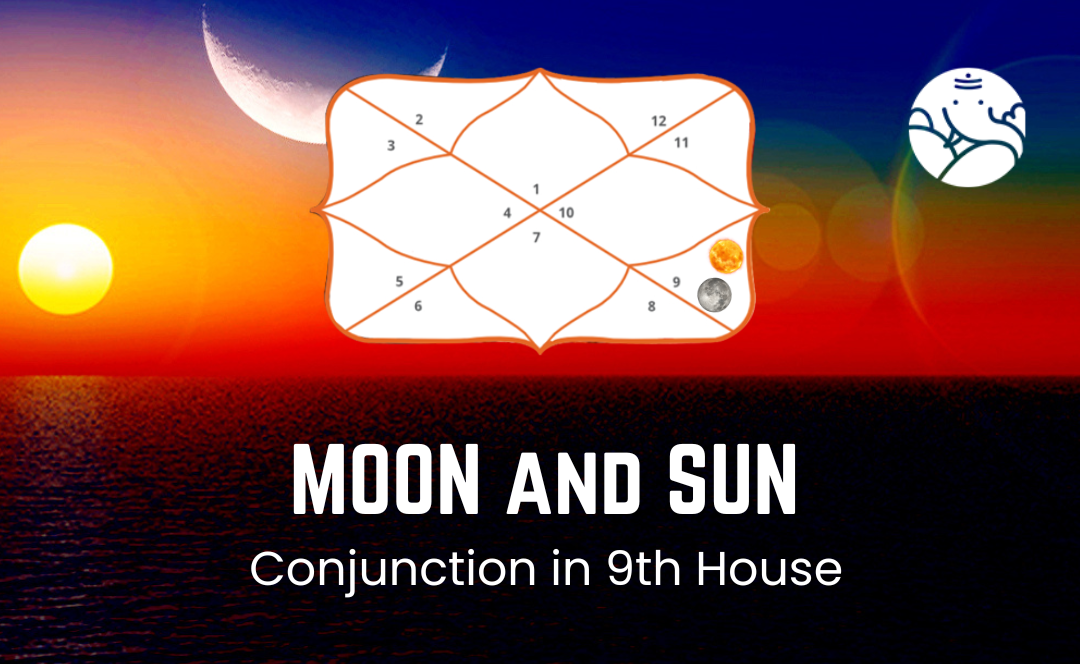 Moon and Sun Conjunction in 9th House
The ninth house is the place of the parent, the divine, and religion. A person may always pursue "dharma," or the righteous path, as a result of this conjunction in the ninth house. When the moon is dark, one can become very curious.
Residents in this region are quite active in religious activities. They are constantly eager to support and assist their father. They frequently finally emigrate to far-off countries. The person is highly strategic while the moon is waning. In this case, the father typically has more decision-making power than the mother. Ask one question to our Astrologers to know the effect of the moon and sun conjunction in your chart.
Effect of Moon and Sun Conjunction in 9th house
The conjunction of the Moon and Sun in the ninth house is typically not regarded as being advantageous. This is due to the 9th house's historical associations with demise, degradation, and annihilation. Whereas Moon is the planet of feelings and emotions, Sun is the planet of vigor and energy. Whenever these two planets align in the ninth house, it may cause the person to experience emotional exhaustion and a lack of vitality. The individual could feel hopeless or depressed, and they might find it difficult to adapt to change.
The 9th House of intellect in astrology is related to higher consciousness, insight, and intellectual endeavors. The 9th House has a strong influence on the intellect and the way its mind functions, affecting everything from science and math to philosophical and spiritual beliefs. It has an impact on both our capacity for rational thought and intellectual activity.
Positive Effect Of Moon and Sun Conjunction in 9th house
Native people can be sensitive and short-tempered. They might be naturally ambitious and egotistical. They might be haughty and frail. They may have courage.
Native may be by nature spiritual and religious. They have a firm belief in God. They might receive visits from holy rivers and shrines.
Native people could be knowledgeable. They might have skills. They might be well-known and respected. They may have a powerful way of speaking. They might be receiving assistance from friends and family.
Native May respects their father greatly. Their dad might be sentimental. Their father might have been born somewhere else. Their father might travel frequently. The father of the native may be ill. Native and their father might disagree logically.
Negative Effect Of Moon and Sun Conjunction in 9th house
Native people may naturally be sensual. Native may be having problems with their marriage. Native women could experience difficulties giving birth. Their children bring them good joy.
Native may also have money. They have money that They have worked hard for. A financial crisis could be affecting them. They experience unpredictable luck. A parental property might be acquired by natives. Their assets are good.
It's possible that Native feels stressed out. Climate change may have an adverse impact on native people. There could be a stomach issue with them.
Moon and Sun Conjunction in 9th House in Navamsa Chart
Good prosperity follows hardship and negative childhood experiences when the Sun and Moon are in the ninth house. Natives will occasionally not get along with their parents. Young people can succeed and become affluent, especially in foreign countries. It is possible to get fame as a writer or artist. Young people will be intelligent and bright.
Natives who are extremely fortunate at an early age may relocate abroad. Moreover, a person may adopt a foreign culture. They are committed and ambitious in pursuing their objectives and aspirations. Also, you can earn a high education degree with extensive knowledge in fields like sociology, political science, law, and philosophy. At a young age, wealth will come easily.
At a higher level, the 9th House also influences our moral compass and our capacity to integrate our values and wisdom into daily life. On a far more fundamental level, the 9th House can also be used to describe travel, higher learning, and even simple luck.
Conclusion
On Monday, worship Lord Shiva and pour water on the Shivling. Give the needy Moon-related items. Sleep early and try to get up early as often as you can. If you can, keep a fast on Amavasya. Alcohol and meat should not be combined. Apart from following this ritual, Astrology Phone Consultation is also there by your side to look closely into the issues you are facing.