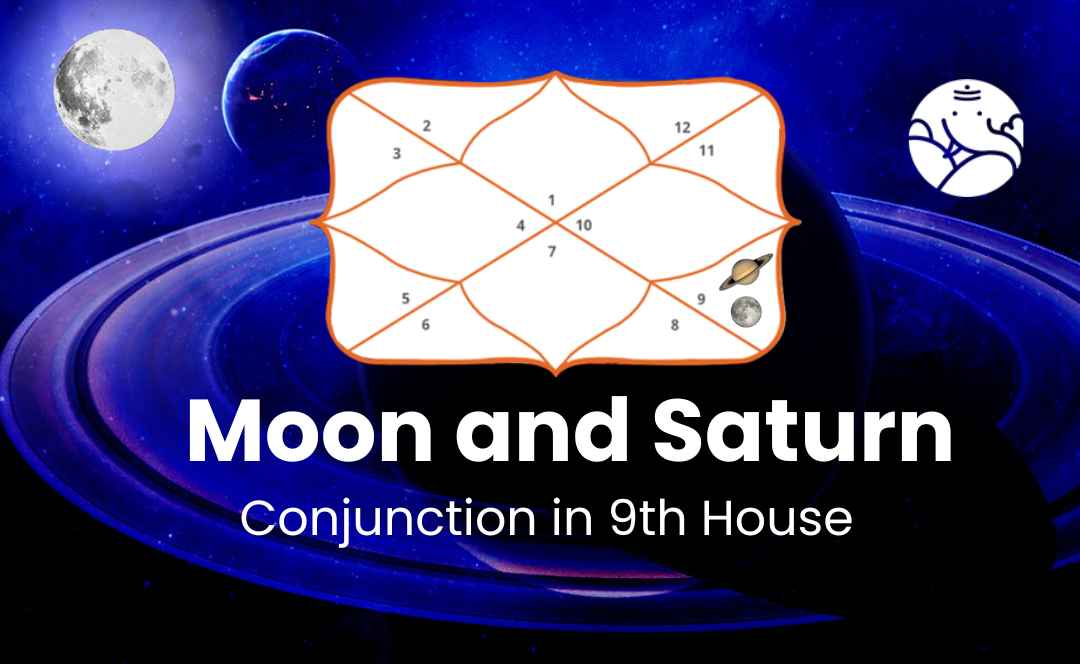 Moon and Saturn Conjunction in 9th House
Whichever star is with the Moon will be the person's primary energy and point of attention because the Moon is the individual's thoughts. Saturn is the planet of our misconfigurations or the areas where we feel insecure: then Moon Most Saturn signs are keenly conscious of their flaws and imperfections, whether they are genuine or imagined. They are constantly aware of their shortcomings. Typically, someone would repeatedly point out their flaws and be rough, demanding, or demanding of them when they were young or in previous lives. As an adult, they continue to repeat this pattern by believing it is acceptable for others to be tough, demeaning, or demanding of them, or by acting in these ways themselves and towards others. 
Effect of Moon and Saturn Conjunction in 9th house
They may force themselves to the maximum in an effort to avert potentially undesirable outcomes due to an excessive amount of concern and anxiety about tomorrow. When these people are younger, their sense of self and ability to love themselves can be very low. One way to make up for this is to demonstrate to others how wonderful their lives are, how well everything is going in them, how wonderful their partnerships are, how remarkably well they are doing at their job roles, etc. They won't always act that way, but typically when their anxieties and fears get too strong, they lash out in the opposite direction in an effort to reassure themselves and others that all is and will be fine.
Positive Effect Of Moon and  Saturn Conjunction in 9th house
Native may be very affluent. But his economic position is precarious. Native may own a lot of real estates. Native people may be happy with their cars. Natives could be content with their servants.
Natives might show respect to their fathers, gurus, or Brahmans. Natives might feel a strong attachment to their fathers. Native and his father might not live together. His father and the Native may think differently. The Father of Native may not be in good health.
Negative Effect Of Moon and  Saturn Conjunction in 9th house
Even though they are harsh with other people, one shouldn't condemn them because they are also quite harsh with themselves. Imagine what it would be like to live with harsh negative thinking and be continually aware of your shortcomings. First and foremost, these individuals—especially women, whose natal moons are significantly more potent—should learn to accept and love themselves. If they don't, their planetary positions may lead to catastrophic downturns, episodes of self-doubt, and frustration. Astrology Phone Consultations will assist you in your career.
Moon and  Saturn Conjunction in 9th House in Navamsa Chart
According to Navamsa Chart, although technically a Dosha rather than a yoga, Moon and Saturn conjunction is known as "Visha Yoga." Saturn stands for judgment and regulation, while the moon represents feelings. The strength of the conjunction will determine how emotionally fragile and aggressive the native may be. Vish Dosha inhibits understanding and enthusiasm for higher education, which results in exam failure and unexpected changes to one's educational path.
Saturn's placement in the ninth house may, however, be fortunate in some way for people with the Jupiter aspect. Native may become famous and wealthy due to their career or parentage. Also, it creates a Dhan yoga, which will enable the native to have enough money to meet all of his needs.
Conclusion
Male or female, they are typically exceedingly dependable and devoted to their financial and psychological responsibilities. A properly placed Moon in the horoscope will be like water (the Moon's element), enabling the native to flow freely into any universe and adapt to its shape. The Moon also demonstrates how well we cope with novel environments and circumstances. Saturn is a planet that crystallizes and freezes, so when the Moon is with it, we have a person who is uncomfortable in new settings, takes longer to adjust to new situations, is afraid of change, and persists in wanting to maintain the status quo no matter what. This may prevent the native from feeling content and having fun at present. Ask One Question about your future to our astrologers.