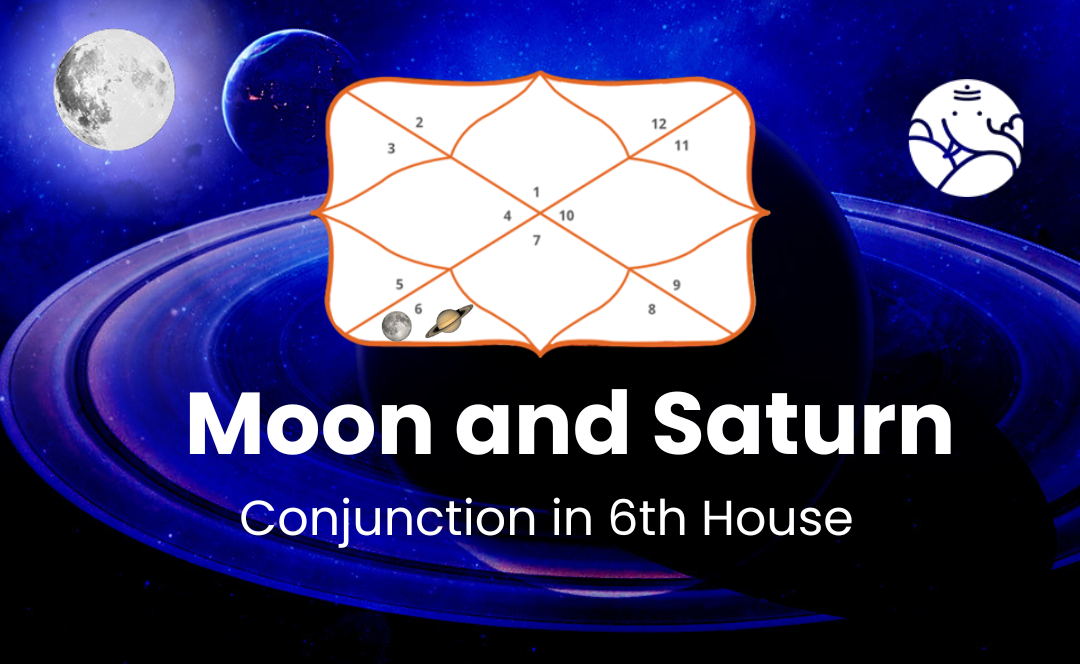 Moon and Saturn Conjunction in 6th House
Precision and organization are associated with the highly organized and structured Sixth House. Any form of routine, such as wholesome eating plans or weight loss programs, physical activity or yoga routines, or plans for healthy living are all connected to the sixth house. It could also mean a timetable of any kind, a calendar, or a list of workplace deadlines. Together with the ideals of maintaining a routine, diet, and fitness, the 6th House is also associated with the concepts of mental toughness and personal resolve. Being organized and meeting deadlines are impossible for someone who struggles with mental attention. Ask one question to our astrologers if you are facing relationship issues with your spouse.
Effect of Moon and Saturn Conjunction in 6th house
Native may be experiencing problems in his marriage. His marriage is not yet complete. It's possible that his wife's health is poor. He might be forced to divorce his wife. Native can have problems with their siblings.
Native people might have had poor health as children. Native may have a stomach issue. He might have stomach problems. He might be experiencing stomach-related problems. He might be experiencing body or backache. He might have a fatal illness. He could be dealing with the flu or symptoms associated with a cold and cough. Native may have hormonal issues.
Native people may have a vindictive mentality. Native may be experiencing emotional stress. Native people are susceptible to being influenced by evil eyes.
Positive Effect Of Moon and Saturn Conjunction in 6th house
Positively, those with a Saturn Moon tend to be more self-disciplined and driven than others, and as a result, they frequently achieve success in life via sheer willpower, diligence, and a constant effort to improve their deficiencies because they are so conscious of them. In their best moments, they are a brilliant example of self-regulation, discipline, hard work ethic, and determination to put forth all the effort required to succeed. In the worst cases, they will go through depressive and dejected periods where they just surrender and do not want to try anything. Women in this role tend to hold back a little bit on their femininity—not in terms of outward appearance, but rather by disengaging from the softer, more sensitive, and more compassionate feminine traits.
Negative Effect Of Moon and Saturn Conjunction in 6th house
If the moon and Saturn conjunction in the 6th house, the person has a chronic illness. Competitors in business often annoy kind-hearted people. It is necessary to withdraw your retirement pay from your work. The house has a theft risk. They are worshipping here.
Native can appear older than he really is. Native people might be renowned and revered in nature. Native people have a lot of foes. But he'll fight alongside his adversaries.
Native people could be in uncertain financial situations. Natives can make money from contract work, manual labor, or construction. Native might be having problems with loans. Following his own struggles, he might find success. Major life events could be postponed for him.
It's not advisable for his mother to have the Moon and Saturn in the sixth house. Native May and his mother have differing opinions. His mother might be experiencing health problems. His mother can be a spiritual woman or suffer from excessive stress.
Moon and Saturn Conjunction in 6th House in Navamsa Chart
According to Navamsa Chart, the alignment of the moon and Saturn suggests that the native may have been born during the Sade Sati metaphase. The conjunction of the moon and Saturn is often referred to as Visha yoga and Punarphoo yoga. Making Balarishta yoga is the Moon and Saturn conjunction in the sixth house. Hence, the conjunction of the Moon and Saturn in the sixth house is not seen favorably.
Native people might be mentally strong. Native people may naturally be haughty. Native people may naturally be indolent. Native people may argue emotionally.
They won't be the most nurturing and sweet mothers; instead, they'll be more strict and excellent carers. Saturn makes any planet it is associated with feel more burdensome, so for these women, becoming mothers can frequently feel like a more difficult task. However, once they become mothers, they work very hard and take their obligations there and in the household very sincerely. Also, they (male or female) are typically very dependable and devoted to their monetary and emotional commitments. A well-placed Moon in the horoscope will be just like water (the element of the Moon), enabling the native to feel natural in any space and adapt to its shape. The Moon also represents how well we cope with unfamiliar environments and situations.
Conclusion
When the Moon and Saturn align, say in the third, sixth, tenth, or eleventh house of the horoscope. Then it is strategically put, where it encourages people to be honest, fair, and justice-loving as well as helpful and compassionate to those in need.