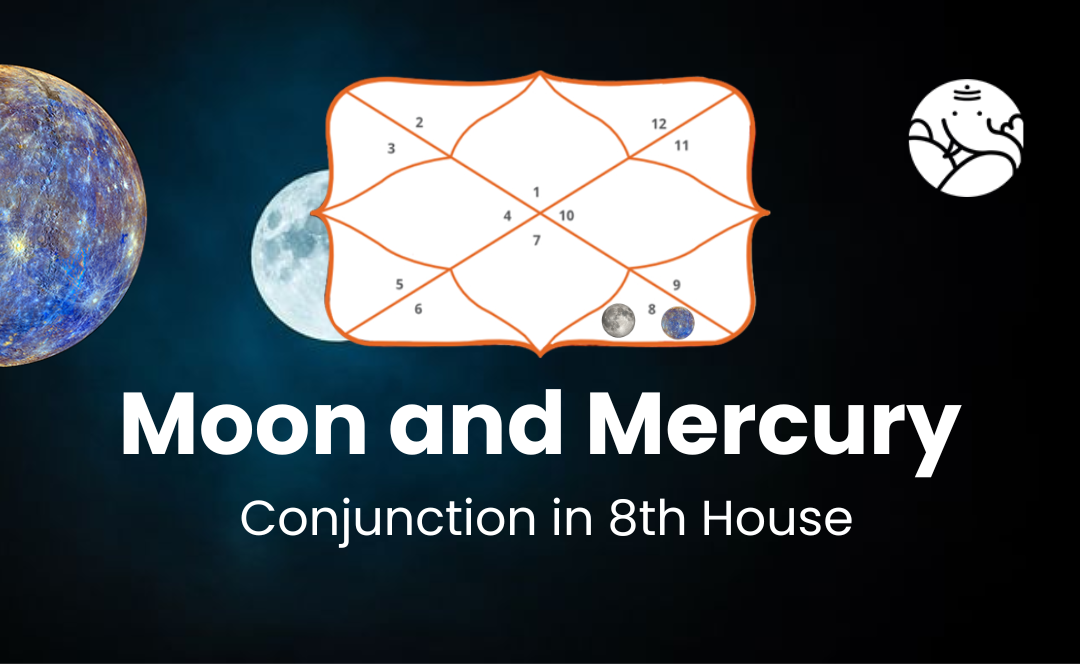 Moon and Mercury Conjunction in 8th House
The length of life, the likelihood of an accident or death, other people's money and possessions, their partner's financial situation, their level of sexual attraction to their spouse, and other factors will all be impacted by the Moon's position in the eighth house. It might be a significant loss for the inhabitants of the Moon in the eighth house if they get estranged from their companions. Furthermore, they should avoid areas near water, such as lakes, rivers, reservoirs, etc., because drowning is a greater danger of death. On the other hand, the right alignment of the Moon in the eighth house can lengthen the lives of the inhabitants and give them the willpower they need to overcome difficulties and crises. Moreover, there is a chance of gaining unanticipated benefits.
Effect of Moon and Mercury Conjunction in 8th house
As both stars are rapidly approaching and conjunct more often than is usual for slow-moving planets, this is not an unusual type of conjunction but rather occurs quite regularly in the natives. Moon views Mercury as a comrade in their mutual connection, whilst Mercury views Moon with hostility. As a result, it is said to be a single interaction; as a result, when the moon and mercury align, both advantages and disadvantages are present.
Positive Effect Of Moon and Mercury Conjunction in 8th house
Native might have a warm character. They could be spiritually inclined. Native may be attractive and stunning. They have lovely smiles. Native people frequently have frail bodies.
Native people might be wise and mature. Native speakers could be likeable and skilled orators. They might be a decent individual. They might be trick-oriented and intelligent. They might be shrewd in terms of his personal earnings.
These natives have very lots of potential; their reasoning is more impacted by their attitudes and environments; they also exhibit more emotionally driven behaviour and activities; emotion and intellect function in harmony.
Both men and women who have a Moon and Mercury combination are incredibly smart and meticulous. Moreover, it is thought to be Nipun yoga. They are also great observers and have a talent for understanding other people.
Both men and women who have a Mercury and Moon conjunction are pious, intelligent, and have virtues.  They are wealthy and have a literary inclination.
Negative Effect Of Moon and Mercury Conjunction in 8th house
While the moon is in the eighth house, the natives are inclined to be temperamental, irritable, and grumpy. The likelihood of them suffering company losses is increased. Their innate strength in various circumstances may also occasionally be overshadowed. They are instructed to honour their elders, demonstrate their religious commitment, abstain from gambling, and make wise commercial investments. If the native has skeletal and muscular diseases, the effects of the Moon in the 8th house may be detrimental to them.
Also, the Moon's placement in the 8th house has the potential to affect the inhabitants' emotions. Their body language will reveal how stressed they are. Sometimes a native's willpower is utterly beyond repair. Astrology Phone Consultations are a great remedy to solve your problems related to marriage.
Moon and Mercury Conjunction in 8th House in Navamsa Chart
According to Navamsa Chart, it is evident that people born under the influence of the Mercury Moon Conjunction have a stronger emotional and artistic propensity; if other elements support this, this confluence is one of the best for marital life or intimate relationships.
The native will still have an imaginative and scholarly mentality when the moon and mercury are conjunct in the eighth house of the horoscope, but they may also experience some mental or physical problems. Although they may not be wealthy or powerful, they will be courageous and unafraid.
The native with many psychiatric conditions may have horrific events if this conjunction is under a lot of malevolent influence.
Conclusion
This combination can give someone a car, a way to go around, genuine friends, strong relationships, and natural charisma. This conjunction is thought to produce outstanding outcomes when it falls in the eighth house. One can achieve a great life accomplishment, feel privileged, become fabulously rich, and become extremely renowned in this house. Ask one question to our prominent astrologers if you are tense about your health and career.