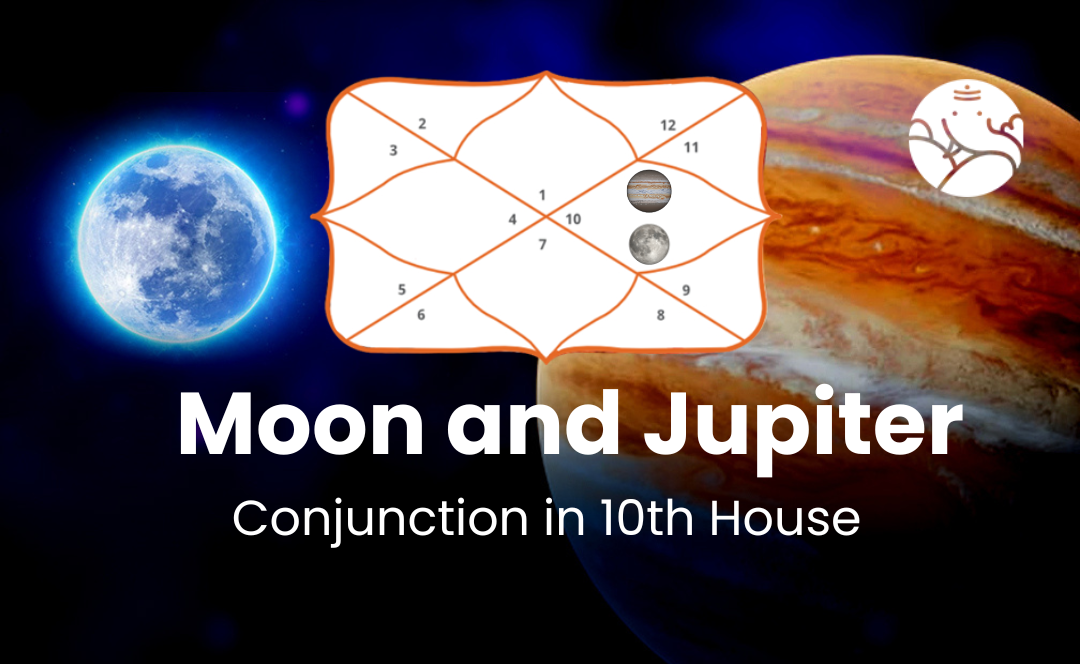 Moon and Jupiter Conjunction in 10th House
The two of these planets are benefic, and when the empathy of the Moon and the insight of Jupiter combine, it creates a native who is kind, generous, and affable while also being polite, knowledgeable, and insightful. The local has a tendency to do good things thanks to this conjunction. They frequently have an open mindset and are amenable, obedient, and upbeat. This role offers outstanding leadership and persuasion skills, making it very favorable in the tenth house. Whenever the Moon and Jupiter are together in a zodiac, it indicates that the native is a learned individual. Such an individual is excellent as a professor or counselor, but care must be taken to ensure that hubris does not creep into their character. Also, natives in this position should refrain from offering unsolicited counsel because doing so could make others strive to keep a distance. An individual who suffers from this combination may become slack, rude, judgmental, and careless.
Effect of Moon and Jupiter Conjunction in 10th house
Strong and lucky Gajakesari yoga is created by the conjunction of the moon and Jupiter Conjunction in the tenth house. It is a great location for achieving academic excellence and professional accomplishment. However, the extent of the effects relies on how powerfully things are put, such as in an elevated house, an exaltation house that is one's own, a friendly house, or a neecha home. These folks typically have sharp minds since Jupiter and the moon support intelligence. They are capable of making wise choices, forming strong bonds with others, and excelling in the legal field to the point of becoming a judge. They'll generate excellent karma. Will not ever run out of money. They will have a stronger bond with their mom and get the respect of others. Saints and other well-known figures also possessed this combo. As both favorable planets are affecting the fourth, the level of happiness will be great.
Positive Effect Of Moon and Jupiter Conjunction in 10th house
It is one of the best combinations to have, but the full effects only appear if both parties are upright, neither of whom should be a functional malefic, they are closely related in degree, they rule over Kendra/Trikon Houses, their lord is well-positioned, and the person also goes through their dashes. To gain the optimum effects from this yoga, all of these requirements must be met; nothing is optional. Yet, even if this conjunction isn't entirely powerful, it can still have positive effects and increase benefits, especially for mother/side-mother relations. This can provide a person with superior awareness and training.  Their mother might work as teachers or counselors.
Negative Effect Of Moon and Jupiter Conjunction in 10th house
There is always a connection between good and bad. So, a drawback of this combination could be that the person could be a mindless follower of Mother and possibly be unable to recognize when Mother is mistaken. They might not even appreciate being told that their mother is mistaken. Also, it might cause someone to become overly idealistic and less practical. Choose our experts for astrology phone consultations.
Moon and Jupiter Conjunction in 10th  House in Navamsa Chart
According to Navamsa Chart, when the Moon is in its own sign and Jupiter is exalted, this conjunction is greatest when the planets are in the 10th house. Another favorable position for their relationship is where the Moon will be exalted. They should do well in life since they are both upright and responsible.
They won't produce the finest outcomes in Gemini, Virgo, Libra, Capricorn, and Aquarius since both are in the wrong dignity. Even though Moon is weak in Scorpio, a person who spends time in these areas can become a great magician. Ask one question to our astrologers for a simple solution.
Conclusion
Residents of Moon Jupiter's conjunction in the tenth house have the potential to soar extremely high. They are incredibly good, and they succeed with the most difficult tasks. Jupiter with the Moon can make for an excellent pairing. Some people mix a great deal of dignity and a great deal of desire, which can be like a blessing to society. While it is still possible, it is much less likely that they will pick the opposite turn.